WOOFS! Last week, Samson visited with "Cat Lady" from PetConnect Rescue about cat adoption. This week, since I am a PetConnect Rescue Dog Alumni, I pawed with a Dog Adoption Coordinator about her volunteer work! 
"Miss Katie" barkingly works assisting dogs in finding their humans and help them transition to a "Forever Homes!" Paws, she has rescued stray dogs and adopted a few. I asked about her volunteer work, interests, and "What Do You Wish Every Pet Parent Knew?"
"Miss Katie" has been an adoption coordinator for two years and a foster parent for over 5 years. She stopped counting when she reached 200 foster dogs (she says with a barkingly grand smile)! Paws, she has fostered with the Aiken County Shelter, Aiken, South Carolina. She found her first dog, Calvin, alongside a road in Aiken and no one claimed him! Paws, a year later, she adopted a Belgium Shepherd named "Hutch" who needed a lot of work, was high energy, neurotic, and had some aggression issues.  Ten years ago, it was very common to find dogs along the roads in Aiken, SC. She would joke if you want a dog, just go for a drive. She rescued many semi-feral or starving dogs in Aiken. 
"Miss Katie" shares her favorite rescue story, "I was rescuing three gorgeous yellow lab mixes. They were probably around humans as puppies and then dumped. They were full-grown when I found them and very skittish. I ride horses and they would chase me and Hutch when I was out riding so I decided to catch them. I basically got lucky and the smallest female was so hungry she followed some hikers back towards my house at the time and I was able to get close enough to catch her. She became pretty friendly within a few days and so I walked her and Hutch through the woods with treats to lure the other two boys out. Sure enough, they were interested in the food their sister was getting and came out and I was able to capture one male. I had to basically drag him miles back to my house (they had no idea what a collar and leash were!) and the last brother followed us. I was able to lure the third dog in the barn and shut the doors, as he was the most skittish and wouldn't get close enough for me to catch. Once he was cornered, I was able to get a slip lead on - but I really thought I was going to get bit! The three dogs came around very quickly and were adopted to wonderful homes"
Miss Katie shares "the most impawtant thing to remember when humans foster or adopt dogs is it takes 3 days for the dog to decompress, 3 weeks for the dog to learn your routine, and 3 months to feel at home! Dogs have no idea why they are moving around to a new home! Most of the aggression issues the rescue sees are stressed or timid dogs who just need time and space to decompress!"
If you are considering adopting a dog, pawlease visit www.petconnectrescue.org to discover dogs available.
WOOF! Barkingly, do you love dogs and cats but are unable to adopt? Pawlease consider volunteering at www.petconnectrescue.org. Paws, or sponsor a dog or cat financially which assists with their Veterinary Care and day-to-day care expenses!
Barks, these friends are looking for "Forever Homes!"
Barkingly, Fran, is a 9-year-old young easy-going Harrier Hound mix! She has pawsomely grand house manners! She has pawlenty of energy and enjoys running in the backyard! WOOF! She wants a large fenced yard in a quiet country setting and isn't interested in an apartment, townhouse, condo, or cats! She gets along with other dogs and humans.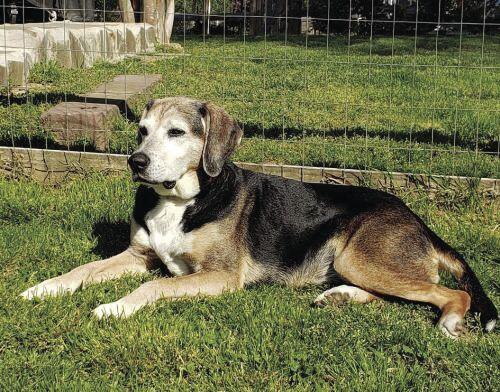 A beautiful, happy, sweet 14-year-old Chihuahua named Annie was surrendered her humans moved without her! She has a long medical history but hasn't lost her love of life or humans. Paws, she has a severe heart murmur (grade 6/6), is incontinent, deaf, has cataracts, and is missing her hind leg. Barkingly, she loves being cuddled and playing in the yard! Paws, she wears a diaper indoors or uses pee pads in a penned area.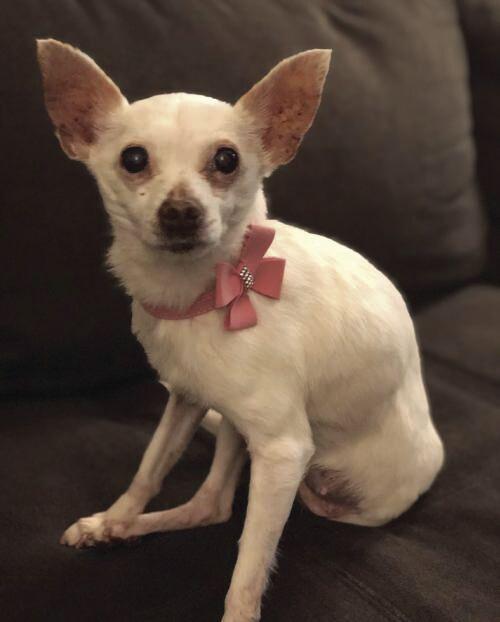 PetConnect Rescue, www.petconnectrescue.org, email: info@petconnectrescue.org or call 1-877-838-9171.
About us! 
WOOF! MEOW! Do you enjoy our articles? Barks and purrs, pawlease follow us at www.fromthedogspaw.com by email! We paw about dog/cat adoption, humor, their care and tips. Noah is Dog, Samson is Cat-in-Charge, to their human, Allen Pearson, Dog Photographer and Writer, www.allenpearsonphotography.com, www.allenpearsonphotographyjournal.com  www.facebook.com/AllenPearsonPhotography,  www.instagram.com/fromthedogspaw, www.facebook.com/fromthedogspaw.