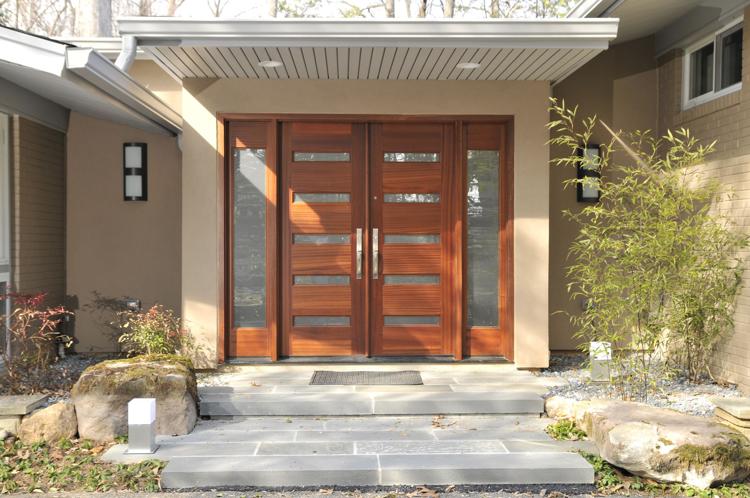 It is enlightening, as one gets older, to explore one's roots. This urge to self-discovery may be a long time coming; it is seldom a first priority, like establishing a career or raising a family. But over time, it can be fruitful and rewarding to look into your origins, to discover and articulate more fully who you are.
Such, in sum, are the thoughts of Takuro Kimura and his wife Akiko, who converted their 3,000 square foot split-level into an international style residence that deliberately explores the Japanese and Asian architectural sensibilities they both saw growing up in Japan in the late 1950s.
"We think of the design as the spirit of Asian style," says Takuro. "Yes, there are many strictly Japanese elements, but it's the balance influences that we have found especially effective in creating a peaceful environment.
Takuro says that when he bought the house in 1997 (having moved to the US from Japan four years earlier) there were already Asian influences on the grounds despite the fact that-- in every other respect-- the house was a conventional circa-1960s split level.
"There were Japanese maples; the backyard garden was landscaped in an Asian style. That's what caught my eye," he recalls.
But it wasn't until Takuro leased out his house, moved back to Japan for several years, and then returned that he decided the house had latent potentials as a permanent family residence.
"I had re-absorbed a lot of design ideas in Japan, which was very fulfilling personally," Kimura recalls. "By designing a place that draws more fully on Asian traditions, I saw that my wife and I could really make it our own. It would be a way of saying: "we've settled down in a tranquil place that is our home."
The Japanese word for this peaceful home, Kimura explains, is Wagaya.
The steps, entailed in converting a mid-century split-level into a personal residence that expresses such refined cultural sensibilities, were less clear.
Thus, after returning from Japan in 2007, Takuro and Akiko mostly made notes; talked to few uninspiring contractors. Finally, Takuro met Craid Dursoko of Sun Design Remodeling.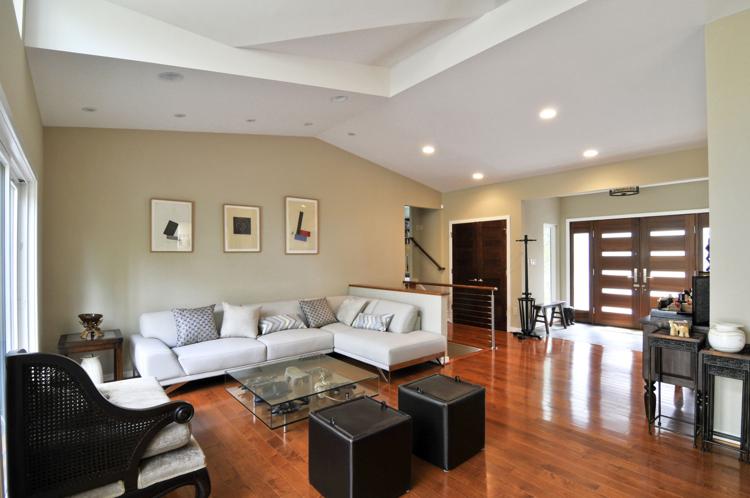 "We were starting with a completely clean slate," says Durosko. "There wasn't much about the existing interior the Kimuras wanted to preserve as-is. What we shared from the outset was an enthusiasm for simplicity and clean lines. In many respects, Japanese architecture is a kind of minimalism that incorporates natural materials and seeks to connect with nature-- so it's become a kind of international style."
That being said, several Japanese traditions would be specifically profiled. The front elevation would be balanced and symmetrical, stressing continuity with surrounding garden elements. A new foyer would be added, designed as a "genkan" (the front vestibule in a Japanese home where shoes are exchanged for slippers.)
The plan would make use of sliding doors ("fusuma") as space dividers. The "ima" (primary living space) would be an open area with a strong visual continuum in all directions.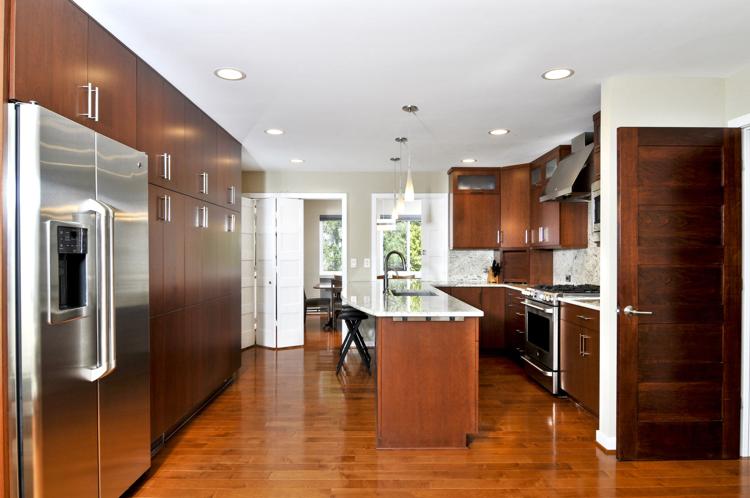 The kitchen interior would present smooth surfaces in contrasting lights and darks.
There would even be a traditional Japanese bathroom with an "ofuro"-- a two part platform in which a cleansing shower is positioned immediately next to a deep soaking tub.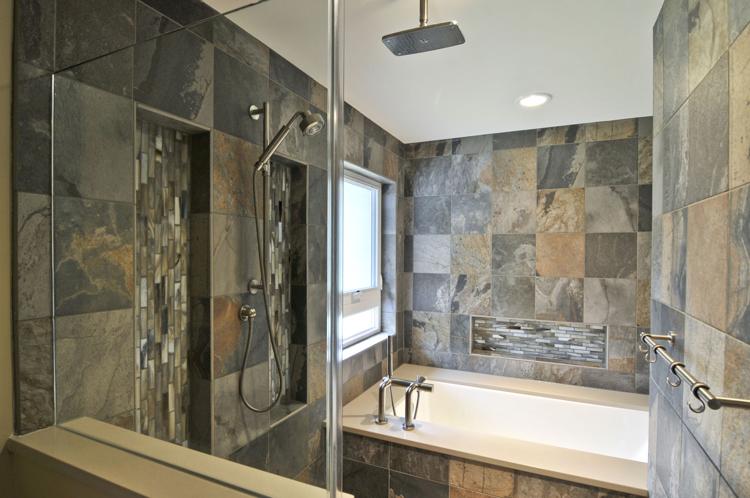 The most difficult step technically entailed raising the roof in the rear-facing living area. Consistent with Japanese design priorities, the Kimuras wanted a strong visual connection to the now fully-developed Asian garden in the backyard; they also wanted to maximize natural light availability.
"The existing living room had a low eight foot ceiling with a spacious window wall on the rear elevation," Durosko recalls. "To bring in views and light, an elevated ceiling cavity was designed for a two panel transom window. This entailed installing in a ridge beam four feet higher than the original pitch and re-framing the back part of the roof. It's not a cathedral ceiling, but a partially elevated roof reminiscent of designs found in some pagoda and other Japanese structures."
Having directed a viewer's eyes upwards, the next step called for replacing the top component to existing floor-to-ceiling cabinetry with a glass-facing back lit decorative frame that repeats, as a design motif, the size and shape of the transom window. As a further efficiency, the cabinetry wraps L-shaped interior wall configuration-- extending into the open formal dining room, which also profiles the back garden view.
Apart from its usefulness for storage and efficiency, the cabinetry presents a uniform surface in natural wood, Durosko notes, emphasizing the relationships of lines and planes that define the entire space.
"It's the simplicity conferring an awareness of balance and its underlying tranquility that is the essential point of this kind of design," he says.
Another corollary to Japanese interior design is less reliance on fixed interior walls. In a traditional household a bedroom may be used for other purposes during the day. Sliding shoshi screens are employed to alter the size and purpose of interior rooms as needed.
Along these lines, the Kimuras sought more open interaction between the dining room and the kitchen, the kitchen and an adjacent family room.
The wall between the dining room and kitchen, for instance, has been replaced by a partition that incorporates both a 3-by-5 foot accordion door and a sliding pocket door.
The wall formerly separating the kitchen and the family room has, likewise, been deleted.
Hence, when both doors are opened, there's a direct visual linkage from the front-facing sitting room to the inviting garden spaces beyond the dining room table.
Carrying the cultural transformation a step further, the family room is now an open drawing room where the Kimura's have placed a "kotatsu (a traditional "low table") before a fireplace.
"In the winter, this is a place to sit peacefully, eat meals and sip tea with family," he says.
The kitchen itself also deploys a wall of floor-to-ceiling cabinetry designed for both storage efficiency and aesthetic unity.
The cabinet's dark cherry wood facings present a dynamic contrast with the granite white spring surfaces and backsplash.
"There's a drama of light and dark contrasts in Asian kitchens that is quite distinct from the traditional Western model," Durosko says.
To create the floorspace needed for a large Japanese style bathroom, the home's bedroom wing was re-configured-- deleting one bedroom and introducing a walk-in closet and 300 square foot master bath into the master suite.
With its neutrally-colored Yukon tiling interspersed with mosaic tile accents, the bathroom interior is a naturally restful place to surrender needless stress.
According to tradition, a bather, first washes thoroughly ("araiba"), then enters the heated tub-- which is two feet deep-- to relax still more deeply. As a consideration to efficiency, the bathroom has been fitted with a Rinai tankless water heater.
From the bathroom, one can exit directly to the garden and the pool.
"It is simple, but so peaceful. Everything we wanted in a home," Takuro says.
Sun Design Remodeling frequently sponsors tours of recently remodeled homes as well as workshops on home remodeling topics. The firm has offices in Burke and McLean, VA FOR INFORMATION: 703-425-5588 or www.SunDesignInc.com
John Byrd has been writing about home improvement for 30 years. He can be reached @ 703-715-8006, www.HomeFrontsNews.com or byrdmatx@gmail.com. Send photos of interesting remodeling projects to: b2b@homefrontsnews.com