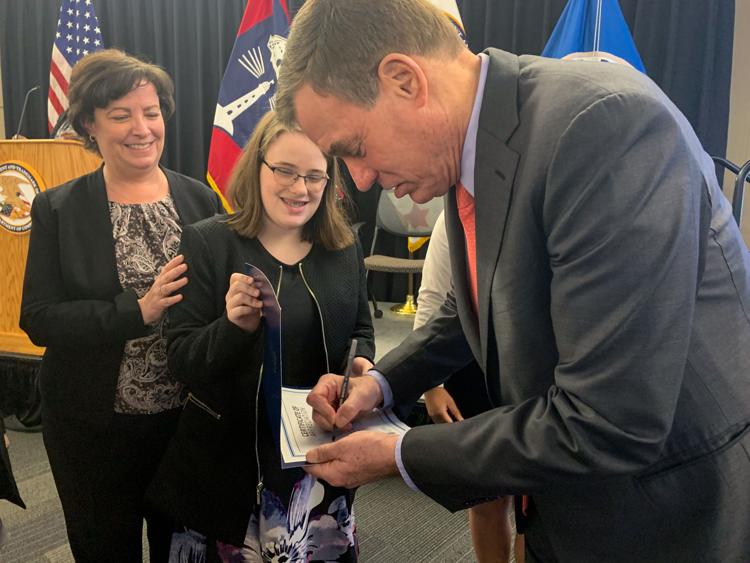 Jan. 31 was a day of relief and celebration for the 167 new U.S. citizens assembled in the U.S. Patent & Trademark Office's Clara Barton auditorium in Alexandria.
Representing 47 countries of origin, they took an oath of allegiance and received certificates of naturalization to mark the completion of their journeys from immigrants to residents of the United States to full citizens.
American flags waved in the audience as Sen. Mark Warner (D-Va.) and a quartet of Longfellow Middle School students delivered speeches welcoming the new citizens.
"Our communities are made stronger by immigrants from diverse backgrounds," Warner said. "I'm honored to be a part of this important milestone for the 167 new U.S. citizens as they begin their new civic responsibilities to the Commonwealth and the nation."
Around 600,000 to 770,000 people have been naturalized every year for the past decade, U.S. Department of Homeland Security data shows.
According to Warner's office, there are nearly 9 million lawful permanent residents in the U.S. who are currently eligible to apply for U.S. citizenship, which is primarily open to green card holders who have lived in the country for at least five years.
Individuals can also qualify for naturalization if they have a green card for at least three years and are married to a U.S. citizen, or are the spouse or child of an American service member.
While the Senate has recently been preoccupied by impeachment proceedings against President Donald Trump, Warner says he remains committed to pushing for comprehensive immigration reform.
Warner and fellow Virginia Sen. Tim Kaine were both part of a bipartisan group of senators that proposed immigration reform legislation in 2018 that would have created protections and a path to citizenship for individuals brought to the U.S. as children while allocating more funding to border security.
Championed by 16 senators in a group called the Common Sense Coalition, the Immigration Security and Opportunity Act automatically granted legal permanent resident status to members of the Deferred Action for Childhood Arrivals program who arrived in the U.S. by June 15, 2007, as long as they had not been convicted of certain crimes or engaged "in the persecution of any person on account of race, religion, nationality, membership in a particular social group, or political opinion."
The bill opened the door for immigrants not enrolled in DACA to obtain legal status if they have been continuously present in the U.S. since then-President Barack Obama established DACA by executive order on June 15, 2012, were under age 18 when they entered the country and under age 38 when DACA started, meet educational or military service requirements, and pass medical exams, background checks and register for the Selective Service, if eligible.
Immigrants covered by the legislation would have been permitted to apply for citizenship after 12 years.
At the same time, the Immigration Security and Opportunity Act prohibited Dreamers from using their new citizenship to sponsor their parents for citizenship, and it authorized the appropriation of $25 billion in funding for border security, including the construction of a wall on the southern border, over the next 10 years.
The Senate rejected the proposal on Feb. 15, 2018 after it fell short of the 60 votes needed to advance.
In a reflection of how fraught the topic of immigration is in the U.S. right now, the naturalization ceremony in Alexandria coincided with a new restriction on travel from six countries.
The White House press secretary announced on Jan. 31 that Trump had issued a proclamation suspending the issuance of immigrant visas to nationals of Myanmar, Eritrea, Kyrgyzstan, and Nigeria and banning nationals of Sudan and Tanzania from participating in green card lotteries.
Set to take effect on Feb. 22, the restrictions could affect an estimated 12,398 people but do not extend to students, refugees, and people traveling for tourism, business, and other temporary purposes, according to CNN.
The press secretary says Trump made the proclamation based on recommendations from advisors and Cabinet members after receiving a report from Acting Secretary of Homeland Security Chad Wolf on global compliance with standards for screening and vetting foreign nationals seeking to come to the U.S.
"Countries that fail to conduct proper identity management protocols and procedures, or that fail to provide information necessary to comply with basic national security requirements – including sharing terrorist, criminal, or other identity information – face the risk of restrictions and limitations on the entry of their nationals into the United States," the press secretary said.
The proclamation also maintained an existing travel ban on Iran, Libya, North Korea, Syria, Venezuela, Yemen, and Somalia that has been criticized for targeting primarily Muslim-majority countries but was upheld by the U.S. Supreme Court in 2018.
Despite the Supreme Court ruling, civil rights groups have continued to challenge the travel ban. A three-judge panel with the 4th U.S. Circuit Court of Appeals heard arguments in Richmond on Jan. 28 over whether three lawsuits should be allowed to proceed.
The new immigration restrictions come three years after Trump first imposed a ban on travel from certain countries, inspiring confusion and protests at airports around the U.S.
Signed on Jan. 27, 2017, the initial executive order barred entry for 90 days by citizens from Iraq, Iran, Syria, Libya, Somalia, Sudan and Yemen and suspended admissions for all refugees with an indefinite stop to refugees from Syria.
After a federal judge backed by an appeals court stayed the ban, Trump revised his order that March to exclude Iraq from the list of blocked countries and remove the indefinite ban on Syrian refugees, adding a provision prioritizing refugees who are religious minorities in their home countries.
Chad, North Korea, and Venezuela were added to the list of restricted countries and Sudan was taken off in September 2017. Chad was removed in April 2018.
Democrats and immigrants' rights groups have denounced the travel ban expansion, which deviates from previous orders in specifically focusing on immigrants.
"The Trump administration's expansion of its outrageous, un-American travel ban threatens our security, our values and the rule of law," Speaker of the House Nancy Pelosi (D-Calif.) said in a statement. "The sweeping rule, barring more than 350 million individuals from predominantly African nations from traveling to the United States, is discrimination disguised as policy."
Four days before the travel ban expansion, the Supreme Court ended an injunction on the Trump administration's public charge rule limiting immigration based on whether an individual seeking admittance into the U.S. or an extension of their legal status is likely to use public assistance, such as food stamps, Medicaid and housing vouchers.
The new policy, which was first issued in August and takes effect on Feb. 24, encourages self-sufficiency and protects American taxpayers, acting DHS Deputy Secretary Ken Cuccinelli said on Jan. 30.
Opponents of the redefined public charge rule call it a "wealth test" that permits discrimination based on class and race and sows fear in the country's existing immigrant communities.
Warner says that he is "always honored" when he gets to welcome new citizens at naturalization ceremonies, but as an elected public official, his appearances carry added weight, sending the message that "the anti-immigrant rhetoric and policies coming from the White House are not reflective of our nation as a whole."
"Many people, myself included, know that immigrants make our nation stronger in many ways – economically, technologically and culturally," Warner said. "That's why I try to make it a point to come out to congratulate these individuals on their perseverance and encourage them to stay engaged in their communities."