A remodeling solution that artfully adapts a home to changing requirements is often an enduring source of owner pride, satisfaction and re-commitment.
You no longer need the failed sun room with its leaking hot tub, for instance, but welcome thoughts of an outdoor kitchen and screened-in dining porch.
Or, the "unfinished" house you built for yourself some twenty years ago, suddenly, becomes whole when you are presented with a palpable plan for a ground level outdoor entertainment zone that sweeps the entire rear elevation.
These are the sorts of real-world scenario that Craig Durosko, founder and chairman of Sun Design Remodeling, encounters regularly-- observing that an effective home remodeling process always begins with "listening to the owner's needs and carefully articulating their vision."
"A design solution is always collaborative," says Durosko, whose 31 year-old-design-build remodeling firm has been widely recognized for outdoor play solutions that-- combined with interior remodeling-- seamlessly complements a home's beauty and functionality in all seasons. "But our first goal is always to help owners see what they really want, and to develop the vision-- one detail at a time."
Two recent award-winning projects illustrate.
Poolside Idyll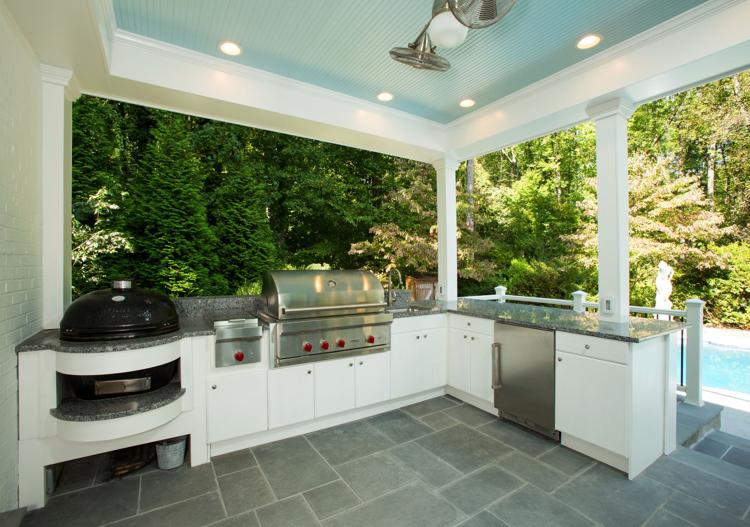 "We wanted an indoor/outdoor gathering place that would satisfy our warm- weather entertainment requirements," says Andy McColl of McLean. "We had used the pool a lot when the kids were growing up, but we've been empty-nesters for years now and mainly sought to renovate the back of the house to better suit our current lifestyle."
An earlier rear elevation proposal designed by a local architect had not been built.
But McColl credits Bob Gallagher, president of Sun Design, with re-awakening his enthusiasm for the project by prioritizing its primary components
"Bob listened," McColl recalls. "It was his attention to our goals that revived my interest in moving forward."
In the end, the final plan appreciably responds to McColl's new requirements:
• At ground level, a grilling area abuts a spacious dining and lounging zone, which is next to an enclosed space designed for storage
• The centerpiece of the ground level plan is a 13' x 14' outdoor kitchen built on a flagstone patio. The kitchen includes a Primo Oval ceramic grill, a wolf outdoor grill with side burner and a subzero refrigerator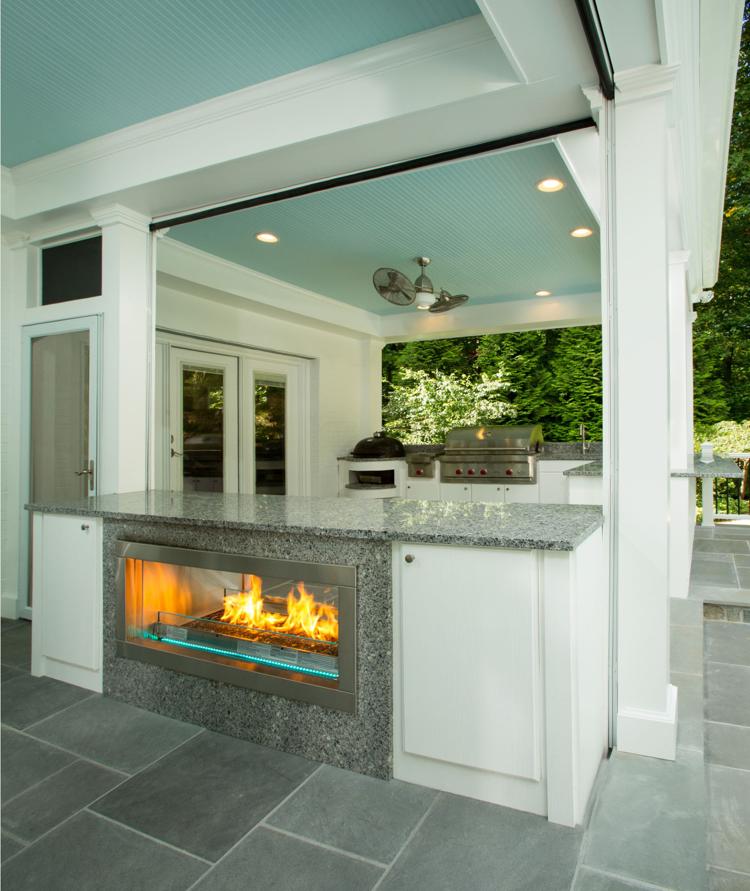 • An island featuring a "see-through" fireplace provides a serving station between the kitchen and the 350 square foot dining porch. There is also a four-stool dining counter on the pool-side of the patio-- steps away from the pool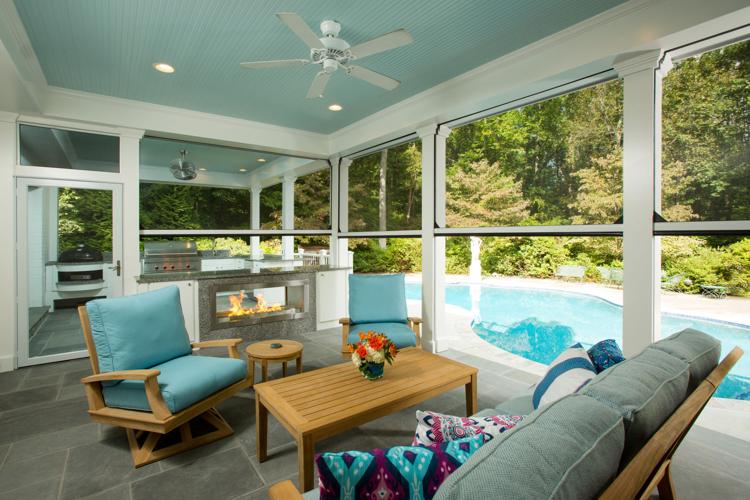 The project also incorporates several leading-edge technologies:
• To keep insects out, motorized retractable screens can be activated with a handheld remote, or by smartphone app. A weighted slidebar that runs between parallel tracks adjusts the screens which keep out insects and excessive sunlight;
• The double-sided gas fireplace is equipped with a glass wind-deflector that ensures operation in windy conditions; a safety valve turns the gas supply off if the flame goes out. LED strip lighting builds which generates colors reinforces the playful ambiance.
• To enhance available light and indoor/outdoor continuum, exterior doors with minimal framing and a larger expanse of glass were installed throughout the house
On the second level:
• Tufdek vinyl thermally-welded to existing flooring assures a watertight rooftop deck. The rails also conceal both lights, and a sprinkler system used to water plants.
• Laminated veneer lumber (LVL) from the roof of the storage room was extended to support the staircase. The innovation allowed the staircase to be cantilevered-- eliminating the need for supporting posts and, thereby, allowing unobstructed walking path around the side of the storage room.
McColl notes that the new plan can seat up to fifteen for a poolside party featuring his smoked and grilled delicacies. There are also four rockers on the top balcony.""Seasonally, the timing is just right," he adds.
Best in outdoor living
"We were looking for an indoor/outdoor gathering place that would bring the whole family together," says Oakton's Lisa Rice "The rear of the house was originally conceived as a walk-out, but I realized later that I didn't want high decks."
The family had rejected an earlier rear elevation proposal by a local design/builder. Ditto plans for a pool. But Rice says that Craig Durosko's ideas for a sweeping multi-component solution really addressed her diverse needs," Craig got our vision" Lisa recalls.
In the end, the plan offers a well-integrated, architecturally coherent-solution that works well for everyone, to wit: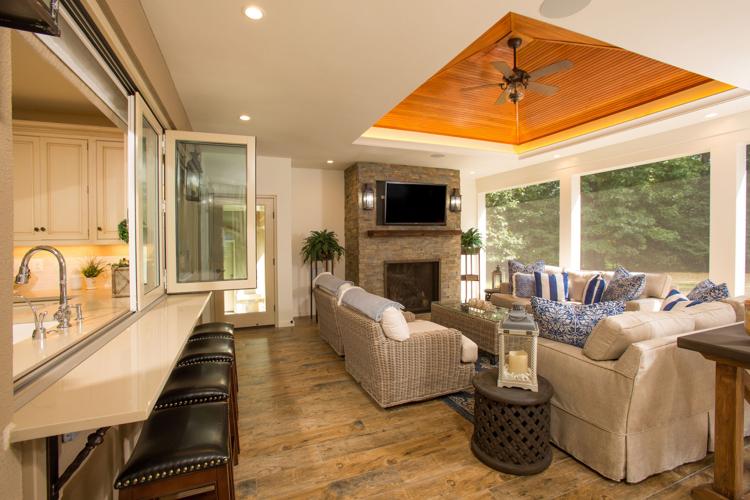 • A 437 square foot screened porch, linked to the kitchen via a folding glass window, provides a cozy, insect-free gathering spot. An eight foot counter abutting the "pass-thru" inside the porch facilitates service and dining. Equipped with a gas fireplace clad in stone and a flat screen television, the porch can be fully utilized as an entertainment Mecca nine months of the year
• A formal dining area situated under a cedar pergola incorporates retractable awnings that provide shade as needed
• The 21 ' x 21 ' outdoor kitchen includes a built-in Wolf gas grill, a beverage center with refrigerator, an ice maker, a sink, and a stainless oval grill ideal for baking, roasting and smoking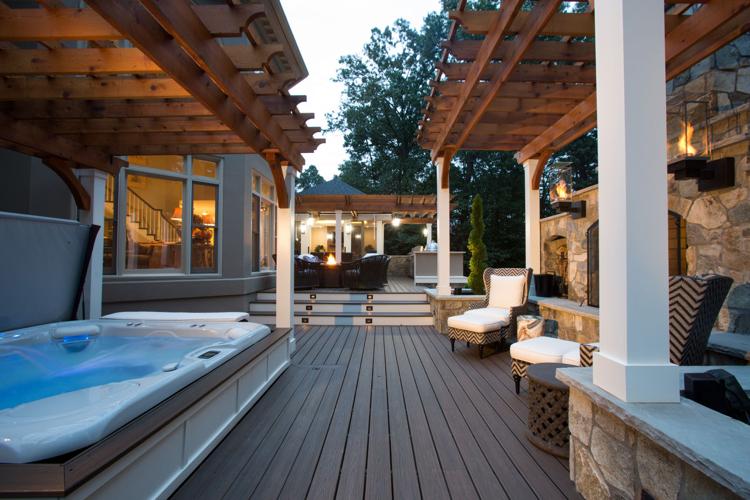 • Three steps down, the open air deck (22' x 28') features a wood-burning hearth and a hot tub set-off by planters and gas torches-- an inviting spot to deeply relax, even in cooler weather
• A ground-level patio (16' x 19') just outside the fully-appointed lower level family room offers a fire pit, and a quiet perch for stargazing
Architecturally, one of the biggest challenges was developing appropriate roof line reconciliation.
"A chateau-style residence has a very distinctive conical roof," Durosko explains. "Any addition that doesn't take this into account runs the risk of muddling the style-- diluting the very elements that make the home unique."
Taking this design principal a step further, Durosko and team decided to set-off the porch interior by introducing a pyramidal-shaped vaulted ceiling, finished in bead board. LED accent lighting at the pyramid's base adds depth and color intensity to the ceiling, which also houses a rotating fan. Meanwhile, screened barn-style doors on rollers combined with wood-grained porcelain tiling add warmth, and a nostalgic reference to northern Virginia's agrarian past.
Sun Design Remodeling frequently sponsors design and remodeling seminars as well as tours of recently remodeled homes. Headquartered in Burke, Sun Design also maintains an office in McLean. For more information, visit: www.SunDesignInc.com or call 703-425-5588.
John Byrd has been writing about home improvement for 30 years. He can be reached @ 703-715-8006, www.HomeFrontsNews.com or byrdmatx@gmail.com. Send photos of interesting remodeling projects to: b2b@homefrontsnews.com