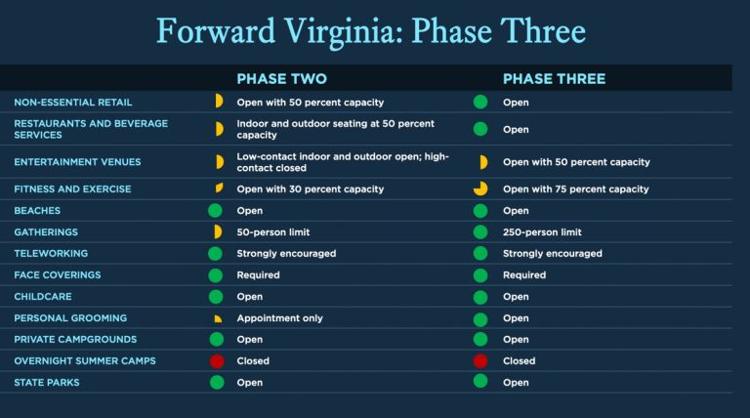 On July 1, Virginia moved to Phase 3. However, Governor Northam said the Commonwealth will maintain a Safer at Home strategy with continued teleworking and social distancing. Here is what to expect in this new phase: 
The maximum number of people allowed for social gatherings increases from 50 to 250 people. Gyms and fitness centers can go up to 75% of capacity and zoos and museums can open at 50%. Hair salons are open but physical distancing will still be required. 
The biggest change is that indoor restaurants and bars will no longer have a capacity limit of 50%, meaning they can go to full capacity as long as parties are maintaining six feet. This will also take in effect in retail stores, where physical distancing is still required. 
To reduce the likelihood of people gathering in bar areas without maintain physical distance, Governor Northam declared that bar seating and congregating areas of restaurants will remain closed except for those passing through. 
"In Virginia, our hospitalization rates have fallen, our percentage of positive tests continues to trend downward, and we are conducting more than 10,000 tests each day," said Northam.
The percentage of positive tests has dropped from 20 percent in mid-April to six percent.
"We want these trends to continue, but if our public health metrics begin moving in the wrong direction, I will not hesitate to take action to protect the health and safety of our communities."
Northam stressed Virginians to "use the same common sense you have used throughout this pandemic."
Virginians are still strongly encouraged to continue teleworking if possible, wash hands regularly, maintain six feet of physical distance when outside, and get tested immediately if they have COVID-19 symptoms.