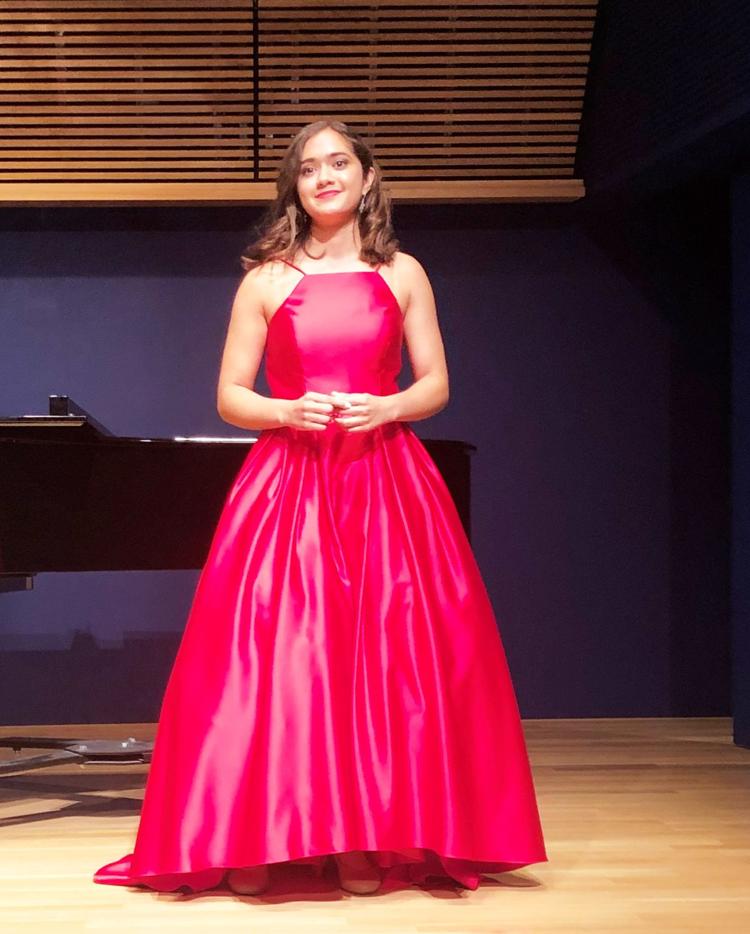 Last fall, Sara Porjosh, a 14-year-old 8th grader at Kilmer Middle School, was a winner in her school's talent show for singing "The Doll Song" from the opera, "The Tales of Hoffmann."
On Sunday, April 28, she sang the same song to a much bigger crowd, after finishing in first place in the Junior High division at the NY Lyric Opera Theatre Vocal Competition, and performing in front of a packed audience at the National Opera Center in New York City.
"I've been practicing the song for almost a whole year, and I've performed it a couple of times, so I'm really comfortable with it now, though I still get a little nervous," Porjosh said. "I love how the song is so 'bouncy' and how happy it is. A lot of times opera songs can sulk a little bit but this can really entertain the audience."
For the competition, she had to travel to New York last month and sing in front of the judges.
"I always try to get in my Zen mode; it's like I'm thinking about everything, but also thinking about nothing at the same time, and I tell myself, 'you got this, you can do this,'" Porjosh said. "I really go over the song and think about what part of my body I have to use when I sing each note."
She barely slept the night before the results were released and fondly remembers the moment her parents came in to her room to share the good news. Her mom, Gity, had a feeling Sara was going to do well in this year's competition, after being named a finalist last year in her first attempt.
"I felt deep in my heart she would place this year, and it was a wonderful surprise," she said. "She worked hard and prepared well and I'm so proud of her. I love seeing her enjoy this experience."
Porjosh takes voice lessons at Harmonia School of Music & Art in Vienna, studying under former international opera star, Sonia Yon.
"When I met Sara in 2015—she came here for summer camp—and when I heard her voice for the first time during a voice lesson, I said to her, 'You can be an opera singer,'" Yon said. "She has a beautiful high voice that not many other people have. Her voice range is almost two octaves higher than normal girls."
Porjosh sings coloratura soprano, which is a type of operatic soprano voice that specializes in music that is distinguished by agile runs, leaps and trills.
"Usually, most people sing less than two octaves in a song, but her part needs to sing over three octaves in every single song," Yon said. "She is such a smart girl, has great music sense and plays the piano well, and that combination helps her sing very difficult songs."
To help Porjosh improve, Yon has given her some opera pieces to listen to and pointed her in the direction of some videos to watch, and she really enjoys diving deep into the opera world. Together, they chose "The Doll Song" for this competition as it brought out a lot of the youngster's vibrant personality as well as her strong vocals.
"We prepared the song very seriously, and she followed my instruction very well," Yon said. "She enjoys challenges so I can push her and I really appreciate her. One day, we can see her at the Opera Center."
And Porjosh isn't the only of Yon's students to do well in the competition and perform in New York. Among the thousands who auditioned from around the country, 13-year-old Sophia Welch of Vienna came in fourth place, 13-year-old Gina Vicari of Vienna was a finalist, and 15-year-old Kirsten Tierney was a finalist in the high school division.
Porjosh credits Yon with getting the most out of her and all her students.
"Ms. Sonia is amazing. The way she says things—telling me how I'm supposed to sing, and feel—I completely understand and it helps me grow as a performer," she said. "She will get me to channel emotions and brings out my best."
While she knows she wants to continue singing opera, Porjosh also likes to act, can tap dance, plays piano and does musical theater, so she's not sure where her future lies.
"Part of me really wants to take this to the next level, but the other part of me knows of all the other activities and hobbies I've picked up in the arts that I enjoy doing," she said. "I look forward to coming to lessons but I'm worried that if I turn it into a career, I might not enjoy it anymore because the competition is so intense and the pressure would be a lot, but at the same time, I can't see how I would ever stop loving singing. So, if I pick opera, I know I won't have any regrets."