Your jack-o'-lanterns might be decomposing outside, but unless you carved the butternut squash, too, your winter squashes are likely doing what they do best: waiting patiently on your countertop to be used.
It's a fall ritual for me to buy acorn and butternut squashes and then conveniently overlook them for months. I pass them over and instead use another vegetable, like carrots or potatoes, which are easier to be peel or don't have to be peeled at all.
At some point, however, I decide it's time to enjoy these beastly, thick-skinned gourds. The tough peel is what gives them the superpower to stay fresh for months after harvest, but it also can be hard to cut through, so I have been known to microwave the entire gourd for five minutes to soften it before cutting in half and roasting on a sheet pan. (Sometimes, they are tough enough that it's hard to poke them with a fork, which is what you're supposed to do to release steam. I haven't had any trouble with exploding squashes yet, though.)
If I buy one whose skin isn't too hard, I'll take the time to peel it with a vegetable peeler, chop it in half, scoop out the seeds and cut into cubes.
Each of these recipes, all of which come from a handful of new cookbooks that have come out this year, includes different methods for working with butternut or acorn squash.
"Great British Baking Show" winner (and Netflix host) Nadiya Hussain, author of a new book called "Time to Eat: Delicious Meals for Busy Lives," requires peeling the squash before cutting Hasselback-style slits in the flesh and roasting it with a mix of ginger paste, chile flakes, rosemary and cumin.
If you're usually underwhelmed by butternut squash soups, check out America's Test Kitchen's version from their new book, "Bowls: Vibrant Recipes With Endless Possibilities." They amp up the creamy soup by topping it with ground pork, matchstick apples and a crunchy savory seed brittle.
Butternut squash soup (or puree or sauce) can be an unexpected ingredient on pizza. Stefania Evangelista and Tim Barclay, authors of "Vegan Pizza: Deliciously Simple Plant-based Pizza to Make at Home," use a homemade butternut squash sauce to replace tomato sauce on a pizza also topped with kale and caramelized onions.
Risotto is one of those carb-heavy fall foods that are good for cold nights when you don't mind standing in front of the stove stirring the rice. In their book, "Fraiche Food, Full Hearts: A Collection of Recipes for Every Day and Casual Celebrations," Jillian Harris and Tori Wesszer infuse their squash risotto with two kinds of squash prepared in a couple of different ways.
And as we're starting to think about our Thanksgiving dinners, check out the butternut borani from "Simply: Easy Everyday Dishes" by Sabrina Ghayour. It's a room-temperature dip that blends butternut squash with yogurt and garlic with dill, Aleppo pepper and walnuts on top.
Creamy Butternut Squash Soup with Apples and Pork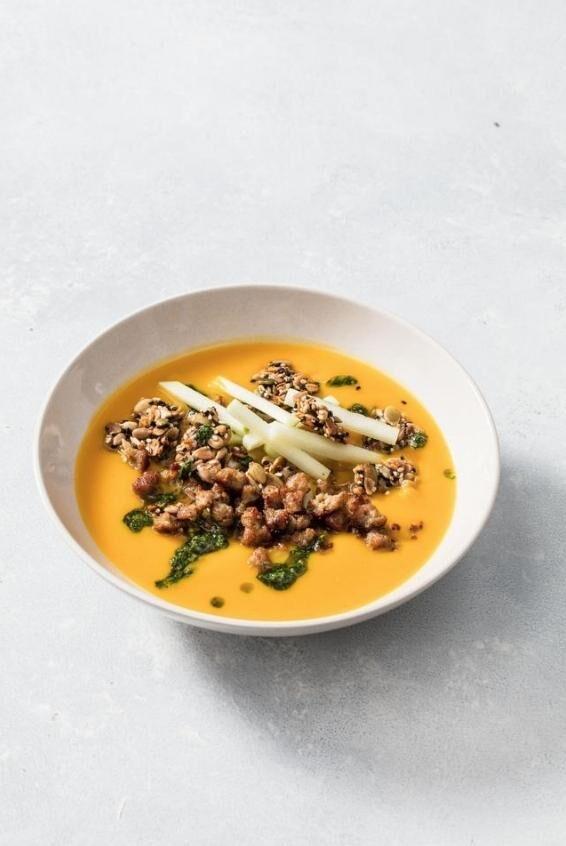 1 1/2 pounds butternut squash, peeled, seeded and cut into 2-inch pieces
4 ounces ground pork
1 large shallot, minced, divided
1 garlic clove, minced
1/2 teaspoon ground fennel seeds
1/4 teaspoon table salt
1 tablespoon unsalted butter
2 cups chicken broth
1 sprig fresh thyme
1/2 apple, cored and cut into
2inch-long matchsticks
Savory seed brittle, for garnish (optional)
Microwave squash in covered bowl until paring knife glides easily through flesh, about 10 minutes, stirring once halfway through. Carefully transfer squash to colander set in bowl (squash will be very hot) and let drain for 5 minutes, reserving any liquid.
Meanwhile, break up ground pork into small pieces in bowl, then stir in half of shallot, garlic, fennel and salt until well combined. Melt butter in large saucepan over medium heat. Pinch off 1/2-inch pieces of pork mixture into saucepan and cook, stirring gently, until pork is golden brown, 2 to 4 minutes. Using slotted spoon, transfer pork to bowl. 
Pour off all but 1 teaspoon fat from saucepan. (If necessary, add oil to equal 1 teaspoon.)
Add drained squash and remaining shallot and cook over medium-high heat, stirring occasionally, until squash begins to break down and fond forms on bottom of pot, 5 to 7 minutes.
Add reserved squash liquid, broth and thyme, scraping up any browned bits with wooden spoon. Bring to simmer and cook over medium heat until flavors meld, about 5 minutes.
Discard thyme sprig. Process soup in blender until smooth, about 1 minute. Return soup to clean saucepan and bring to brief simmer, adjusting consistency with hot water as needed.
Season with salt and pepper to taste. Divide soup among individual serving bowls and then top with pork and apple and savory seed brittle, if using. Serve.