Tysons Corner Center, one of the 10 largest malls in the U.S., has been synonymous with special anniversaries for some time -- be it as a source for that unique gift or a venue for that special celebration.
This week, the once revolutionary -- now evolutionary -- shopping center is celebrating its own 50th anniversary. As it does, the once-rural farmland upon which it took shape is a flourishing success story for the live-work-play lifestyle taking hold in the new Tysons Corner.
Gerald L. Gordon, president and CEO of the Fairfax County Economic Development Authority, says it's remarkable to see what Tysons Corner Center has become on its golden anniversary and how it continues to transform.
"Fifty years ago, that site was (primarily) dairy," Gordon says. "That's where cattle grazed. In the late 60s, Fairfax County was a bedroom community to Washington, D.C., so the mall represented some of the services and retail that the community required -- high-scale retail for a high-scale, growing community."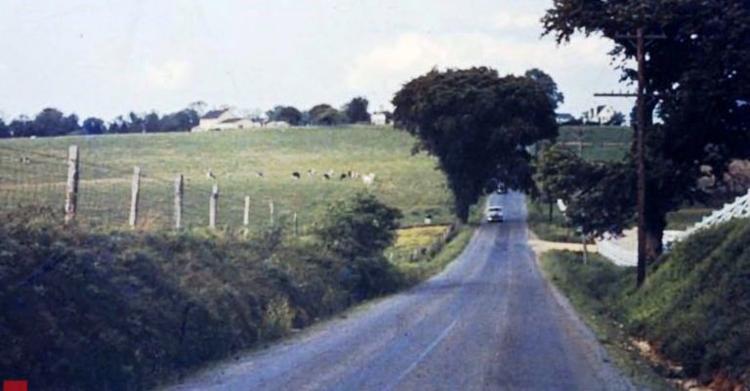 Tysons Corner Center's first 35 stores opened on July 25, 1968. Developers soon proclaimed it to be the largest enclosed mall in the world as it expanded with 100 specialty stores in what was becoming a rapidly growing suburban hub near the intersection of the Leesburg Pike (Route 7) and the Capital Beltway.
In the 1950s, Henry Tyson sold apples and cider nearby. The area, once known as "Peach Grove," was, in fact, known for its orchards and as a gas stop, where travelers could grab a snack and beverage. But by the late 1960s the mall, which had been approved as the Tysons Corner Shopping Center in 1962, was selling just about everything to customers from Virginia, Maryland and Washington, D.C.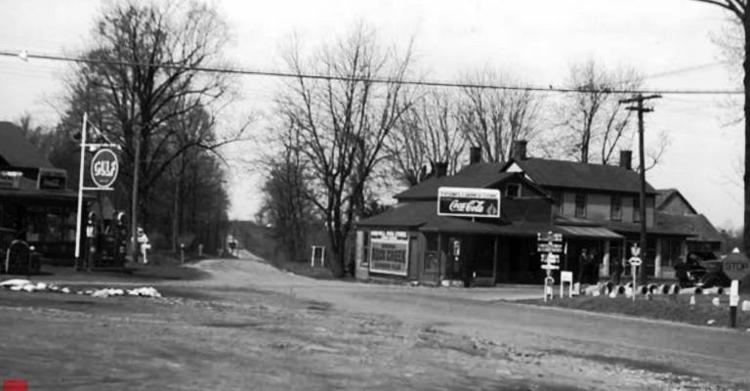 "Tysons Corner Center has always been the shopping mall for everyone," says Geoff Mason, assistant vice president of property management for The Macerich Company, which acquired the property in 2005. "Customers find everything from lower-priced clothing to high-end, luxury, Louis Vuitton-type brands. Our goal has always been to serve the entire market and we continue to do that."
The original shopping center - designed by Lathrop Douglass of New York and developed by Washington, D.C.-based Lerner Enterprises -- was divided into five "courts." Although most stores were on a single level, the 1.2 million square-foot shopper's paradise featured tri-level department stores Hecht's, Lansburgh's and Woodward & Lothrop as anchor tenants.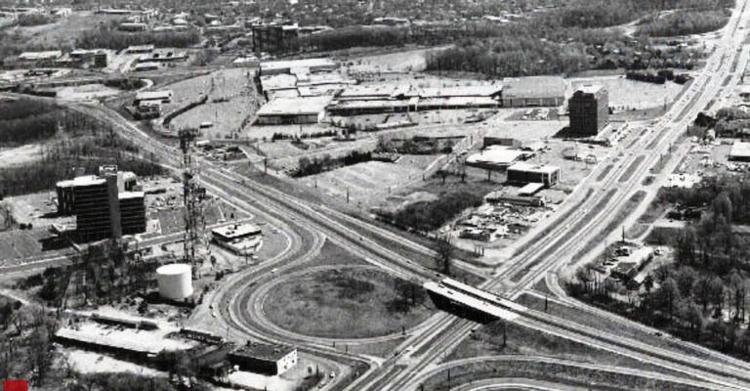 Soon recognized as a mall for all with stores such as F.W. Woolworths and the Hot Shoppes cafeteria, the shopping center did gradually become more upscale. In 1988, a lower level opened and the center attracted notable merchants such as Lord & Taylor and the first Nordstrom on the east coast. L.L. Bean opened its first full line department store outside of its Maine headquarters in 2000 and Apple opened its first retail store at Tysons in 2001. The "who's who" of retailers occupying Tysons Corner Center grew to include Bloomingdale's, Macy's, American Girl, Louis Vuitton, Gucci, Michael Kors, Lacoste, Barnes & Noble and The Disney Store.
Macerich continues to transform Tysons Corner Center with residential and commercial expansions. The site has become an entertainment venue, not only with a 16-screen IMAX 3D AMC theatre, but with a National Geographic-sponsored children's play area and the new outdoor plaza with concert stage and urban green (doubling as space for a winter skating rink) amid eateries with cafe seating.
Dining has become an increasingly important component, both for shoppers demanding fast food and
those looking for sit-down options.
"Eddie V's Prime Seafood is a really high-end restaurant that kind of represents what we're all about when it comes to serving our clients and our retail customers," Mason says. "But we also offer more casual fare with a restaurant like Coastal Flats - locally-based with an immense following. That's inside the mall and continues to drive a lot of traffic."
While many malls across America struggle, Tysons Corner Center is thriving. Mason says success is maintained by staying ahead of trends to provide the goods and services the way the public wants to consume them.
"Back in 2005, we re-merchandised the J.C. Penney building and added over 50 retailers and over 15 eating options, also adding what is now one of the most successful theaters in the country," Mason says. "Today, we have workers, residents and hotel guests that arrive every single day, and we're able to offer them something very unique with our summer concert series, Winterfest and different activations that take place. So, even if you live right around the corner, you can come here and experience something fresh at all times."
New transportation options have also helped. Tysons Corner Center's prime location, midway between D.C. and Dulles International Airport seems to have been enhanced by the Silver Line Metro (which is celebrating its fourth anniversary this week).
The Silver Line has four stations in the immediate area and Gordon calls it an "evolutionary asset," particularly when it comes to transporting the workforce necessary to support the increased economic activity. "Now that the Silver Line has become functional in Tysons Corner, it's become a magnet for business and for residents," he says.
"Mass transportation options help everyone," agrees Mason. "The Silver Line is an option for tenants in our office buildings. It's helping relieve traffic congestion in the area. And, in a couple of years, you'll be able to connect from Dulles and take a train directly to Tysons. That's going to be incredibly important."
In 2016, Macerich's makeover won the Gold Award for sustainable design in the renovations and expansions category at the U.S. Design and Development Awards, presented by the International Council of Shopping Centers. The winning elements included Tysons Tower, a 22-story trophy office building, the 429-unit VITA residential building and the elevated outdoor plaza connecting to Metro accessibility. The design plan also won awards from the Northern Virginia Chapter of NAIOP and the Northern Virginia Chapter of the American Institute of Architects.
Once completely built-out, Tysons Corner Center is expected to encompass 3.5 million square feet of highly-walkable and easily-accessible office, residential and retail space.
That means more changes as the anniversaries come and go.
"As Fairfax County grows, the mall will continue to grow as well," predicts Gordon. "Tysons Corner is becoming a business hub. By 2050 we'll have 200,000 jobs here, over 100,000 residents, and they'll continue to need high-scale retail. The mall will also evolve."
Physically speaking, Mason predicts that Tysons Corner Center will focus on vertical growth and the digital lifestyle.
"Adding more of a residential component will be a key point, as will staying on top of trends," he says. "We're going to be adding more unique food options and also looking at different entertainment options. The next phase is probably accommodating many of the digital brands that are popping up on the internet and looking for storefronts.
"When you go back 50 years, you'll notice that hardly any of the tenants that existed then exist now. Retail is continuing to evolve and it's really important for developers to stay in front of that evolutionary process."
Among the plans Tysons Corner Center has in the works to celebrate its 50th anniversary is an art show scheduled for September. Visit www.tysonscornercenter.com for a listing of all events.