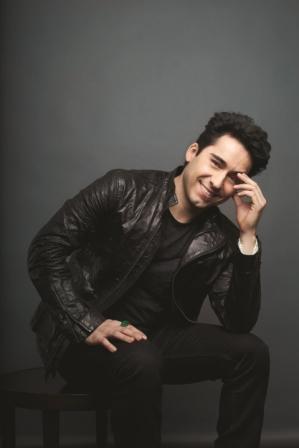 Tony Award winner John Lloyd Young originated the role of iconic singer Frankie Valli in "Jersey Boys" on Broadway in 2006. At the time, he was 31 and became the first actor to earn Lead Actor in a Musical honors from the Tony Awards, Drama Desk, Outer Critics Circle and Theatre World Awards for a Broadway debut.
"It seemed like it would become a big show because they had built it out in California and it ran five months, so I thought if a Four Seasons show could make it out West, it's going to do gangbusters in New York," Young said.
He stayed with the show for two years, then went to London to perform in the West End's production of "Jersey Boys" and came back to Broadway in 2013. A year later, Clint Eastwood asked him to play the same character in the 2014 movie version of the musical, and Young once again shined.
Young shared that he's always been a natural singer and his falsetto voice was just normal to him. He sang a cappella at his father's wedding to his stepmother when he was just three years old and loved singing all his life.
"My father was in the military and doing musicals and singing in the choir were ways for me to engage in the community when we were moving around all the time," he said. "I found a lot of solace and feeling at home in middle school by singing in chorus."
On March 14, Young and his amazing falsetto voice will be coming to The Barns at Wolf Trap to perform a night of Broadway favorites under the musical direction of Tommy Faragher. Expect songs from such musical classics as "Chicago," "The Wiz," "Dreamgirls," and, of course, "Jersey Boys."
"I was there last year and I really like the warm environment of The Barns," Young said. "Tommy and I have a mix of songs we've been doing the last few years — it's a mix of doo-wop, early R&B, and some originals, and, of course, some musical theater selections."
For those who came out last year, there's no need to worry that you'll be seeing a repeat performance.
"My show is always evolving, so it's mostly different from what I sang last time," Young said. "There are certain highlights and certain songs that I always do. That includes 'Unchained Melody' and some others."
Although he loved performing on Broadway, doing concerts like these allow him to engage more with his audience, tell stories and have more freedom in his act.
Of course, with "Jersey Boys" he had the same script to follow and he knew where each night would take him, but with a concert, things have a way of changing the path. He noted an audience could be feeling a certain way, or something may have happened to him during the day that changes the mood of the songs he wants to sing.
"It's always interesting to get in front of an audience and see what develops," Young said. "We have a lot of fun up on stage and the audience seems to enjoy the show that we deliver. The engagement with people in front of you lets me get a feel for what they need, and it's a very giving circumstance. We can be generous with each other. It is very rewarding."
Young knows that most people who come out to hear him are fans of "Jersey Boys" and the songs of Frankie Valli, and he'll never let them leave without hearing the songs that made him famous.
"These songs are really important to me," he said. "When I was growing up, I knew most of these tunes. The Four Seasons' stuff was such a part of musical culture that even though I was listening to people like Whitney Houston and Michael Jackson, their influence was everywhere."
In 2020, Young will be working on a new album, but he'll continue touring and doing concerts and singing the songs people love.