What was once a dark, forbidding, trash-strewn underpass with bare concrete walls is now a welcoming and admired work of accessible public art. Gone are the beer cans and old couch dragged in by the drinkers and chain-link fence. Instead, the exterior and interior walls of the Colts Neck Road underpass are now surfaced with 68 panels, reverberating with vigorous, interconnected and vividly colorful swirling "pathways" that are the creative outcome of months of work by Philadelphia artist and educator Ben Volta in collaboration with the Reston community.
Volta, commissioned by Public Art Reston, conducted eight workshops that involved hundreds of students at Hunters Woods and Dogwood elementary schools, students at the Southgate Community Center's after-school program, residents of the senior living communities at Hunters Woods Fellowship House and Hunter's Woods at Trails Edge, as well as the community at large at an intergenerational workshop. More than 600 individuals created 710 drawings that Volta incorporated into the design.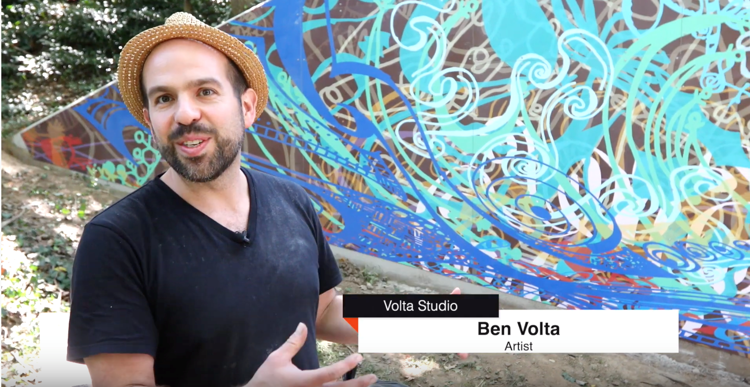 This new work of public art, Volta mused, "only exists because everyone came together to explore an idea together." Sitting on a bench outside the underpass and adjacent to the new Hunters Woods at Trails Edge buildings, Volta explained that its title, "Thoreau's Ensemble," and its overall concept was inspired by Reston's 55 miles of pathways and a quote by the poet Henry David Thoreau: "Pursue some path, however narrow and crooked, in which you can walk with love and reverence."
Before inviting them to draw their own pathway designs, Volta started the workshop process by showing participants photographs of the bleak site and asking, "What is this site's message?" Among the responses were "It needs color; it needs art; it needs energy."
The Thoreau quote, he said, "allowed access for anyone who could make a line," particularly those who do not consider themselves artists. And the "generative, collaborative spirit" of the community "invigorated me, too," he enthused. "I left each workshop energized."
Using a computer program to merge the collective drawings, the artwork, Volta explained, is then printed on huge rolls of "polytab," a non-woven fabric saturated with a primer and coated with a digital gesso. Fine art pigmented ink is used, and the fabric is further coated with a UV-protected topcoat that can then be painted onto and touched up with more color. The individual panels are made by attaching the fabric to extremely durable, composite aluminum and plastic panels called "Omega-Bond" panels, which take on the wall's properties.
Every panel had to be measured and pre-cut on-site because of the idiosyncrasies of the space, and they were attached with some 1,200 stainless-steel masonry anchors.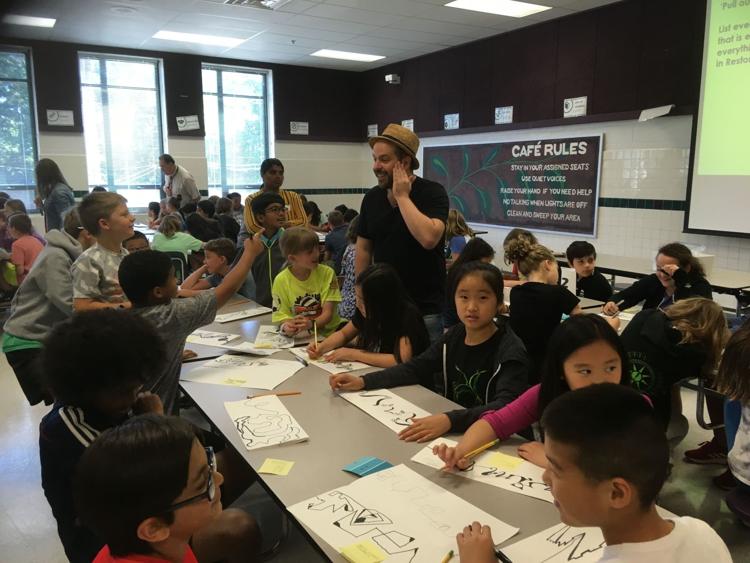 Giving it a fanciful and swirling aquatic feel, the artwork's colors are principally a mixture of blues. All the colors, Volta said, were chosen by the students, except the brown, which he integrated. He said, "I wanted it to feel embedded in the site, the landscape. Not just made by the community but grown and cultivated by the community. I wanted the feeling that the artwork grows out of the trail system and the imagination of those who live and walk along this path."
Equally important, Volta stressed, is how public art has the power to shift perceptions. "The site says something if it's not falling apart, dark and gloomy."
Cissy Nickel, executive director of independent living operations for Integra, which manages Hunter's Woods at Trails Edge for developer and project supporter Atlantic Realty, is similarly thrilled about how the underpass has been reclaimed. "It was a dumping ground," she recalled. "Contrast that with what's there now; what's there now is so cool."
Nickel, who participated in Volta's intergenerational workshop, also enthused, "Watching the seniors next to the children, it was such a great day. … We've taken spiritual ownership."
Another major fan of the project is architect Geoff Lewis, a Public Art Reston board director and chairman of its Public Art Committee, which selected Volta. Reiterating comments made to the board, he said: "Reston has an exciting new pedestrian experience taking shape. I love this thing. It is one of the most exquisite public art pieces I have seen anywhere, and I think it is really going to put Reston right on the public art world map."
He further explained, "When Public Art Reston's Public Art and Art Selection committees worked to select Ben at the get-go, his previous work looked fabulous, but I wondered, 'How is he going to really make it a collaborative community effort?' Incredibly, Ben was able to connect with and draw out all these different people's creative juices, young and old, into this beautiful singular thing. It's just magic."