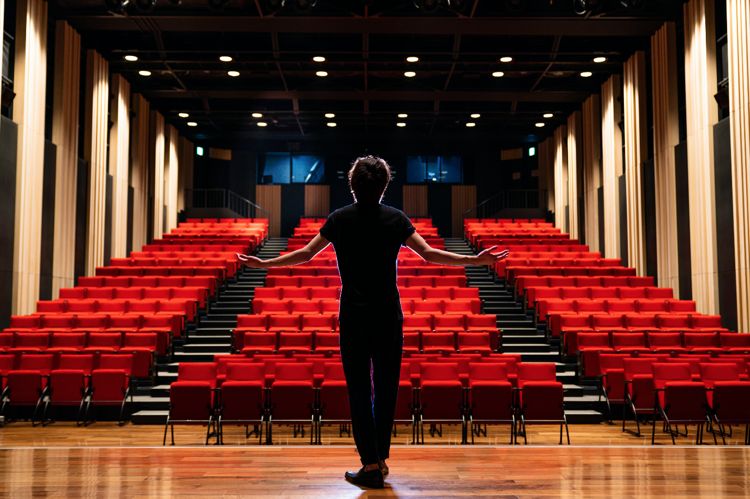 Fairfax High School's theater department is preparing a virtual fall production for the first time ever as the school district conducts classes virtually due to the COVID-19 pandemic.
The school's theater club, the FX Players, welcomed a new theater director this school year. Chris Whitney has worked as a teacher for 14 years and worked at Warren County High School before joining FHS.
Whitney said that although the FX Players won't be able to have a live fall production in November, he plans to have the students produce a show virtually.
"Theater is just so resilient," Whitney said. "And it's causing us to try to innovate ourselves to create art on this platform. It's very possible to do."
He said that he is planning on having the students record their individual scenes at home and then edit them together into a final production.
"I'm looking at doing it more documentary-style so there's not a lot of scenes between two people," Whitney said. He said it will be more similar to film acting than stage acting.
He said that as the school year begins, he wants to get to know the students and focus on building strong relationships.
"A theater teacher always has that special relationship with their students because students choose to be in that class," Whitney said. "It's really important that we establish that before we get into the content and reading plays and characters." 
Whitney plans to hold virtual auditions in September. The FX Players plan to continue participating in Cappies, the national high school theater competition, which is accepting virtual submissions this year.
The FX Players plan to submit one short play per month with a focus on productions written and directed by students. 
"It's really cool that all these students have opportunities to put out their own work," Tori Miller, lead Cappies critic at FHS, said. "I'm really looking forward to seeing and reviewing all of these performances, because it's a really cool, unique opportunity to see new art."
For many seniors, such as FX Players president Grace Lane, this is a disappointing way to begin their senior year. 
"You have this expectation of what your senior year will look like," Lane said. "I mean, I had that for 12 years."
But Lane said that theater is still a way to stay connected to her fellow thespians.
"Still seeing them and still having that sense of normalcy is really important right now when everything is so upside down," Lane said.
Madeleine Tyler, vice president of the FX Players, said that it will be difficult to act virtually because actors won't be able to create that connection with the audience or their peers. But she said that it's still important to continue to perform during this time.
"Theater can tell so many different stories, especially with what we have going on politically right now," Tyler said. "And just people being bored in our homes, it's great entertainment."
The FX Players will produce a virtual play in November.