Increasing the living space in a townhouse requires a demanding set of skills.
"There are usually structural and building code issues involved," says remodeler Sonny Nazemian. "We often discover that the original builder did not optimize the space plan in the build-out, so there's a lot of wasted square footage that can be put to better use."
Nazemian should know, as founder and CEO of Michael Nash Kitchens and Homes, the remodeler has renovated hundreds of townhomes, frequently winning top peer awards from the National Association of the Remodeling Industry, the National Association of Home Builders and Qualified Remodeler Magazine among--other purveyors of highest quality work.
That being said, the investment incentive for renovating a local townhouse has been steadily improving. In the past 12 months, real estate assessments for townhomes in northern Virginia have increased at a faster annual rate (3.15 percent) than single family homes (2.36 percent) -- and with new metro stations driving demand, resale values are growing.
Add to this homeowner passion for both long-term occupancy and distinctive interior design and it's clear that there's a "sea-change" in attitudes about townhomes.
"Expectations for townhomes have evolved," Nazemian observes. "As a company, we've been instrumental in introducing expanded plans with enhanced storage capacity, cleaner sightlines and designs that truly satisfy personal, functional and aesthetic considerations. Townhouse renovation has become one of the real frontiers in northern Virginia's very dynamic housing market."
Three recent award-winning projects illustrate:
End unit floorplan reconfiguration yields playful indoor/outdoor solution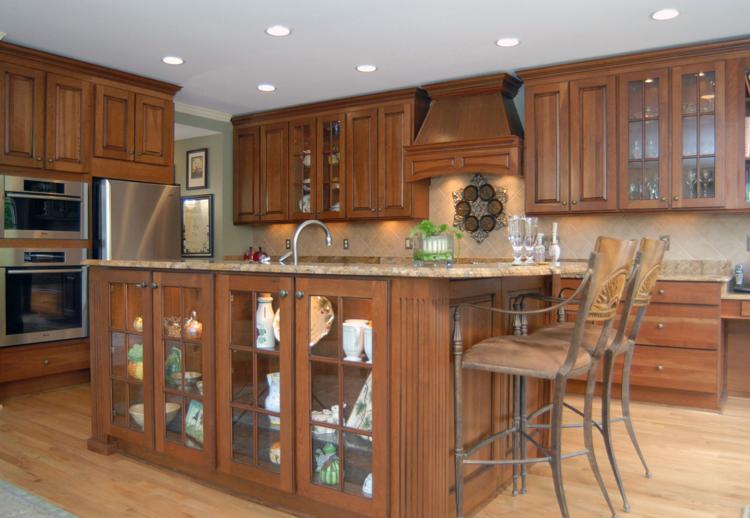 A retired Alexandria couple was looking for a way to make better use of a grilling deck on the home's side elevation.
"The old kitchen was hemmed-in," recalls the homeowner, a woman in her early sixties. "The floorplan didn't support our lifestyle--which included entertaining on a side deck in good weather and gathering in the front living room all year round. Also, we wanted display space for our Italian ceramics-- and a more stylish look overall."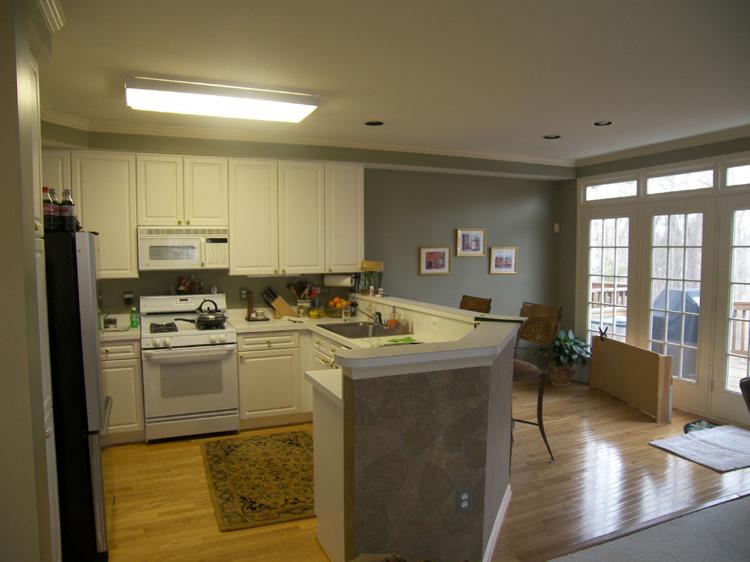 "Partitioned kitchens plans don't typically satisfy today's owners," Nazemian adds. "A kitchen that's hard to access inhibits socializing. When cabinetry and finishwork are well-integrated into an open plan, though, appliances can be positioned for convenience within elevations that convey an upscale ambiance."
The Alexandria kitchen was "open", yet sequestered behind an L-shaped serving and dining counter. Since the grilling deck was cut-off by a half-wall serving counter, traffic problems became "bottlenecks when warm weather entertaining was underway.
To reach the kitchen from deck one, in fact, had to circle around the counter and through the living room.
"We thought about tearing out the counter," the husband recalls, "but that just made everything seem too exposed."Also, the owners wanted a wine cooler, sink and serving surfaces closer to the deck.
Early on, Nazemian proposed reconfiguring the entire back half of the L-shaped "great room" as a component in a new kitchen-centric entertainment suite. The cabinetry would extend all the way to the French doors leading to the deck.
A stand-alone island with a sink positioned midway between the deck and the family room would function as the center of the "new" kitchen while doubling as wet bar and mudroom dining counter.
Today, there's a convenient wine cooler below the sink. The island's lower cabinet houses a glass display case, designed to spotlight the porcelain collection.
"The ceramics display is the dominant focal point," the lady of the house adds. "The dark woods and textured tile backsplash on the rear wall nicely converge into a warm background."