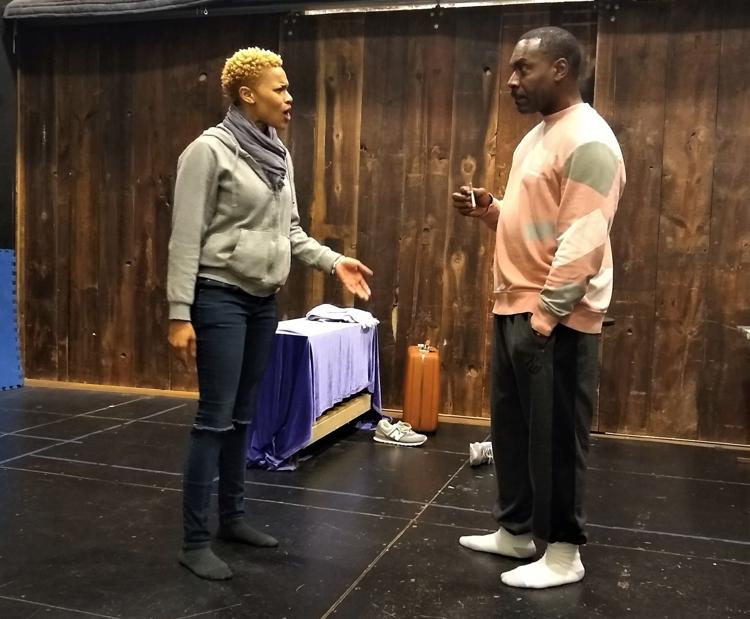 Playwright Katori Hall has found great triumph with her fictional historical drama, "The Mountaintop," which achieved critical success on both London's West End and Broadway, with the latter production starring Samuel L. Jackson and Angela Bassett.
The show reimagines the night before the assassination of Dr. Martin Luther King Jr., when he meets a young maid in his hotel room, and she forces him to consider exactly who and what he is fighting for.
Full of vivid theatricality, poetic language and surprising twists, "The Mountaintop" takes audiences to the summit of Dr. King's historic life and offers a stunning new view of his dream for the nation.
Over the next month, NextStop Theatre will be staging a production of the show under the direction of Kevin McAllister. It will star Curtis McNeil as Dr. Martin Luther King Jr. and Shayla Simmons as Camae.
"This is just two actors, 90 minutes on stage having meaningful conversations and we knew we needed two exceptional performers, and Kevin went out and asked them personally to do this, because he knew that individually, they were remarkably talented performers and collectively, they were going to work beautifully together and he was right," said Evan Hoffmann, NextStop's producing artistic director.
McAllister had been a fan of the play for a long time. He saw it on Broadway and was attracted to the power. As an actor, he's had it on his radar as one of those shows he would hope to play someday when he was older, and was excited to get the chance to direct it.
"This is a show that normally doesn't reach the far corners of the earth. It's a piece that on its surface can really speak to a very specific dynamic and culture, but Evan and NextStop is making this a universal story," McAllister said. "It's not about two black people trapped in a hotel room; it's not about Martin Luther King; it's about human experience. It's about what you do when you finally have someone to talk to and understands what you are going through. It's page after page about human connection and experience."
McNeil had played Dr. King in a different play, and liked how this play had an element of reality and liked the manifestation of the character as a man, a reverend, a father and a hero.
"I thought this would be a good opportunity to experience that part of his life," McNeil said. "Plus, we have an amazing director; I have an amazing costar in Shayla, so I couldn't ask for a better role."
For McAllister, choosing his two actors was a no-brainer. He has known McNeil for a long time and calls him someone with a "tough exterior but a gooey center" with the ability to channel against stereotypes.
"He's able to look at the constructs of a man and use every facet of that. He's not bound by the ideas of what men should be—he's able to cry; he's able to laugh, and it's effortless. He works harder than most actors I know and you need someone like that for a two-hander," he said. "I've worked with Shayla before and she is hilarious and has great comedic timing, and you need that for this character. She is beautiful and humble and the two of them just have great chemistry."
McAllister loves how the characters in the play could really be anybody, as they laugh and cry and hug and flirt and sass and belittle each other for an hour and a half and find a common understanding of love and its power.
"I was watching CNN today and I realized that shows like this need to happen more often," he said. "The great thing about NextStop is that it's diverse and chooses material that stretches the mind of the community and allows various perspectives to be seen in the theater, which is what theater is ultimately about."