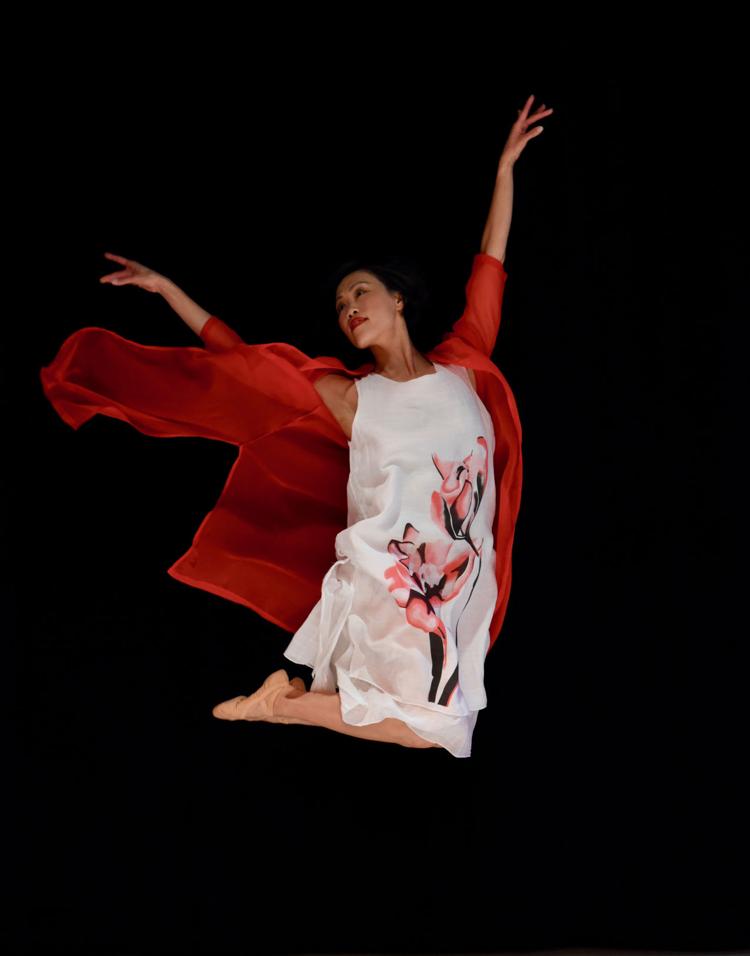 As the world celebrates Chinese New Year, let's get a feel for the culture through fusion dance.
Gin Dance Company (GDC), a Reston-based performing arts company, blends Eastern gesturing with Western fluidity of movement, and it has been selected to present its production "NEXT" at the 2019 Atlas INTERSECTIONS Festival.
"We started [applying for Atlas Festival] in 2014. So this is our sixth year now with INTERSECTIONS Festival. We've been chosen every time, and we've been so fortunate to be able to perform in the biggest theater, the Lang Theater," said Artistic Director Shu-Chen Cuff and reflected on the reason they have been chosen every year, "Maybe because our work is often very diverse and has different flavor."
This unique all-arts festival brings together many outstanding groups between Feb. 21 and March 3. Festival genres include music, theatre, dance, film, opera and spoken word where they intersect to capture a kaleidoscope of perspectives on our ever-evolving community and world.
GDC will present a full production entitled 'NEXT' featuring four signature pieces: the world premiere of Cuff's newest work "Infinity," "We, The Moon, The Sun," audience favorite "L.E.O.," an elegant and delightful contemporary ballet and a storytelling piece entitled "200 Feet" -- inspired by the teachings of the author of 'Chicken Soup for the Soul,' Jack Canfield.
"Infinity" 
Cuff commented, "'Infinity' is a piece in which we express through movement that we are all spiritual beings having a physical experience and that our journey to learn, grow and love continue well beyond our limited time on this earthly plane." The inspiration for "Infinity" comes from, "a very famous dancer, his name is Arthur Mitchell. He passed away last year, Sept. 19. He's a legendary American ballet dancer and choreographer. He's also the founder and director of the Dance Theater of Harlem. So, when he passed away, around that time, I saw a lot of post on social media by my teachers, my friends and my colleagues. That day, they were posting about their sadness and how [Arthur Mitchell] influenced their early dance development and impacted their lives deeply, even to this day.
So I thought, 'Wow, see, someone can have such an amazing impact, even after they pass away.' That energy, that inspiration still lasting that long, forever and forever. There are a lot of extraordinary people, or dance masters, like Paul Taylor, Martha Graham and George Balanchine. Those people, I mean, they touched so many lives, and their art form impacts the world. Because of that, I had this idea: 'Hey, how about we create a piece that is about going on and on, constantly, timelessly?'So, that's why I created 'Infinity.'
And for people to watch this, not thinking about, 'Oh you've got to be someone so important to impact people.' No, no, I think everybody; we all can be the best, we can be. Be kind and constantly giving and sharing to others. I think the goodness will keep going. And this is what this piece is about. Let's keep the good, and have a great endless energy and make an impact for everyone throughout the world."
"We, The Moon, The Sun" 
"We, The Moon, The Sun" is an example of how Cuff combines Eastern philosophy and Chinese opera movements blended with modern dance in which Shu-Chen explores the idea that we are One:
"This piece was inspired by a Buddha's quote, 'Three things cannot be long hidden, the sun, the moon, and the truth.' From that quote, I developed this piece. I feel like, 'Wow, it's so true.' The sun creates such a different energy on Earth. There's dawn, there's midday and there's dusk. The sun gives all forms of lives on Earth. So we're all really, Earth and the sun, all depend on each other so closely. The moon connects to the oceans of our planet Earth. It controls the water in our bodies, so we can balance. The moon doesn't have lights of its own. It relies on the sunlight to reflect its image. So, clearly, the sun and the moon cannot be separated. They are so closely connected." This is the Eastern philosophy side of Cuff's fusion, but what about the movement side? How is Chinese dance different from Western dance?
"The Chinese movement has a clear shape. It just comes out, you know, that pose. And then you know, one pose, to go to the next pose, and then you go to the next position, you control it by using your core, core strength. But in the Western style, the movement doesn't have to come from the core. It can come from any part of your body."
GDC will appear in the Lang Theater at the Atlas Performing Arts Center in the District of Columbia at 2 p.m. on Feb. 23.