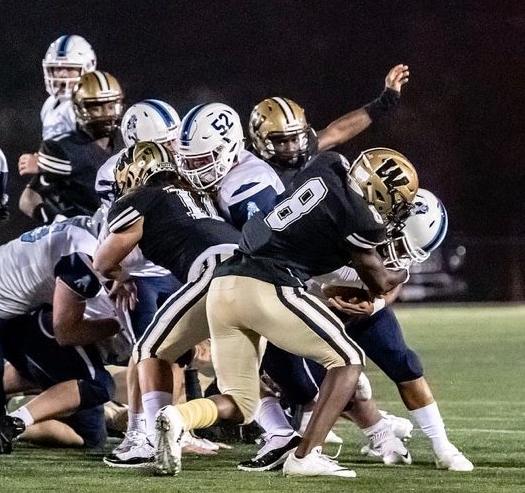 During Monday, July 27th's meeting regarding the status of fall sports in Virginia, the VHSL voted 34-1 in favor of keeping a full slate of fall sports, while pushing the season back to run from February 15- May 1. For a fall sport like football, this puts the season after both the December and February national signing days. This creates a big conundrum for college recruiters, who must stick with junior year film and let many late bloomers slide as there is currently no contingency plan regarding moving national signing day.
A late bloomer is someone who maybe does not play a lot or is not very big as a high school junior. He/she then has a big growth spurt, gets a lot more playing time, or just gets a lot better as a player during their senior season to improve their recruiting stock. One player that exuded the definition was former Westfield football player and current University of North Carolina Linebacker Eugene Asante. As a junior, Asante played running back, and while a good one, did not have as much college potential at the position as he did at linebacker. During his senior year, he made the switch, became a 4-star recruit, and was one of the top prospects coming out of Virginia. Asante's tremendous improvement in his recruiting stock from his junior to senior year is something rising seniors will not be able to take advantage of in the 2020-2021 year. 
University of Virginia's director of player personnel, Justin Anderson, oversees all the football programs recruiting efforts and activities. He is handling the recruiting process of players with an off-schedule season not too different than in a normal year by watching game film (not highlight tapes that high school kids make). The kids they are targeting are already on UVA's radar, and overall, this predicament "won't affect us too much but it will affect some kids because spring season scholarships are already filled." 
However, Anderson points out that he and his recruiting staff will need to do more projecting of film. In other words, could a Wide Receiver play Defensive Back? Or what position could an undersized Athlete (ATH) play if he grows into the body they project he will two years from now without senior year film? As far as "late bloomers" are concerned, Anderson is not too worried about missing out on a prospect that pops his senior year: "a guy that pops may not be a need. We go off what we have… projecting a little more on who we've already found rather than looking at late bloomers." Regardless, UVA has already filled all their scholarships for this year, so a late bloomer may need to accept an offer to play at a DII or DIII school due to the circumstances of COVID-19. 
Like his stance on late bloomers, Anderson is not too worried about the cancellation of showcase camps during the spring. "A long time ago, you went off what you saw (on film). No 7-on7s or official 40 (yard dash) times. These are truly unique times." Still, some companies have still been running camps and Anderson has been able to purchase film from these. "If you like what you see, compare it to the film to make up for the (absence) of senior year film. We pride ourselves in finding diamonds in the rough." 
 While this time has been hard on coaches to find players and fill out incoming classes, this time is also especially hard on the high schoolers, who are 16 and 17 years old going through this unprecedented time. "A lot of strain on all programs and kids with visits without seeing the school," Anderson explains. "This makes it also tough for underclassman." Despite all the moving parts, Anderson is overall blessed to have a great recruiting department, and these circumstances have forced them to be more "diligent."
To cope with the lack of in person visits during the NCAA dead period, Liberty University has gone the extra mile: "Liberty coaches have used virtual facility tours and meetings with prospective student-athletes to provide information and showcase our programs. In addition, we have a robust social media presence that has kept prospective student-athletes engaged during the recruiting process. In some cases, prospective student-athletes and their families have taken campus tours on their own without having contact with our coaching staff," Liberty's Director of Athletics Ian McCaw says. 
James Madison University Men's Soccer Coach Paul Zazenski echoed similar sentiments to how recruiting is greatly affecting everyone involved during COVID-19. "Recruiting has been a challenge for colleges and college coaches, but more importantly for these kids to find a place to play the sport they love… each day presents new challenges and each day (my staff) has to think outside the box to keep working and put together the best class we possibly can."
To deal with the lack of ability to see players in person, Zazenski and his assistants have been "scouring the internet" to put together recruiting databases not only for the 2021 class, but also for 2022 graduates. Contrary to Anderson, Zazenski has been watching highlights, or any tape he can get his hands on, of players because "there's no in person contact to show them JMU, and we can't take them to a field and watch them play or have a word with them. It's all through communication online and watching videos." 
While Zazenski is not concerned about the players that have the drive to "find a home to play in college and have the right tools," late bloomers are still at a disadvantage in soccer. While videos help Zazenski's staff identify talent, it is not the most reliable thing when someone pops onto their radar during this dead period. "It's a tough thing for us coaches to know and see when were not watching them. They can tell us "hey, coach I've been working and developing during corona in my backyard" but it is not enough for us to say we want you to join our program. We need a lot of conversations through emails, phone calls, and text messages to get to know these players."
As limited access to camps has greatly affected the football recruiting landscape, the same can be said for soccer's offseason camps and tournaments. "Camps are how a lot of these colleges get a better or more in-depth look at these players that might be late bloomer or not on anyone's radar." Zazenski describes. "With the absence of these camps, the ability for them to show they can play never happens." 
A solution that Zazenski proposed for late bloomers was looking into "different avenues" like taking a gap year to save some money or going to a Junior College for a year or two. "From a college coaches perspective, we never like to say "this is what you should or shouldn't do" but with a lot of these late bloomers who may have improved greatly over the last 4-5 months, there is no way we'd know it without video, even in the backyard that would indicate development… that kind of attitude and drive to do whatever's necessary will pay off in a long run."