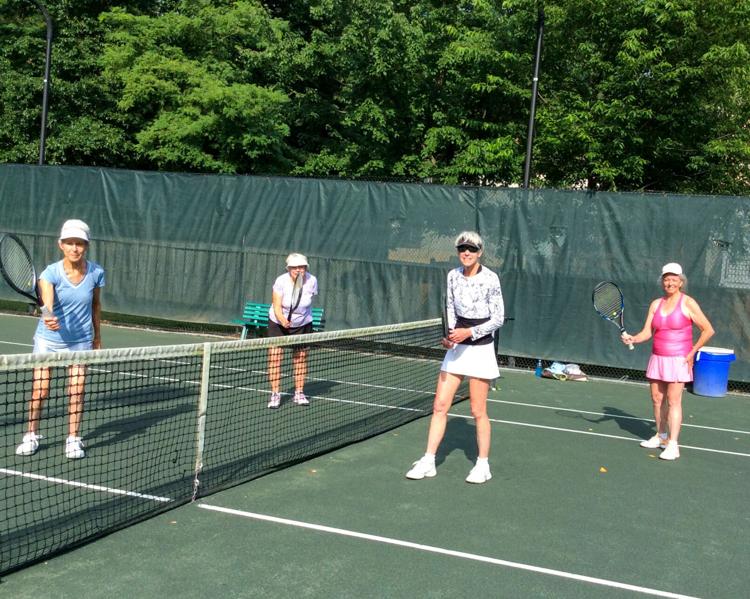 Patricia Bardavid is 76 years old and has been playing tennis for 55 years. Her friend, Annette Dobbs, has been playing close to 60. Together, they started a round-robin tennis group in Reston 15 years ago, and it's still going strong.
Bardavid is a registered nurse who has lived in Reston for 15 years, around the same time she organized the tennis group with her friend. The all-women group consists of tennis players roughly between the ages of 45 and 80 who get together at the Glade Courts in Reston to play round-robin matches, a type of competition in which each contestant meets all other contestants, rather than getting eliminated after a certain number of losses. 
The women in the group come from all over Northern Virginia, from places like Alexandria and Great Falls. Although Bardavid doesn't play every day, the group hosts a round-robin seven days a week. Like other recreational sports, the tennis group wasn't able to practice during the spring. But, starting on June 1, they've been able to get back on the court. 
"These are competitive women," says Bardavid. "They love competition. It's fun."
But even though they're eager to keep playing, the tennis players are also aware of safety procedures. Although they don't wear masks when they play, because it gets very hot, they make sure to keep six feet away from each other. "When we go to the bench to towel off, we are all very far apart," says Bardavid. "I wipe down my tennis racket after I play, and we leave the balls on the court."
In addition, everyone carries a personal hand sanitizer and they make sure to not touch the doors and gates as they go into the courts. Bardavid's background as a nurse has made her very aware of health procedures.
But that's exactly why she loves tennis.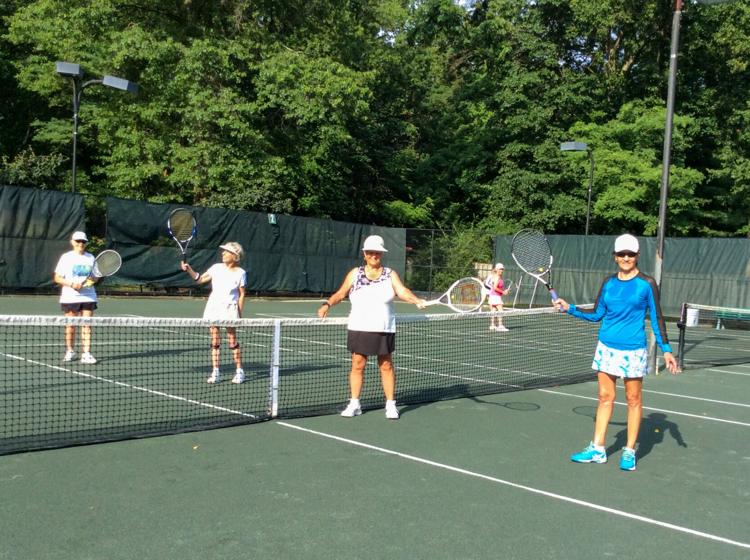 "Tennis is a sport that the USTA (United States Tennis Association) says is low risk for catching the virus," she says. "We don't high-five. It used to be we smacked hands or shake hands. After a match, these were the protocols of tennis. There is none of this."
When asked if she would call her tennis group a "team," Bardavid said she prefers to call it "spontaneous." Her group sends out emails and people sign up. She says that 14 people have signed up for this Saturday, when usually they have 12. "Now we're trying to hustle two more players so that we can have 16." 
She says that although sometimes they have four or eight people per day, they're averaging close to 12 a lot, which is three courts. The daily coordination is something she's been looking forward to since they weren't able to play in the spring.
She explains that her group is extremely happy to be outside and playing tennis again after the lockdown. They needed it for both morale and health. "I'm 76 years old," she says. "But none of us feel our age."
She says that on the court, they feel like kids. 
"People should know that tennis if alive and well during the pandemic," says Bardavid. "And it's low risk. That's the main thing."