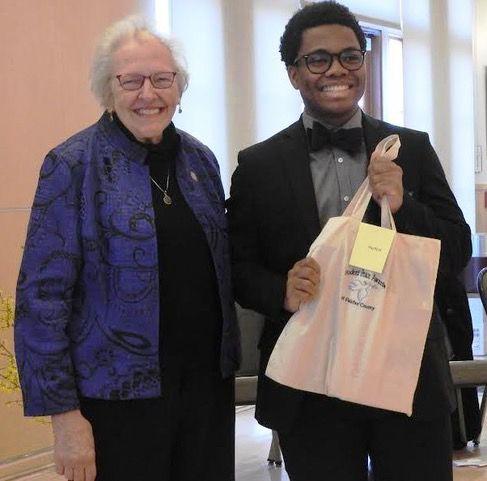 At Mount Vernon High School, volunteering students assemble meal packages that feed 80 to 100 of their classmates every week.
As a volunteer for the nonprofit Earth Sangha, Annandale High School senior Manny Precht helps plant native species and removes invasive ones.
The Girls-4-Girls nonprofit organization founded by Herndon High School senior Nabaa Abdel Okhowa and three other Iraqi American girls collects supplies, raises money, and provides English lessons to girls in poverty in Sierra Leone and Iraq's Yezidi community, an ethnic and religious minority that has faced persecution by extremists within that country.
Those are just a few of the projects undertaken by the teenagers honored at the Student Peace Awards of Fairfax County's reception at the Sherwood Community Center in Fairfax on Mar. 1.
Students from 26 different Fairfax County high schools, including two private schools alongside their public counterparts, received the awards, which are in their 15th year and recognize juniors and seniors who have actively contributed to peacemaking in their community.
"Every year, we're astonished at the range of things that people have done," Student Peace Awards of Fairfax County co-founder and organizer Margaret Fisher said. "…They didn't necessarily have peace in mind when they were doing their projects, but they definitely advanced the cause of peace, and this is beautiful, what the schools come up with, because they're the ones who choose the students."
Fisher and a few fellow members of the Herndon Friends Meeting, a Quaker faith group, started the Student Peace Awards of Fairfax County in 2006 to acknowledge young people involved in volunteerism, activism, and other forms of community service.
The recipient of the Nobel Peace Prize in 1947, the Quakers believe peace requires not a passive avoidance of conflict, but a commitment to resolving conflict through nonviolence and "seeking justice and healing for all people," according to the Friends General Conference, a volunteer-led association of local and regional Quaker organizations in the U.S. and Canada.
While the Student Peace Awards are not religious, they promote the same idea that peace can be achieved through people getting involved in solving problems they see in their community.
After starting with Herndon High School, the Student Peace Awards expanded to every public high school in Fairfax County in 2013 and are now supported by 19 sponsoring organizations, including faith communities, rotary clubs, and the George Mason University School for Conflict Analysis and Resolution.
The awards even inspired Frederick County in Maryland to adopt its own program. The Student Peace Awards of Frederick County began with four high schools for the 2014-15 school year before expanding to all public and several private schools in 2016.
Fisher says the positivity of the awards makes them especially fun to organize, a task that called for about 50 volunteers this year who worked with the participating schools and put together the celebratory reception.
Every year, Fairfax County high schools receive an invitation in October to submit an individual student or a group for the Student Peace Awards by December.
Volunteers assigned to each school then notify their school's designated recipient and meet with them so they can write a profile for the awards reception.
In addition to getting a certificate at their school's end-of-the-year awards ceremony, the winning students for the 2019-20 school year received a copy of the self-help book Sweet Fruit from the Bitter Tree by Mark Andreas, a $250 check, and $100 donated in their name to a nonprofit of their choice whose mission is in keeping with the spirit of the Student Peace Awards.
Emily Smith, a senior at Lake Braddock Secondary School, designated the Sprout Therapeutic Riding and Education Center in Loudoun County as the beneficiary of her donation.
Smith volunteers at Sprout, which offers horse riding instruction and activities to individuals with disabilities. She assisted with a camp for low-income participants last summer and still helps with lessons.
One of several students recognized for building bonds between general education and special education students, Smith earned her Student Peace Award with her work as a coach and player on Lake Braddock's Special Olympics unified sports team.
"I try to do whatever I can do to make everybody feel welcomed and included," Smith, who is dyslexic, said. "…I think it's important to make [students in special education] feel like they're just like any other student, to make them feel like they have a place in the school."
The volunteerism recognized by the 2019-20 Student Peace Awards of Fairfax County varies in subject and scope, with some projects concentrated in one school and others spanning the globe.
Awards went to students who serve as peer counselors at Cedar Lane High School and Quander Road School, as well as Edison High School's Minds Matter club founder and president Kheira Bekkadja, indicating that mental health is a concern for many teens.
In the 2018-19 Fairfax County Youth Survey, which came out in October, 36.6 percent of high school students reported experiencing high levels of stress, and 28.3 percent of students said they felt sad or hopeless to the point of halting normal activities for two or more consecutive weeks.
The environment was another topic of interest for many Student Peace Award recipients, which made Kendyl Crawford a fitting guest speaker for the reception. The Virginia Interfaith Power and Light director talked about the effect of climate change on global conflict and inequality.
As the Mountain View Environmental Club president, Betsabe Pardo brought vegetable and native plant gardens to his school and raised money to bring safe drinking water to communities.
Marshall High School's Zamir Ticknor helped organize a rally in Richmond on Sept. 20 for the U.S. Youth Climate Strike. He serves as outreach director of the group's Virginia branch on top of leadership roles in his school's Best Buddies program and Model United Nations.
Some students, like Hayfield No Place for Hate committee founder Patrick Cloud and South County Stallions with Refugees president Siedeen Ahmed, sought to create change by inspiring discussion and reflection.
Other students focused on fundraising and collecting resources for people in need.
Centreville High School senior Sophia Lee started a Compassion Club that raises money for wells, medication, scholarships, farm animals, and care packages for children around the world.
After witnessing the conditions that displaced people face in Afghanistan, Salwa Zahdid and her sister started Spartans for War Victims at West Springfield High School to organize drives for food, clothing, hygiene products, and school supplies for areas in need.
"I am honored to be awarded the Student Peace Award of Fairfax County," Zahdid said. "Having seen the devastating effects of war on civilians myself, I am hopeful that my efforts for positively impacting others' lives will contribute to peace around the world."
Several Student Peace Award recipients advocate for gun violence prevention, including Smith, who helped plan a rally at the National Rifle Association headquarters, and Robinson Secondary School senior Michael McCabe, who is the Virginia policy director for the student-led March for Our Lives.
Fairfax High School senior Renee Richey lobbied Congress for gun law reforms as well as the Deferred Action for Childhood Arrivals program that gives relief to young undocumented immigrants, while King Abdullah Academy junior Jena Musmar helped organize a student walkout in commemoration of school shooting victims.
Musmar is also a member of King Abdullah Academy's Project Humanity, a student-run club dedicated to domestic and international humanitarian aid, and president of the Palestinian Youth Group, which does volunteer activities around Northern Virginia.
"I happened to be born into a good family. I happened to have money. I didn't earn any of these things," Musmar said. "So, I feel like, being one of the very few Arab immigrants with all this stability, it gives me a purpose to serve others in my community."
Fisher appreciates that school board members and other elected officials take the time to attend the Student Peace Awards of Fairfax County reception every year.
Rep. Gerry Connolly (D-Va.) advised the award winners to stay true to their values, while Mason District Supervisor Penny Gross and Fairfax County School Board chair Karen Corbett-Sanders, who represents the Mount Vernon District, praised students' efforts to improve the community.
The school board moved last year to encourage more student advocacy and community service by revising Fairfax County Public Schools' regulations to permit one partial school day absence per year for civic engagement activities, including meeting with elected officials or volunteering for a campaign.
The new policy took effect on Jan. 21, and the option is open to students in grades 7 through 12.
At-large school board member Abrar Omeish says she found the creativity and passion that the Student Peace Award recipients brought to their projects inspiring.
The youngest person ever to serve on Fairfax County's school board, Omeish won a Student Peace Award for leading a campaign to amend FCPS's policy on bullying when she attended Robinson Secondary School.
"We don't often focus on empathy-building and service and things that are ultimately the most important aspect of a human being and the character that we're building in these students," Omeish said. "The peace award is an incredible example of us saying this is something important to us and…that we look forward to seeing more students involve themselves in this kind of work."