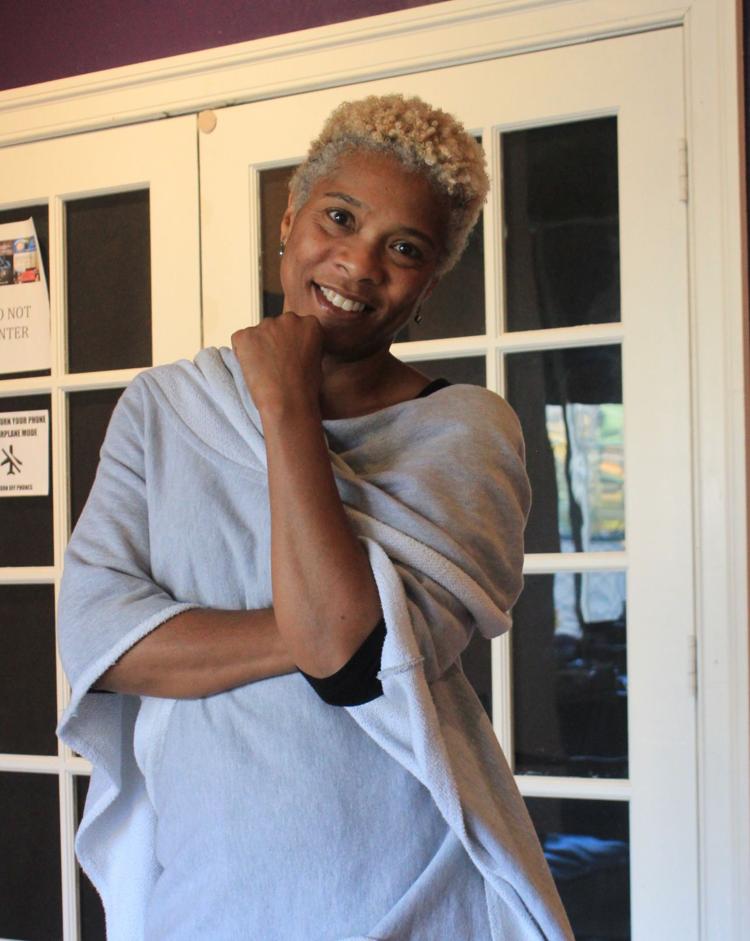 Her grandmother was a performer; her mother was an actress and a registered nurse as well as a single mom. But for Deidra LaWan Starnes, "There was a conflict in my heart about...being a Christian and being involved in theater." This is why she went to three different universities to study business, and eventually dropped out of college. While sitting with her uncle in a hospital room, she said, "I want to go back to school."
"By that time I had so much debt and he said he would help me. And I said, 'But I want to major in theater.' It just came out. And I didn't even think about it before I sat down with him in that moment. And he said to me, 'I never understood why you didn't do that in the first place,'" Starnes recalls.
Starnes continued her education, receiving a bachelor's degree in theater and an MFA in drama. The Washingtonian actress won the Helen Hayes Award for Outstanding Lead Actress in 2009 and is now the associate artistic director of 1st Stage Theatre, where we had this conversation:
Congratulations on your new position as 1st Stage associate artistic director. I'm curious about how this all started.
Starnes: My relationship with 1st Stage?
Exactly.
Starnes: Alex's [Alex Levy's] first season--I believe it was about five years ago--I auditioned for a show that he was directing. It was the first show that he was directing and got cast and that was "The Good Counselor," and that began a beautiful relationship between me and 1st Stage. So a few years after that, Alex invited me to be an associate artist, so I was being considered as a director as well as an actor onstage. So I went on to direct two productions here, "Ma Rainey's Black Bottom" and also "A Civil War Christmas." Then, I also performed in "The Member of the Wedding," which was this past season.
So he gave you the opportunity to be a director.
Starnes: He gave me the opportunity to be the director. He invited me to direct and invited me, once I auditioned for him, but for "The Member of the Wedding," he just said, "Hey, I want you to do this show." So I did it without an audition.
It looks like he kind of saw the director in you.
Starnes: He did. It was very interesting. I had recently directed a production of "For Colored Girls" and he called me in and he sat down with me and just said, "So, you're directing?" And I said "Yes." And he said, "Do you like it?" And I said, "I do."And he said, "Are you just going to be directing from now on?" and I was like, "Noooo."
For your acting, you received the Helen Hayes Award for outstanding lead actress in 2009.
Starnes: Yes. And so, he said to me, he's looking at getting the rights for "Ma Rainey's Black Bottom," would I be interested in directing that. And I went, "Yes!"
Wow. So he saw you directing a show?
Starnes: He didn't even see it. He heard and he knew I was doing it. A couple of our volunteers had seen the show and I think they reported back to him.
He's always been very supportive of me. There's never been a time where I felt like he didn't think I could. I always felt like he saw something and wanted to make sure that it came out.
That's great.
Starnes: He's like one of my angels. I feel like God put him in my life to be one of my angels because he's been a great supporter of my total career.
So is this a dream come true for you?
Starnes: I never thought about being an associate artistic director of a theater. It was almost mind-blowing when he asked me. It's an arena that I, I don't feel like I had an awful lot of experience in. I've been a director; I've been an education coordinator with a theater company before. I've worked in education, I've done casting, I've done a lot of things that this job entails, but never sat down in the office and that be what my title is. So I was a little intimidated.
You get all the experience from all of these things that make you unique, too.
Starnes: But they're also so patient with me. The staff, Emily, Heidi and Alex, are very patient and very hands-on teachers. So, they're very good about answering questions, filtering things and helping me understand the way we do things here. I think 1st Stage is very unique in its operation.
Certainly, there are other small theaters and I just think we're such a family. We know each other's kids, we know each other's partners. You know, we talk about our families and we bring our families here to the theater. So it's just really, and I'm not saying other theaters don't do that, but it's just very special really here [at 1st Stage]. It's the only thing that can get me to make that commute from Montgomery County to Tysons Corner.
Yes. I know it's a totally new position, but do you have a vision for what you want to bring to this?
Starnes: Well, one of the things that I am tasked with is education initiatives and reaching the community from birth to retirement and beyond. And so, one of our newest initiatives is the Yes Pass, which is the youth engagement subscription. Every high schooler in Fairfax County is entitled to have a free subscription for this season.
Free subscription?
Starnes: Free subscription. They can go online, they can call the box office, they can call the theater, they can email me (deidrastarnes@1ststage.org) and we will set them up with a season pass. So, there are four shows left and it would operate just like a regular subscription. Except it's free.
We also want to reach our younger audience and also our middle schoolers. So, we're working on ways to get them here. We have $5 tickets for middle schoolers. The challenge is always going to be content because we're not a children's theater, but we're working on other kinds of programming that we can do for families as well as for babies and toddlers and younger children. So, we are making connections with other organizations and institutions that are already well-versed in those age groups to see how we can partner and work together.
What is something unique that you think you will bring to this position from your own personality?
Starnes: I kind of know what they want me to do, but for me, I do want to… I'm a very happy, loving person. So, I do want to make sure that I am, and this isn't a new thing, but adding to that ideal of home and family for artists, designers and actors that come into this space.
What do you mean by that?
Starnes: Well, just as we are a team, a family, to make sure that we make sure our designers and our actors know that they are part of the 1st Stage family as well. That we know what's going on with them. That we have a personal one-on-one.
Okay. That's a great point.
Starnes: Yeah, and to make sure that we're checking in and reaching out outside of the production itself.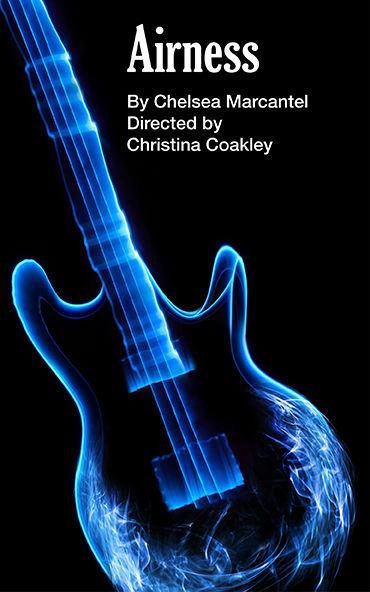 What do you think of 1st Stage productions so far? What do you think makes them different than others?
Starnes: What I think makes 1st Stage different is that we try to pick shows that represent our world, every part of our world, not just one particular view of our world. And in that way, we don't do one specific type of play. You know, we don't do all classical or we don't do all musicals or things of that nature. We do plays that we feel are relevant to what's going on in the world today. And sometimes that may mean an older play. An older play where the topics in that play still exist today, which is sad but true, and things that can evoke a conversation. Things that once the show is over, the audience members walk out of here and they're still talking about it and thinking about it and also those fun, quirky things that...like "Airness" is, it's fun and it's quirky and it's about a population of artists that are not well known. Air guitar competitors, they're well known in their own circle. But certainly, when I say we're doing Airness, "What's Airness about?" Well, air guitar competitors. "That's a thing?" Yes, it is.
Do you see any issues that we need to work on for local artists?
Starnes: I mean, we can always talk about inclusion. But inclusion is so large and I think the idea of recognizing that individuals are human beings...and sometimes I feel that even as artists, minority groups are being marginalized without it being intentional. But when it's brought to the forefront, there is sometimes denial that that's happening. But you can only understand that if you're in that group. And how do we include everyone? That's difficult, to include everyone, but how big can our reach be as artists so that everyone feels that we're at least trying, trying to give everyone as much of a voice as possible. And to humanize art. I think a dehumanization is happening. Some of it is because institutions have to survive and in order to survive you have to have capital and in order to have capital, you have to have people giving. And how do you attract people giving? And it just becomes a very difficult process.
I want to ask if you had any challenges as a female in this industry.
Starnes: In industry, yes. In this office, no. Being a woman in general has its challenges. I find that there is a tendency--I am very jovial, happy and fun and silly and playful; my mom said that I was a Taurus Gemini and my birthday is May 22, so, I guess, right on the borderline, and I think what happens is the tendency for people to not hear our register. I think scientifically it's said that women's voices are at a register that makes it difficult for them to be heard in a room or received in a room. That's what they say. That's why they say, like, in a boardroom, a woman can make a suggestion and nobody will really hear it, and then a man will make the same suggestion and somebody will go, "Oh, that's a great idea." I don't know if that's true or not. I certainly feel like I've experienced that.
Reflecting on our conversation, I've definitely experienced that too. But rather than being due to the register of women's voices, I think it comes from intimidation and mental barriers that need to be broken.