During the weekend of Martin Luther King Day, St. James hosted a special event thanks to 2-time NBA Champ Kevin Durant. It was the first annual Martin Luther King Day Classic, an event that consists of 5 games. The participants were premier high school teams and players from the DMV, Pennsylvania, Georgia and Canada. However, there was more to this event than just a few exhibition basketball games.
In addition to facing each other on the court, these players and their coaching staff will also visit the MLK memorial in DC. These participants will also visit the African American History and Culture Museum and the Lincoln Memorial where King delivered his Iconic 'I Have A Dream' speech over 50 years ago. Even though this was a sports-minded event; no one in the building lost sight of the real reason for the occasion. St. James' Co-Founder Kendrick Ashton hopes that all the players remember that, "King's life is one to celebrate and that these kids bring freedom, dignity, and dedication to everything they do on and off the court."
Ashton was one of the people instrumental in allowing this event to take place. "We got in touch with Kevin Durant's management around April to bring world class basketball to St. James." Ashton also added that, "Hopefully the competition intensifies and improves over time, but this was a good start."
The games played at the MLK Classic were mostly decisive victories; being lopsided victories.
Woodrow Wilson from D.C. dominated in their two games destroying both Norfolk Collegiate and Virginia Academy respectively. However, a few of the games played were entertaining. St. Charles from Waldorf, Maryland barely defeated Riverdale Baptist (Marlboro, Maryland) 55-53, every quarter was a tight battle. Rock Creek (Marlboro Maryland) also had a close game against Norcross, but they ultimately came up short 76-71.
Each awarded a standout player with an MVP trophy and a photo with Ashton after each game. One of these MVPs was Grayson Senior Tonaeri Lane from Longville, Georgia. Who noted winning on MLK Day was icing on the cake, "This is a special day, MLK was a good dude, so it felt good to win today."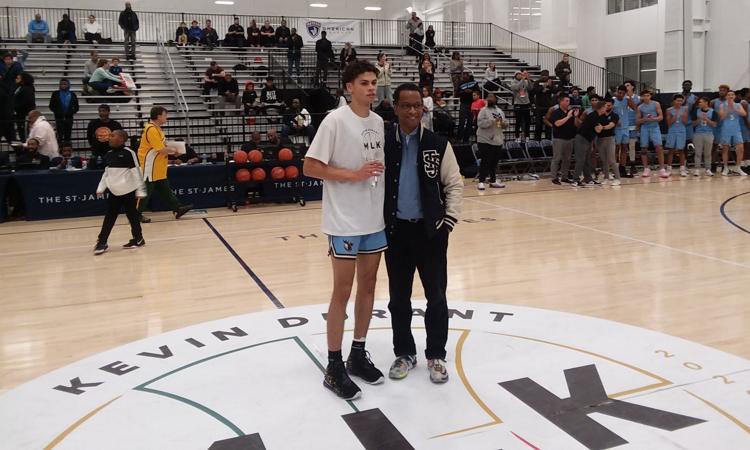 This isn't the first time that St. James held a major Basketball event with significant connotations behind it.
Last summer they held a Red Bull Basketball tournament to determine who'd represent America in the 3-on-3 games in the Olympics. It's moments like these that show St. James can be so much more than just a fitness facility. The building is only a few years old, and it looks like the future is burning bright for St. James and their staff.