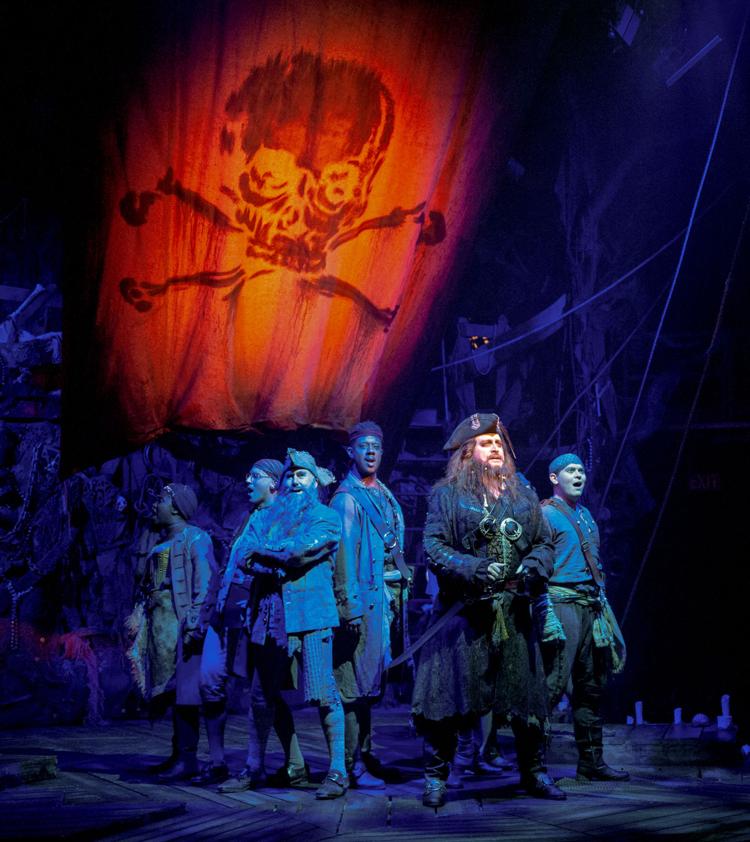 The Signature Theatre has been turned into a high-seas adventure thanks to the world premiere musical, "Blackbeard," which is currently playing through July 14.
The hilarious musical has a book & lyrics by John Dempsey and music by Dana P. Rowe and is being directed by Signature Theatre Artistic Director Eric Schaeffer.
Staged entirely on a ship, the story follows the most infamous pirate of all time Blackbeard and his band of marauders as they travel around the globe and look to raise an undead pirate army from the depths of the sea.
"Eric called and asked if I would be interested in writing a pirate musical and I promptly replied, 'no' because I had just done a musical that was sort of about pirates," Dempsey said. "But Eric said, 'let me send you a picture' and he had sketched out an idea of how to turn the theater into a pirate ship and I thought that environment, with pirates on ropes and things, just seemed really exciting."
Dempsey called Rowe and he didn't need any persuading.
"Who wouldn't want to write [a] swashbuckling music for a show about pirates?" Rowe said. "I was interested right away."
While many theater buffs know "Pirates of Penzance," Dempsey noted there aren't too many musicals about pirates in the theater cannon, as most that do, just have pirates as characters like "Peter Pan."
"There had been some failed attempts, like 'Pirate Queen,' which I had worked on, and a Cy Coleman version of 'Treasure Island' called 'Pieces of Eight' in the '80s, so as we talked about the show, we felt it needed to be comic, maybe not high comedy, but fairytaleish and mythic," Dempsey said. "I started researching pirates and the first name that always pops up is Blackbeard."
The interesting thing he learned was that when Blackbeard would go into battle, he would put hemp or rope fuses into his beard and light them on fire so when he would attack a ship, he would look like some mythic creature. That not only felt like "theater" to Dempsey, but also showed a bit of insecurity on his part, and he knew Blackbeard would make a great character to base the musical around.
"I describe it as a three-hour epic that we have jammed mercilessly into an hour-and-a-half. It references six different seas and three different oceans and numerous countries," Dempsey said. "Basically, it's a quest. Blackbeard has a goal and he has to complete a lot of things to accomplish that goal, such as going to Norway to visit the Norse Gods, and Japan to visit the Japanese gods, and it's all in his quest to become mythic himself."
In the end, "Blackbeard" is less about the treasure at the end of the journey than it is about the journey itself.
The production stars Chris Hoch as Blackbeard, Rory Boyd as Roger, Maria Egler as La Mer/Morgan, Ben Gunderson as Garrick/Maynard, Kevin McAllister as Caesar, Christopher Mueller as Kamikaze/Jack Five Fingers, Nova Y. Payton as Dominique/Sal, Lawrence Redmond as Samuel, Awa Sal Secka as Kali Maa/Shanti, and Bobby Smith as Karl.
"Every sailor is married to the sea, but Blackbeard has a wife named La Mer and there's also a father/son story that's very strong, and all our actors are extraordinary and bringing a lot of emotion to it," Dempsey said.
Rowe feels this is a musical for people of all ages and while it's not a children's show, young theatergoers are welcomed to the production to enjoy the swordplay, fighting and swashbuckling adventure.
"This show is kind of a dream come true, because we do a lot of cinematic stuff, like fight music and sword sounds, and it checks all the boxes of my inner child," Rowe said. "It's that dream of escaping from normal, mundane life. There's an adrenaline rush when you think of being on the high seas. It brings about emotion and high senses."