The future of driving in Fairfax County may be in the hands of machines, or so Brookfield Properties hopes.
The real estate developer announced on Feb. 7 that it has partnered with the Boston-based self-driving vehicle technology company Optimus Ride to deploy autonomous cars at its Halley Rise property in Reston.
"Brookfield is constantly exploring innovations that can improve the experience of our tenants," Brookfield Properties executive vice president Greg Meyer said. "We are excited to engage with Optimus Ride to deploy this program in an effort to increase mobility and add convenience for our tenants in their day-to-day lives."
Located near the future Reston Town Center Metro station at the former Reston Crescent, Halley Rise is a 36-acre property that Brookfield plans to transform into 3.5 million square feet of retail, residential housing, offices, and public green space.
The $1.4 billion mixed-use development will be anchored by Reston's first Wegman's Food Market, and Brookfield announced in December that construction was expected to begin in the middle of 2019.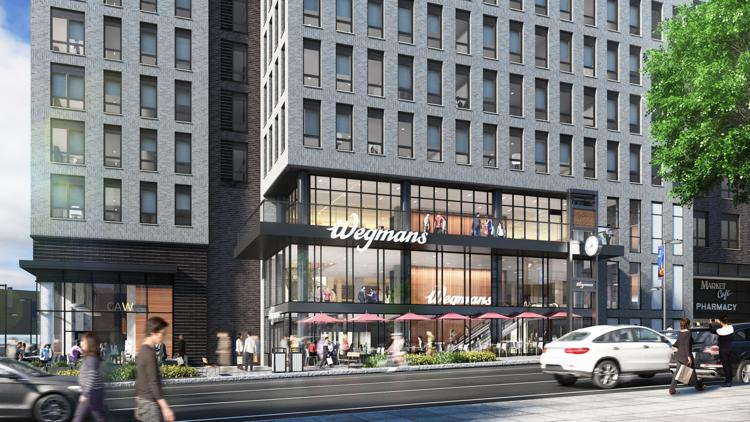 Brookfield has already committed to incorporating electric vehicle charging stations at Halley Rise, so the introduction of self-driving vehicles seems like an extension of that effort to take a forward-thinking approach to the community's transportation infrastructure.
Launched as a spinoff company from the Massachusetts Institute of Technology, Optimus Ride specializes in building self-driving vehicles that operate within geo-fenced environments, meaning they are programmed to stay within a designated area.
The company has been using its technology in the real world since at least June 2017, when it received approval from the Massachusetts Department of Transportation to test vehicles on public roads and properties in the City of Boston and elsewhere in Massachusetts.
However, Halley Rise is the first place outside Boston where Optimus Ride will deploy self-driving vehicles for public use.
The planned Reston mixed-use development appealed to Optimus Ride because of its proximity to a Metro station and because the area is well-developed even before Brookfield officially starts construction.
"We started here because there are already tenants on-site, which we can provide mobility [to] today," Optimus Ride co-founder and CEO Ryan Chin said. "During development, we can augment the system by adding more vehicles and more routes as more people occupy the site."
Optimus Ride plans to start its self-driving program at Halley Rise by deploying three vehicles in June that will be available exclusively to tenants without charge.
To summon a car, users will be able to place a reservation through a smartphone app, though Optimus Ride is looking into potentially implementing reservation systems in building lobbies in the future.
Initially, vehicle users will be accompanied by safety operators who can ensure the self-driving system is working as intended while providing assistance and education to users, but the operators will eventually be phased out as people become accustomed to the technology.
Optimus Ride technology is programmed to follow guidelines set by Vision Zero, a national road safety initiative aimed at eliminating all traffic fatalities and injuries.
As a result, while there is no capability for a human driver to override the autonomous control system, the self-driving vehicles deployed at Halley Rise will observe a speed limit of 20 miles per hour, and they will not be able to drive outside the development.
"In many of these new developments, there is a big focus on walk-ability and bike-ability anyway, so you don't actually want cars to be going 35, 50 miles per hour," Chin said. "We want to go into environments that are generally slow anyway, so by reducing speed, you can by default make it a very safe place."
In addition to addressing environmental concerns by making its vehicles fully electric, Optimus Ride hopes that having self-driving vehicles on site will discourage people from driving in their own cars when they need to attend to errands or get to the nearby Metro station, according to Chin.
"During the day, you may want to get lunch or go shopping or perhaps even go to the grocery store," Chin said. "You can have autonomous vehicles provide access to those amenities within the site and not have to drive your own car to do that."
Chin says more vehicles will likely be added to the initial three-car fleet in the future.
While the tenant-only service will eventually open up to visitors, Optimus Ride and Brookfield have not yet discussed the details of such an expansion, including whether it would remain free for non-residents.
Optimus Ride's ultimate goal is to use Halley Rise as a pilot location before launching similar services at other Brookfield properties around the U.S.
"We see Reston as a great location to pilot this program to get users to try it out, to work with developers like Brookfield and others to show the true benefit of self-driving vehicles…provide the access that people want to have and essentially be able to reduce the overall need for private automobiles," Chin said.