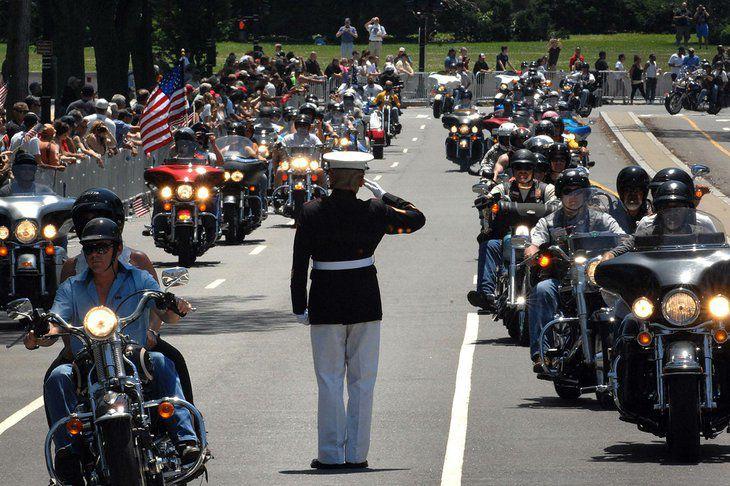 For 32 years, Rolling Thunder has rumbled through D.C. to honor our armed forces as well as raise awareness for soldiers Missing in Action or Prisoners of War.
While 2019 was their final ride, AMVETS will carry on the tradition this year. However, they can't ride around D.C. due to COVID-19, but fear not, there is a solution: perform a 22mi ride in local towns for the cause.
The 22mi ride will draw attention to the 22 suicides that veterans commit per day on average and the 81,000 missing soldiers.
This tribute will be done virtually, to continue drawing attention to these issues and keep Rolling Thunder alive. The AMVETS is asking people to sign a petition imploring Congress to address these issues. Everyone will ride out at noon Sunday and record their trip with the REVER app to share their ride.
AMVETS is already preparing for 2021, which they hope will be done in person. There is a fundraiser underway to set it up as well. Everything kicks off Friday night with the wreath-laying and vigil at the Vietnam Veterans Memorial. Saturday, there will be a 2-hour Facebook Live event, then Sunday, these people can roll away for the cause.
One supporter, Fouad Qreitem, who Founded Paisanos Pizza, believes that nothing has changed. "It has a different name, but the same meaning," he said. He also believes that the original name will return soon, as well as the event in 2021. Qreitem has supported 'Rolling Thunder' for 7 years. "I think it's a great cause and their motto, 'No man left behind', is very important."
Joe Chenelly, the National Executive Director for AMVETS, said that the name had to be changed to "keep the tradition going without using their name." The goal was also to do events in small towns instead of the bigger cities, especially when COVID-19 came into play. There are 250,000 members involved with 3,000 chapters nationwide. Chenelly is set to go to the White House to promote the causes that AMVETS is supporting.
Locally, Brooks Cycles LLC has been involved with this event for 12 years and views the event as bringing people together. "You can't put a name on it, it brings people together to honor those who've made great sacrifices for this great nation," said Jason Brooks. Brooks, a former Marine, started this business for himself and still connects to the military.
"I'm proud to be a part of this," Brooks said, explaining that, "It means a lot for us veterans to see our fallen brothers and sisters being honored." He concluded that, "We will never forget those that have given the ultimate sacrifice for this great nation."