By the end of June, three unique, visually charming and functional works of permanent public art are scheduled to be installed on the grounds of two Reston elementary schools—two birdhouses at Sunrise Valley and a birdbath at Terraset. The artistic creations of fifth-grade students at Sunrise Valley and sixth graders at Terraset, all are mosaic-clad works and the products of hands-on, public art residencies, led by professional artist and teacher Shahin Talishkhan in collaboration with noted mosaic artist Valerie Theberge.
According to Anne Delaney, executive director of Public Art Reston, who coordinated the two residencies with the schools and their funding, this hands-on art experience arose from renovation work at both schools, which required Fairfax County Public Schools to meet a public art proffer and to commit to the commission of a public artwork at each school to be completed by June 30.
The residency at Sunrise Valley was supported in part by the Virginia Commission for the Arts and the National Endowment for the Arts. At Terraset, it was supported in part by ARTSFAIRFAX.
Referring directly to the "Public Art Master Plan for Reston," Delaney explained that Public Art Reston's role in the community is to "foster public discourse and education about public art and to raise the expectation that public art is an integral component of Reston's long-term ethic of building a quality environment."
She also emphasized that "community engagement" with projects that involve Restonians in "creative and meaningful ways" is key to Public Art Reston's mission. These specific residencies, Delaney added, gave participating students the "very immediate and tangible experience of using their creativity to enhance and contribute to their school environment."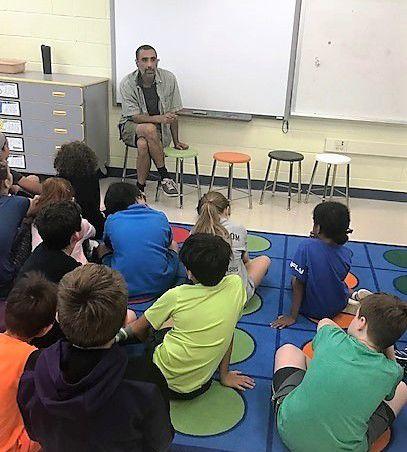 Working under the tutelage of Talishkhan (son of noted Azerbaijani painter Talat Shikhaliyev) and Theberge in workshops held over two weeks at Sunrise Valley and one week at Terraset, the students not only created their own mosaic designs but also collaborated on affixing them to the understructures of the birdhouses and birdbath.
Prior to one of the workshops with fifth graders at Sunrise Valley, Talishkhan explained that he gave his student artists "enough freedom" to sketch their own designs — "some of them very complex, very surprising." Then after photographing them, the designs were transferred to hundreds of mosaic tiles.
Besides learning about the process of mosaic making, including cutting tiles, the students, he said, learned firsthand about shape and color, how to organize a visual field and see connections. It also enhanced their ability to think creatively, and mosaic work, he further emphasized, has a strong relationship to geometry.
The experience, Talishkhan acknowledged, also benefits him as an artist. "Because I spend so much time alone in the studio," he observed, "this gives you a fresh perspective. … Their enthusiasm, maybe not directly, finds itself into your own work."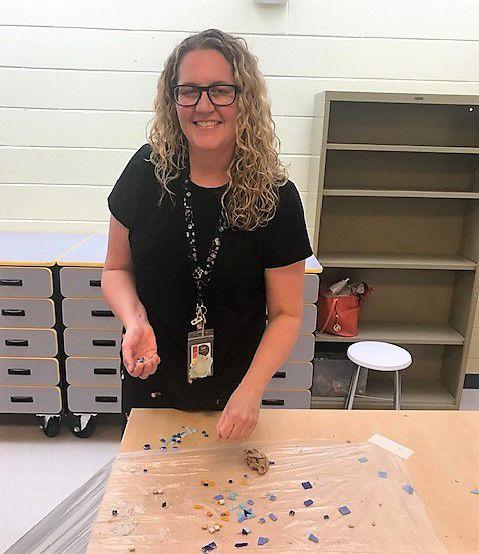 Eliza Brown, the art teacher at Sunrise Valley, as well as Terraset art teachers Mary C. Wehle and Anne Reagan, worked alongside Talishkhan and Theberge and their students.
Brown appreciatively described the public art residency as "a great opportunity" and "normally not something we're able to do." She further hoped that the project would help her students to "appreciate the amount of work, thought and effort that goes into an art work," adding "it's great for them to see what a working artist does."
Brown—a longtime Restonian who attended Sunrise Valley herself as a sixth grader and has three of her own children attending Fairfax County Public Schools—was not surprised at how well her students took to the mosaic project, saying "they're very enthusiastic learners in general, excited to try new things."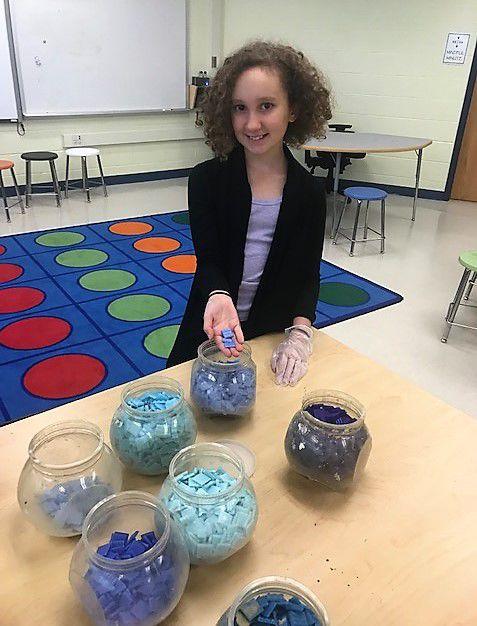 Chatting briefly while they worked, a handful of the Sunrise Valley fifth graders also opined on the project. "I'm really passionate about art," said one, noting that "using new materials that I never used before has been fun." Proud of his "labyrinth kind of design," he was surprised that creating a mosaic "isn't that hard, and I'm good at it." Also, he said, "I have something I made and contributed."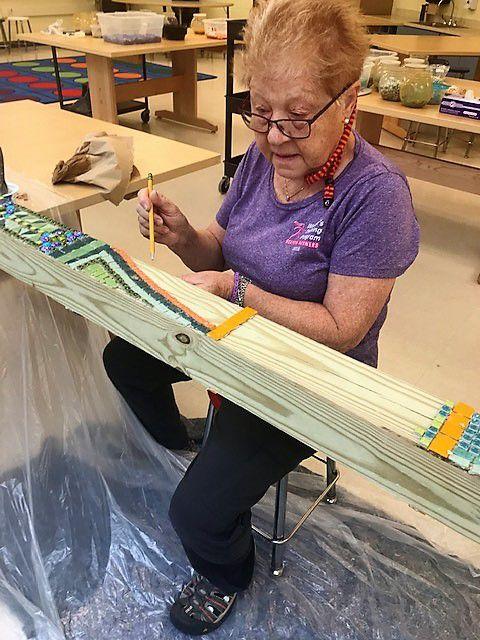 Agreeing that most of their art classes involved painting and drawing, two other classmates, likewise, appreciated "doing something new" and said it gave them "a sense of accomplishment … and feeling important." Describing their joint design as "abstract, whatever popped into our heads," they also suggested that the mosaic process was relaxing. "It makes me calm, and you're able to concentrate on what you're creating," said one. The other, admitting that "drawing is something I'm not good at," said this experience "made me think I'm more capable of doing stuff than I thought before."
Two other project teammates, said they especially enjoyed the art-making experience because it was hands-on, and it was "cool" to work with different shapes, sizes and shades. One shared, "You get to create it just from your mind … and it makes me feel good to have left a piece of myself behind." The other enthused, "I feel proud; we got to show an example to little kids what art can be."
In addition, Brown values what the project and the new public artwork says about Sunrise Valley and its students. "It shows," she said, "that the school really belongs to its children. … It's a physical reflection of what we do every day. The kids are the school, and they're leaving a part of themselves behind."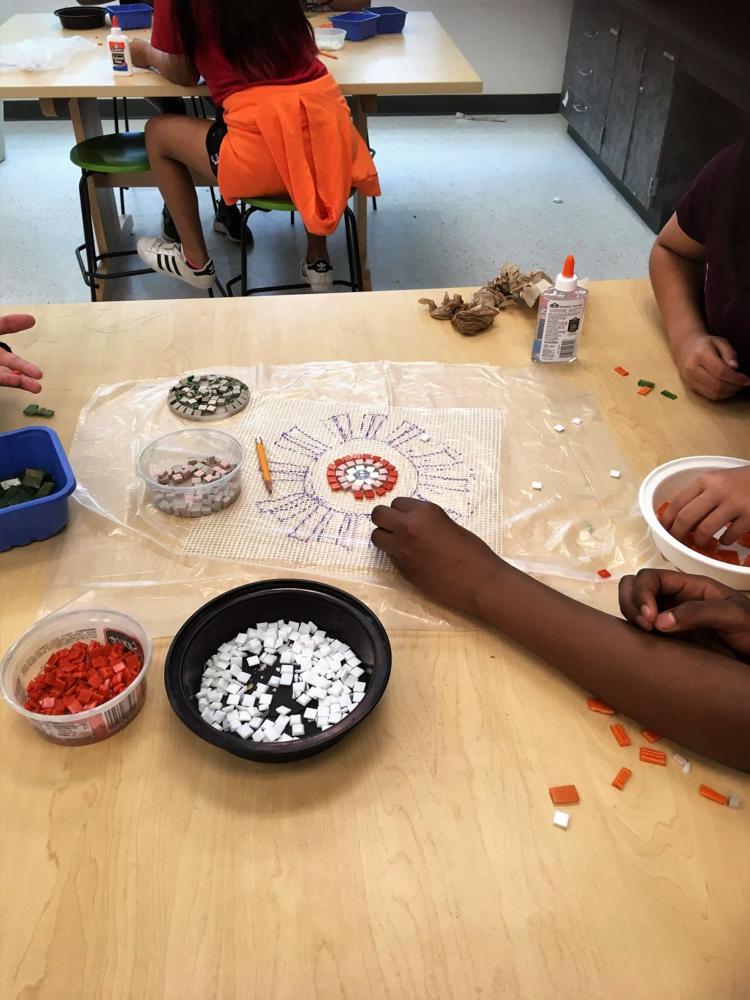 Events are being planned to celebrate the new public artworks at Sunrise Valley and Terraset in early September when students are back at school.