The musical "Rent" tells the story of a group of impoverished young artists struggling to survive and create a life in New York City's East Village in the thriving days of bohemian Alphabet City, under the shadow of HIV/AIDS.
Loosely based on Puccini's "La Bohème," the musical follows an unforgettable year in the lives of seven artists struggling to follow their dreams without selling out. With its inspiring message of joy and hope in the face of fear, its message was clear: to measure life with the only thing that truly matters—love.
"Rent" received its world premiere off-Broadway at New York Theatre Workshop on Feb. 13, 1996, and transferred to Broadway on April 29, 1996. Two decades later, Jonathan Larson's masterpiece continues to speak loudly and defiantly to audiences across generations and all over the world. And now, this Pulitzer Prize and Tony Award-winning masterpiece returns to the National Theatre stage as part of its 20th anniversary tour.
Director Evan Ensign has restaged Tony-nominated director Michael Greif's show for this anniversary tour and takes audiences through a new take on a memorable 525,600 minutes.
The show stars Cody Jenkins as Mark Cohen, Coleman Cummings as Roger Davis, Aiyana Smash as Mimi Marquez, Shafiq Hicks as Tom Collins, Joshua Tavares as Angel Dumott Schunard, Kelsee Sweigard as Maureen Johnson, Samantha Mbolekwa as Joanne Jefferson and Juan Luis Espinal as Benjamin Coffin III.
James Schoppe, a long-time Virginia resident, serves as the dance captain for the show.
"We are lucky enough to have the original creative team on board, and it's my job to learn to the choreography and make sure people are in their right places and people are comfortable and know the right dance moves," he said. "As the show travels, and we get to small theaters, I need to maintain the integrity of the dance and the choreography."
Schoppe is also part of the amazing ensemble, playing one of the homeless, a member of the Life Support Group and part of the great Act 1 finisher, "La Vie Bohème."
"People love the music and the show captures a group of friends and artists who have created a family for themselves, and I think everyone can relate to different characters in the show," he said. "This show is about love, and I think that's something everyone needs a little more of, and everyone needs a little more understanding of, and it's cool to see how this show affects people all these years later."
One of his favorite things about touring the show is meeting the people who saw "Rent" on Broadway in its original run and are now sharing it with their children and a new generation of fans.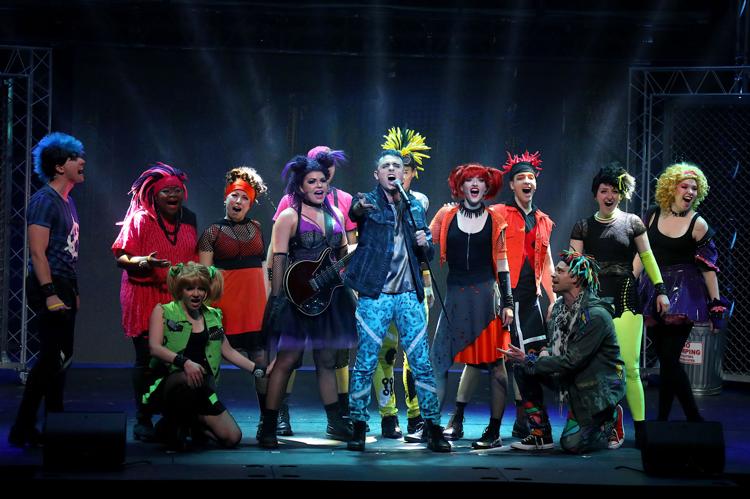 For musical theater lovers looking for even more rock fun, the tour of "We Will Rock You" will be playing at the MGM National Harbor on Nov. 12. The futuristic story has a score featuring more than two dozen of Queen's biggest hits, including "We Are the Champions," "Somebody To Love," "Bohemian Rhapsody," "Another One Bites The Dust" and, of course, "We Will Rock You."
"This show is about Queen's music and the impact that it has," said Brian Christensen, who plays Brit in the production. "It's not biographical in nature, but the story is predicated on the message of the music."
The story is set 300 years in the future where an infamous organization, known as the Globalsoft Corporation, led by Killer Queen, is governing the world.
"Rock n' roll has died out and music isn't a real thing anymore," Christensen said. "It follows these two misfits who escape and are looking for answers, and come across some rebels that point them in the right direction towards rock music."
With a killer score, colorful set and a fun story, "We Will Rock You" is a must-see for any Queen fan or music lover.
"These are all the greatest hits and they are weaved into the story really skillfully," Christensen said. "People are going to be leaving this show humming a lot of Queen's songs."