Alexandria City Council Prohibits Firearms on City Property
Following a public hearing June 20, the Alexandria City Council unanimously adopted an ordinance prohibiting firearms and ammunition in City facilities, parks and areas requiring special event permits. 
Effective July 1, it will be a Class 1 misdemeanor to possess, carry or transport firearms or ammunition in any building, park or recreational or community facility owned or operated by the City for governmental purposes; or at any special event requiring a permit and being held on a City public street, road, alley, sidewalk or public right of way. The ordinance also applies to City employees, agents or volunteers in workplaces that are owned, operated or managed by the City. 
Exemptions from the ordinance include military personnel acting within the scope of their official duties; sworn law enforcement officers; private security personnel hired by the City; museum exhibits and historical re-enactments involving unloaded firearms; and official Senior Reserve Officer Training Corps (ROTC) and collegiate sports programs. 
A similar city ban on firearms in the 1990s was overturned by a law passed by the Virginia General Assembly in 2002, which prohibited localities from regulating firearms in their buildings. The General Assembly reversed this policy during the 2020 legislative session, permitting localities to regulate firearms and ammunition in public buildings, parks and special event areas requiring permits. The City is the first jurisdiction in Virginia to adopt such an ordinance under the new law.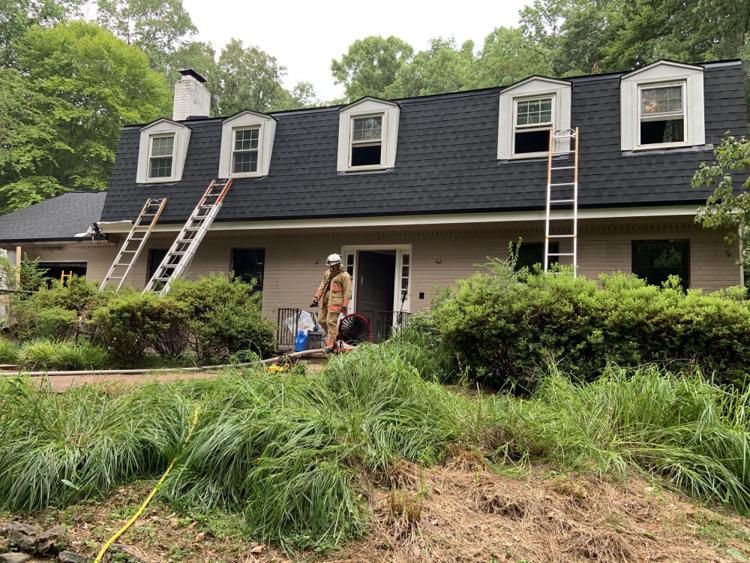 Working Smoke Alarm Alerts Occupants To Clifton House Fire.
Units from Fairfax County Fire and Rescue, the City of Fairfax Fire Department, and the Prince William County Fire and Rescue Department were dispatched for a reported house fire in 7100 block of Wolf Den Road in the Clifton area of Fairfax County June 16, at approximately 6:57 a.m.
Units arrived on scene of a two-story, single-family home with smoke showing from garage. Since this was an area without fire hydrants, a water tanker task force was also dispatched. A local pond was used as a water source. Tankers relayed water to the scene. The fire was quickly extinguished. There was no extension to the interior of the house. No civilian or firefighter injuries were reported. 
Two occupants and three pets were home at the time of the fire. The fire was discovered by the homeowner who was alerted by the sounding smoke alarm. Upon investigation, the occupant discovered flames at the back of the house. He attempted to extinguish the fire but was unable due to size and heat. The second occupant called 9-1-1. All occupants self-evacuated prior to fire department arrival. 
Fire Investigators determined the fire was accidental in nature and started in the ceramic grill located on the back deck. The cause of the fire was a ceramic grill heated from overnight burning coals that ignited nearby ordinary combustibles. 
No occupants were displaced because of the fire. Red Cross assistance was not needed. Damages as a result of the fire were approximately $18,750.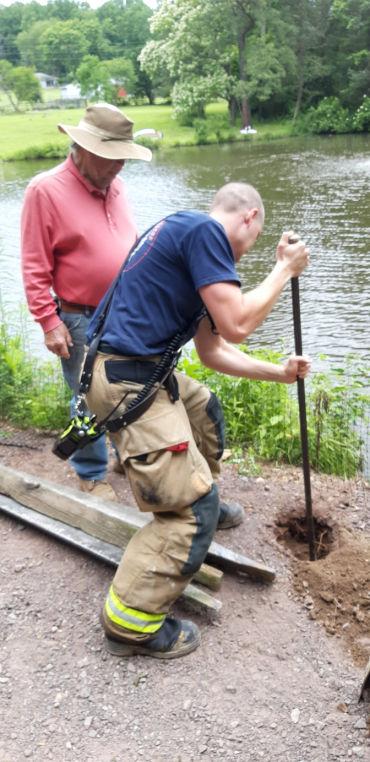 Not Your Typical Fence Repair as Neighbors Help Neighbors 
Units responded for a house fire in 7100 block of Wolf Den Road in the Clifton area of Fairfax County June 16. The home is located in an area that does not have a fire hydrant close by. 
To prepare for fires in an area like this, we have already identified a variety of locations close by that could serve as a water supply source and "fill site" – ponds, streams or nearest fire hydrant. On this day, a pond on a property located in the 11500 block of Yates Ford Road, had been identified as the closest water supply source. A tanker relay was established to get water to the fire trucks on scene – a kind of mobile fire hydrant if you will. 
After the fire was extinguished, my crew and I on Engine 416 stopped by the home with pond to thank the owners for their help. We noticed a wooden fence around the pond had been accidentally damaged in the process of establishing the fill site. 
The owners of the property, George and Martha, who had lived there since 1970, where fully aware of our process of utilizing their pond for fire suppression efforts.  They were happy that their pond could be of service. We thanked them for understanding and playing a critical role in helping their neighbors and insisted that they allow us to help them repair the fence.
George had actually planned on doing the fence repairs himself. The crew went to work digging a hole for a new post and eventually completed the fence repair. We had a wonderful time. Martha even gave us some homemade cookies. 
As for myself, growing up in Washington, D.C., I had never dug a fence post. So I learned something new on this day. Wonderful to also see neighbors so willing to help neighbors in their time of need.
By Captain Timothy James
Fire Station 16, Clifton, A-Shift
Fairfax County Fire and Rescue Department
Centreville Crash Results in Fatality
A man has died as a result of injuries sustained in a crash that occurred June 18 in Centreville. 
Officers responded shortly after 1 p.m. to the area of Westfields Boulevard and Sully Park Drive for a single-car crash involving a 2017 Chevrolet Malibu. 
A preliminary investigation determined that the Malibu was traveling southbound on Westfields Boulevard when it exited the roadway and traveled over a sidewalk and across all lanes of Sully Park Drive before striking a tree. The driver, 53-year-old Andrew Riley, was taken to a hospital where he died yesterday afternoon. Riley was the sole occupant of the car and no other injuries resulted from this crash. Detectives have yet to determine whether speed or alcohol were factors. 
Anyone with information about this crash is asked to contact our Crash Reconstruction Unit at 703-280-0543. Tips can also be submitted anonymously through Crime Solvers by phone – 1-866-411-TIPS(866-411-8477), by text – Type "FCCS" plus tip to 847411, and by web – Click HERE. Download our Mobile tip411 App "Fairfax Co Crime Solvers". Anonymous tipsters are eligible for cash rewards of $100 to $1,000 dollars if their information leads to an arrest.
New Paramedics Receive Certification
Seven Fairfax County Fire and Rescue Department, and three Fairfax County Police Department, personnel received their National Registry Paramedic certification June 18. 
They received certification after 10 months of intense training. The training was a joint effort between the department and Virginia Commonwealth University.
Fire Chief John Butler was on hand to offer words of encouragement and to congratulate the paramedic students on their tremendous accomplishment.
Congratulations to the following firefighter and (now) paramedics: 
Lieutenant Jamal Hudson
Technician Juan DiMartino
Firefighter Ruth Ballard
Firefighter Melissa Cary
Firefighter Heather Funkhouser
Firefighter Jonathan Hughes
Firefighter Linda Lee 
Even though they have successfully certified, these students will intern for approximately six months in the field with a preceptor before being fully turned over to practice as a paramedic.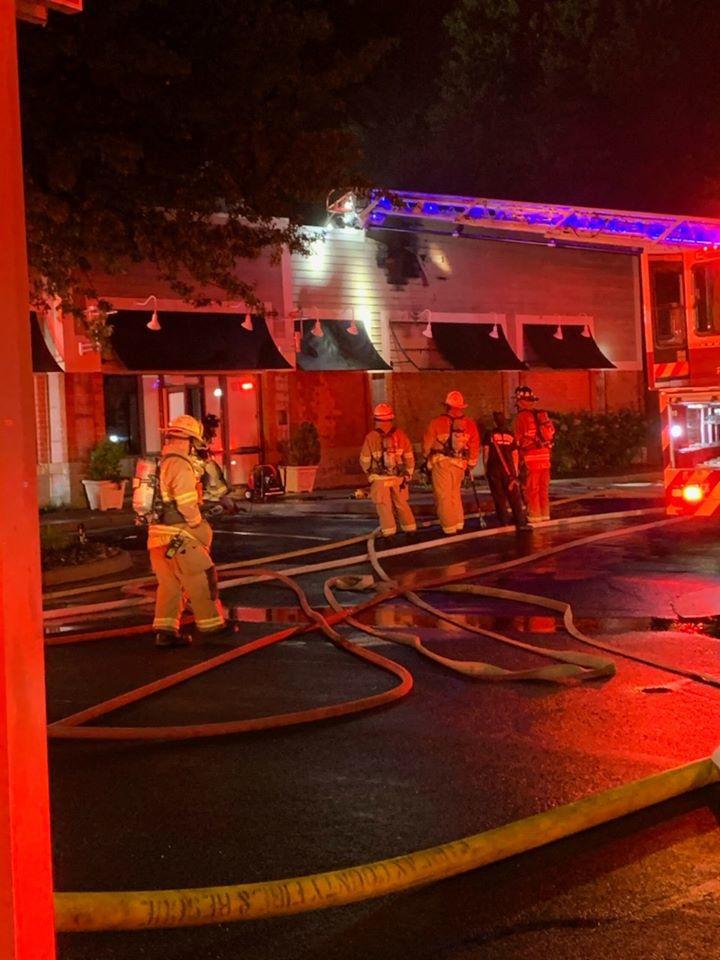 Reston Building Fire Caused By Lighting Strike 
On Thursday, June 11 at approximately 2:56 a.m., units were dispatched for a reported building fire in the 1400 block of North Point Village Drive in the Reston area of Fairfax County. 
Units arrived on the scene of a one-story, vacant building with fire visible from the roof. Crews quickly extinguished the fire. There were no reported civilian or firefighter injuries. 
There were no occupants present when the fire occurred. The fire was reported by a delivery person in the area that saw flames coming from the roof. 
Fire Investigators determined that the fire started on the roof and is natural in nature. The cause of the fire was a lightning strike.
No one was displaced because of the fire. Red Cross services were not needed. Damages as a result of the fire were approximately $75,000.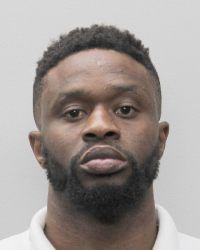 Man Walking in Traffic Charged with Multiple Offenses
Officers were called to investigate a man acting disorderly and walking into traffic near Ladson Lane and Richmond Hwy. in Alexandria June 17 at 10:42 a.m. 
Okezie Erondu, 32, of Alexandria, was taken into custody and charged with disorderly conduct, drunk in public and assault on a law enforcement officer.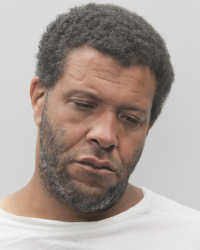 Men in Custody After Robbing Exxon Station
A man approached the clerk at the Exxon station at 6661 Arlington Blvd. June 17 at 4:42 p.m, displayed a knife and stole cash from the register while another man acted as a lookout. 
Both men ran away but were soon taken into custody. Harley Pratt, 24, no fixed address, and Latroy Shelton, 44, of Fairfax, were charged with robbery.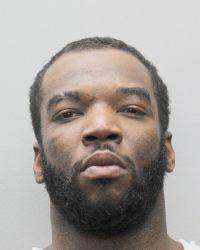 Two in Lorton Charged with Destruction, Assault and Traffic Pursuit 
Officers responded to the Shoppers Food at 9409 Lorton Market St., in Lorton assist an employee with a woman who was acting disorderly and destroying merchandise June 20 at 10:53 p.m.
The woman left the store with a man and they drove off in a black sedan. 
Officers located the sedan nearby and tried to talk with the occupants who refused to cooperate and walked away leaving the sedan behind. The man returned a short time later and drove away in the sedan. Officers attempted to stop the sedan but the driver refused to stop resulting in a brief pursuit and ended when the driver parked in a residential garage. 
Officers were assaulted by the man and woman while taking them into custody. Omar Prescott, 33, of Lorton, was charged with two counts of assault on a law enforcement officer, obstruction of justice and eluding. Nikita Prescott Harris, 42, of Lorton, was charged with assault on a law enforcement officer, destruction of property and obstruction of justice. There were minor injuries reported.
More Dates, Locations Added for Fire Station Blood Drives 
Several Fairfax County Fire and Rescue Volunteer Fire Departments are partnering with Inova Blood Donor Services to hold blood drives in their fire station parking lots.
Due to current events, blood supplies in Fairfax County and the nation are at dangerously low levels and dropping. 
Inova Blood Donor Services is taking all precautions as it relates to COVID-19. There will be plenty of space to spread out and use appropriate social distancing. To help protect our firefighters and paramedics, access to the fire station is prohibited.
List of days, times and location are below. To register to donate, please go to the Inova Blood Donor Services web site.
July 4, 8 a.m. – 12:30 p.m. at Great Falls Volunteer Fire Department/ Fairfax County Fire Station 12. 9916 Georgetown Pike, Great Falls. Sign up: https://www.inovablood.org/event/gfvfd0704/
July 7, 1 p.m. – 7 p.m. at Burke Volunteer Fire and Rescue Department/ Fairfax County Fire Station 14. 9501 Old Burke Lake Rd., Burke. Sign up: https://bit.ly/BurkeVFRDSaves072020
July 14, 1 p.m. – 7 p.m. at Annandale Volunteer Fire Department/ Fairfax County Fire Station 8. 7128 Columbia Pike, Annandale. Sign up: https://www.inovablood.org/events/