Dulles CBP picks counterfeit guitars to the tune of $158K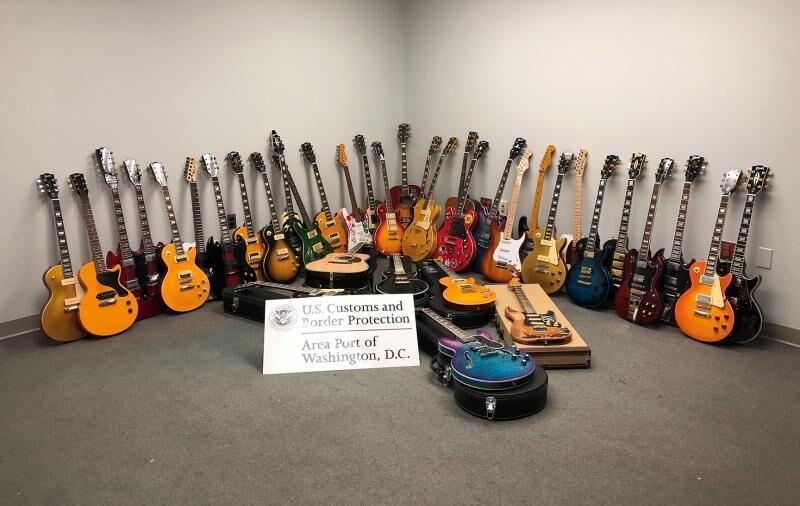 Even Slash, Angus Young and Jimmy Page might have a difficult time ripping raging riffs or picking sick licks on these strings.
U.S. Customs and Border Protection officers at Washington Dulles International Airport recently seized 36 counterfeit guitars from China that, if authentic, would have had a manufacturer's suggested retail price of $158, 692.
The guitars arrived in 36 different shipments from China December 15. Officers suspected the guitars to be counterfeit and detained them to continue their investigation. The collection consisted of 27 Gibson, six Fender, two CF Martin and one Paul Reed Smith guitars.
Many of the Gibsons were of the Les Paul line of custom guitars. Even Jimmy Page's Gibson Double Neck made the collection, as did an ax autographed by Guns and Roses guitarist Slash. The most expensive was a Gibson Ace Frehley guitar valued at an MSRP of $9,000. The collection of counterfeit guitars included two acoustic models as well.
The guitars were destined to address in 21 states and to Australia.
CBP import specialists worked with the trademark holders and confirmed the guitars to be counterfeit. CBPO officers completed the seizure January 20.
Counterfeit consumer goods are illegal, violate lawful property rights, result in job loss, steal tax revenues from our nation's economy, and are often constructed in unregulated facilities with potentially harmful materials that could threaten consumers' health. CBP encourages consumers to protect themselves and their families by always purchasing safe, authentic goods from reputable vendors.
"Transnational criminal organizations will counterfeit anything that generates illicit revenues, and unscrupulous vendors line their pockets by preying on unsuspecting consumers," said Keith Fleming, CBP's acting director of Field Operations in Baltimore. "Protecting intellectual property rights is a Customs and Border Protection trade enforcement priority, and CBP officers will continue to seize counterfeit and potentially unsafe consumer goods when we encounter them."
CBP officers have not encountered any additional guitars since these 36 arrived.
CBP protects businesses and consumers every day through an aggressive Intellectual Property Rights (IPR) enforcement program. Importation of counterfeit merchandise can cause significant revenue loss, damage the U.S. economy, and threaten the health and safety of the American people.
CBP officers and Homeland Security Investigation (HSI) agents seized 27,599 shipments containing counterfeit goods in Fiscal Year (FY) 2019, down from 33,810 seizures in FY 2018. However, the total estimated manufacturer's suggested retail price (MSRP) of the seized goods, had they been genuine, increased to over $1.5 billion from nearly $1.4 billion in FY 2018.
E- Commerce sales have contributed to large volumes of low-value packages imported into the United States. In FY 2019, there were 144 million express shipments and 463 million international mail shipments. Over 90 percent of all intellectual property seizures occur in the international mail and express environments
The People's Republic of China (mainland China and Hong Kong) remained the primary source economy for seized counterfeit and pirated goods, accounting for 83 percent of all IPR seizures and 92 percent of the estimated MSRP value of all IPR seizures.
Maryland man charged after fraudulently obtaining cars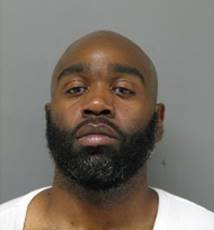 Detectives from the Fairfax County Police Department Major Crimes Bureau charged Nickolas Mathis, 36, of Maryland, with multiple felony offenses following a serial crime spree involving the fraudulent purchases of several automobiles at dealerships in Fairfax, Tysons and Chantilly.
The investigation began in early November after Mathis purchased a 2020 Dodge Charger and two 2015 Mercedes-Benz sedans totaling more than $142,000 from three dealerships on separate occasions. 
Mathis used stolen identities and fraudulent driver's licenses from New Jersey and Pennsylvania to facilitate the purchases. Following a thorough investigation and with the assistance of local law enforcement partners, Mathis was identified. Arrest warrants were obtained in mid-December. Detectives from the Major Crimes Bureau distributed informational bulletins to local car dealerships throughout the area after believing Mathis' criminal behavior may have extended into other jurisdictions.   
Mathis was arrested Jan. 27, while attempting to purchase a car using fraudulent identification documents at a dealership in Woodbridge. Employees recognized Mathis from the bulletin provided by the Major Crimes detectives who collaborated with Prince William County Police to effect the arrest. Mathis was taken to the Fairfax County Adult Detention Center where he was served with 13 outstanding warrants for grand larceny auto theft, forgery and identity theft. He was also served with two warrants for similar crimes from Fairfax City PD. Charges from Prince William County PD will be served upon Mathis' release. He is currently being held without bond. 
"So many of the criminal investigations that detectives in our Major Crimes Bureau handle present some sort of unique obstacles," said Major Ed O'Carroll, bureau commander, Major Crimes. "Fraud is often a complex crime to investigate. When suspects begin using multiple identities, detectives must explore every single lead. The determination and perseverance by our detectives on this case ended a multi-jurisdiction crime spree. I applaud the dedicated detectives and crime analysts who worked tirelessly for closure. I hope this arrest brought a sense of justice not only to those affected businesses in our area, but to those victims whose identities were stolen and used to commit these crimes."
Anyone with information about these investigations is asked to contact our Major Crimes Bureau at 703-246-7800, option 5.
Springfield gas line fire injures three
Units from Fairfax County Fire and Rescue Department and the Fort Belvoir Fire and Emergency Services were dispatched at approximately 12:31 p.m. February 3 for a reported explosion and fire in the 8500 block of Hooes Road in the Springfield area of Fairfax County.
Crews arrived on the scene to find a large volume of fire in the middle of the street with flames extending 50-70 feet in the air. The fire was being fed from a free flowing, 6-inch gas line. Firefighters worked quickly to extinguish fires in two vehicles that resulted from the gas fed fire.
As there were initial reports of multiple injuries, incident commanders requested an EMS Task Force. A casualty collection point was rapidly established, and crews began to triage patients. Simultaneously, firefighters worked to evacuate and check the interior conditions of eight homes nearby. A shelter was set-up at the neighboring church for any occupants temporarily displaced. Fairfax County Police Department set up roadblocks to ensure a safe environment and redirect traffic.
Firefighters maintained hose line operations to keep the fire in check and cool down any nearby exposures from radiant heat while Washington Gas crews worked to shut gas mains down. After several hours of work, the gas line was shut down and the fire extinguished.
A gas company work crew was excavating an underground gas line in the street. During the operation, the gas line ruptured and caught fire. Multiple 9-1-1 calls were received.
Three of the workers were transported to the hospital with non-life-threatening injuries. A fourth worker was evaluated on the scene and declined treatment. One firefighter sustained a minor injury that was treated on-scene. 
Fire Investigators determined that the fire was accidental in nature and started when a 6-inch gas line was struck during a digging operation. The gas reached an ignition source of undetermined origin and erupted into a ball of flame.
A total of four homes were evacuated for at least 24 hours. Fairfax County Office of Emergency Management assisted with occupant relocation. Damages as a result of the fire were approximately $250,000. The dollar value is an approximation for the equipment lost due to the fire.
Two men charged after traffic pursuit

An officer attempted to stop a stolen 2010 Volkswagen at Beacon Hill Rd. and Richmond Hwy. Jan 29 at 7:16 a.m., but the driver refused resulting in a pursuit. 
The driver, Antonio Gunn, 47, of Alexandria, ran from the car while it was moving which rolled into a fence. He was taken into custody and found to be in possession of PCP. Gunn was charged with grand larceny auto theft, speed to elude and possession of a scheduled I/II narcotic. 
A passenger, Bryant Hawkins, 50, of Dumfries, remained in the car and was charged with possession of stolen property and possession of a schedule I/II narcotic.  
Body worn camera Phase 2 implementation complete
The Fairfax County Police Department continues with its expedited implementation plan for the Body Worn Camera (BWC) program. 
Last week, Phase 2 of our BWC deployment was completed. Officers from the Franconia District and McLean District Stations are now trained, equipped and fully utilizing BWCs. Phase 2 has resulted in the FCPD having 218 new BWC operators. 
FCPD's Body Worn Camera Project Team is continuing their commitment to fully implementing the BWC Program. Scheduling in the upcoming months is being coordinated to ensure officers assigned to the Fair Oaks District, West Springfield District, and Sully District stations are trained and equipped. Additional scheduling is also planned for officers assigned to our Animal Protection Police, MCRC-Diversion First, SOD-SWAT, and parking enforcement. 
For more information on the BWC Program visit https://bit.ly/36XqhbL.
Maryland man charged after nap in car

Officers observed El-Amin Mutee, 42, of Maryland, asleep in his car in a parking lot in the 7500 block of Richmond Hwy. with his hazard lights on February 1 at 9:46 p.m. 
Concerned for his well-being officers attempted to wake him. Mutee awoke and attempted to drive away but was stopped by officers. Inside the car officers located narcotics and a stolen handgun. 
Mutee was charged with felon in possession of a firearm, felon in possession of ammunition, concealed weapon violation, and resisting arrest.  
Man with knife threatens victim, struggles with officers

The victim was soliciting donations in a parking lot at 12:54 p.m. Feb. 3 in the 6700 block of Richmond Hwy. when Donte Glenn, 36, of Alexandria, approached him with a knife. 
A witness intervened and Glenn walked away. 
Officers located Glenn nearby who refused commands and struggled with officers before being taken into custody and charged with robbery. An officer was taken to the hospital and treated for an injury sustained during the arrest.    
Man stabs Best Buy employee

A Best Buy employee and a man were involved in a dispute at 8449 Leesburg Pike at 12:15 p.m. February 3. 
The man stabbed the employee multiple times before running away. 
Officers arrived and located Jose Reyes, 25, of Maryland, who was taken into custody and charged with malicious wounding. The victim was taken to the hospital with injuries that were not life threatening.