Electrical event cause of Fairfax Station house fire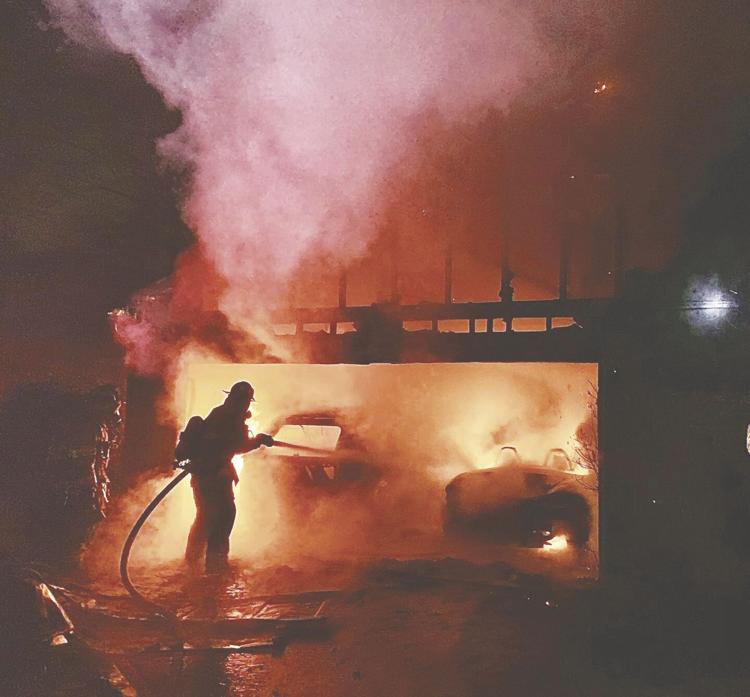 Units from Fairfax County Fire and Rescue Department and the City of Fairfax Fire Department were dispatched Dec 5 at approximately 8:28 p.m. for a reported house fire in the 5400 block of Dranes Tavern Drive in the Fairfax Station area of Fairfax County.
Crews arrived on the scene of a two-story, single-family home to find an attached garage fully involved in fire. They rapidly initiated an exterior attack which suppressed the bulk of the fire. There were no civilian or firefighter injuries reported.
Two occupants were home at the time of the fire. One occupant heard a loud boom. While investigating the noise, she discovered a fire in the garage. She attempted to extinguish the fire before calling 9-1-1. Both occupants self-evacuated prior to fire department arrival. Working smoke alarms were present in the home. The alarms did not activate because of the location of the fire.
Fire investigators determined that the fire was accidental in nature and started in the attached, two car garage. The fire was caused by an electrical event within the household wiring for an outlet located in the garage.
Three occupants were displaced because of the fire. Red Cross assistance was offered and declined. Damages as a result of the fire were approximately $187,500. Note the content damage total reflects two vehicles destroyed in this fire.
Great Falls woman dies in Dranesville crash
A woman has died as a result of injuries from a crash that occurred Dec. 6 around 11 a.m. at the intersection of Leesburg Pike and Towlston Road. 
Detectives from the Fairfax County Police Department Crash Reconstruction Unit have preliminarily determined that Holly Kuga, 72, of Great Falls, was operating a 2012 Honda Accord southbound on Towlston Road and attempted a left turn onto Leesburg Pike.  The driver of a 2017 GMC Sierra was traveling westbound on Leesburg pike and crashed into Kuga's car in the intersection. 
Kuga was taken to a hospital where she succumbed to her injuries. Detectives are continuing to investigate whether speed, alcohol or drugs were factors in the crash. Charges are pending further investigation.
Anyone with information about this crash is asked to contact our Crash Reconstruction Unit at 703-280-0543. Tips can also be submitted anonymously through Crime Solvers by phone – 1-866-411-TIPS (866-411-8477).
Alexandria woman charged in shooting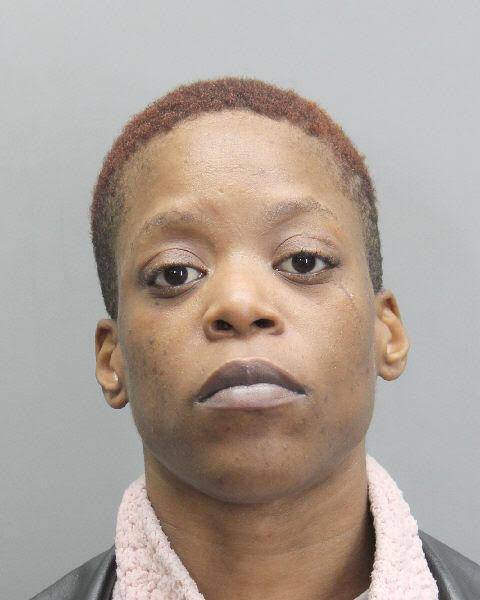 Officers responded for a shooting inside a home in the 3400 block of Great Lakes St. Nov. 25 at approximately 4:41 a.m. and found a man suffering from gunshot wounds to the upper body. 
He was taken to the hospital with injuries that were life threatening. Detectives charged Desiree Campbell, 29, of Alexandria, with aggravated malicious wounding. Preliminarily, detectives believe Campbell and the victim knew each other and this was not a random act of violence.
Detectives investigate fatal shooting in Mount Vernon apartment community
Detectives from the Fairfax County Police Department Major Crimes Bureau are continuing to investigate a fatal shooting that occurred Dec. 7 in the Alexandria section of Fairfax County. 
Officers responded to the 6300 block of South Kings Highway around 7:40 p.m. for a reported shooting. Upon their arrival, officers found Antonio Stewart, 35, of Alexandria, suffering from apparent gunshot wounds to the upper body. Stewart was taken to the hospital where he succumbed to his injuries.
Preliminarily, detectives believe that Stewart was walking in an area adjacent to his apartment. Moments later, several community members reported hearing gunshots and then saw Stewart lying on the sidewalk.
The Office of the Chief Medical Examiner ruled the death a homicide following an autopsy this morning. This is an active investigation and detectives continue to conduct interviews, process evidence, and canvass the area for witnesses. There is no suspect information available at this time.
Detectives are asking anyone with information regarding this incident to call our Major Crimes Bureau at 703-246-7800, option 2. Tips can also be submitted anonymously through Crime Solvers by phone – 1-866-411-TIPS (866-411-8477).
Police pursuit nets Alexandria woman multiple charges
An officer attempted to stop a 2010 Nissan X-Terra near Richmond Hwy. at Old Mount Vernon Rd. Nov. 26 at 4:04 p.m. for a traffic violation but the driver refused, leading to a pursuit. 
The driver continued a short distance before stopping where officers arrested Sarah Trejo Castillo, 21, of Alexandria. She was charged with speed to elude, reckless driving, driving on a suspended license and was served with an outstanding warrant for larceny.
Disorderly juvenile suspect charged in Fairfax
City of Fairfax Police responded to 10680 Main Street, Probation and Parole Dec. 4, in reference to a male juvenile suspect acting disorderly.  It was determined that the subject had done damage to the business and was subsequently arrested for destruction of property.
Investigation also revealed that the same subject was involved in an armed robbery which occurred November 28, at 10911 Main Street, 7-11.  Upon entering the store and displaying a knife, the subject demanded the clerk hand over cash and electronic cigarettes.  After taking the items, the subject fled the business on foot.
The subject was taken to the Fairfax County Juvenile Detention Center where detention orders for robbery and felony destruction of property were obtained.
Alexandria woman charged after stealing car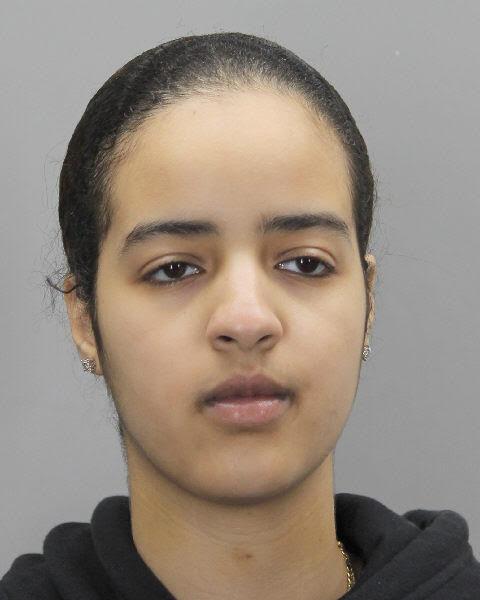 A woman and a juvenile unlawfully entered Dominion Towing at 8474 Terminal Rd., Nov. 29 at 7:23 p.m., stole a 2015 Dodge Charger and drove it through a security fence. 
Officers found the car nearby and arrested Grace Araham, 18, of Alexandria. She was charged with felony destruction of property, stolen auto, defrauding a garage keeper and contributing to the delinquency of a minor.
Lorton man charged after shooting at tow trucks
Two tow truck drivers were repossessing a car in the 7800 block of Lewis Chapel Rd., Dec. 2 at 1:49 a.m. when Mansoor Alimi, 24, of Lorton, got into the car and attempted to drive away. 
Alimi retrieved a handgun and fired it several times at the tow trucks as the altercation continued down the street. Officers located the car nearby and arrested Alimi. He was charged with two counts of attempted unlawful wounding and two counts of reckless handling of a firearm. No injuries were reported. 
Tis the Season for Holiday Scams
During the holidays, scammers focus less on giving and more on stealing. Shoppers looking for a good deal this holiday season should be aware of increasingly aggressive and unorthodox scams designed by criminals to steal money and personal information. 
The FBI wants local shoppers to enjoy a scam-free holiday season by remaining vigilant against the following schemes.
Online Shopping Scams: If a deal looks too good to be true, it probably is! Steer clear of unfamiliar sites offering unrealistic discounts on brand-name merchandise. Scammers frequently prey on Black Friday and Cyber Monday bargain hunters by advertising "One-Day Only" promotions from recognized brands. Without a skeptical eye, consumers may end up paying for an item, giving away personal information, and receive nothing in return except a compromised identity.
Payment Red Flags: Be cautious of sellers and websites that demand payment solely through gift cards. Scammers sometimes encourage shoppers to conduct wire transfers, allowing criminals to quickly receive illicit funds. Credit cards provide several layers of security against fraud and are typically the safest way to conduct online shopping.
Charity Scams: Charity-related frauds increase during the holidays as individuals seek to donate money to those less fortunate. Criminals use phone calls, email campaigns, and fake websites to solicit on behalf of fraudulent charities. Scammers target people who want to donate to charity, then hoard their well-intentioned donations while those most in need never see a dime.
Steps to avoid holiday fraud schemes:
Before shopping online, secure all financial accounts with strong passwords or passphrases. Additionally, the FBI recommends using different passwords for each financial account.
Check bank and credit card statements routinely, including after making online purchases and in the weeks following the holiday season.
Never give personal information— such as your date of birth, Social Security number, or billing addresses— to anyone you do not know.
Be wary of promotions and giveaways that request your personal information.
Prior to donating to any charity, verify that they have a valid Taxpayer Identification number by visiting their website or calling the charity directly.