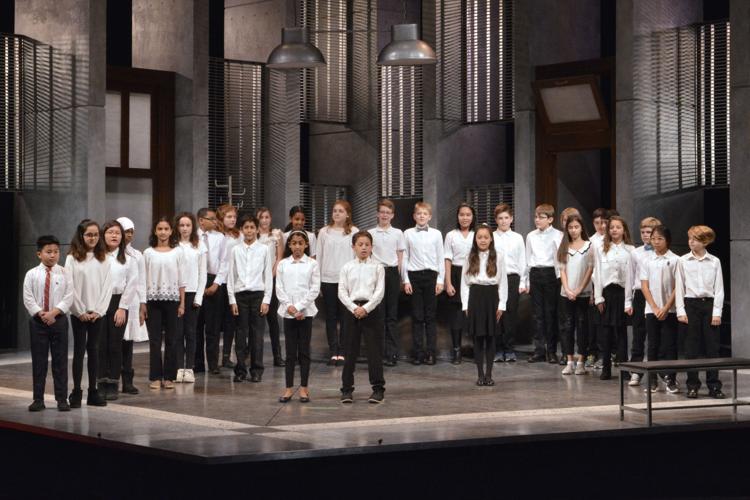 "Much of Abraham Lincoln's power came from his amazing ability to communicate his ideas to the people of the United States," reads the back of the flyer distributed by Ford's Theatre, which wants to share the power of effective public speaking with local students and teachers.
More than 400 local elementary and middle school students performed Lincoln's most famous speeches on the historic Ford's Theatre stage, on Feb. 5 and Feb. 6, during the 2019 Lincoln Oratory Festival.
The Lincoln Oratory Residency and Festival program, started in 2009, brings Ford's Theatre's teaching artists into local classrooms for five classroom visits. During these visits, students learn Ford's Theatre's Podium Points (best practices for public speaking), learn a speech by President Lincoln and then create a group performance to perform onstage.
The program is free to all participants, including transportation and teaching artist visits.
From Fairfax County, two schools were selected: Fairhill Elementary School with teacher Joan Swanson and Mosby Woods Elementary School with teacher Jeremy White.
Fairfax Times interviewed teacher (Ms.) Joan Swanson from Fairhill Elementary School in person just minutes before the start of the event.
How did you learn about this opportunity?
SWANSON: This has been going around since 2009, that Ford's Theatre has been having this wonderful program. This is the third time our school has been able to participate in this, and we are only one of two Fairfax County Public Schools that were able to join this, but they service all the students in the DMV area that can participate in this program.
Why was your school selected?
SWANSON: We filled out an application process to be able to participate in it and we were chosen. It is just a wonderful oral communication, public speaking venue and it is such an authentic program. It is lovely to connect something from what President Lincoln spoke way back in the day to what is going on for our 21st century learners today.
How do you select students?
SWANSON: My entire class is participating in this. It is wonderful for collaboration purposes and how they are presenting the words, and the communication is obviously there, but a lot of creativity and critical thinking took place in order to figure out how they were going to stand and how they were going to communicate these words that were once said by President Lincoln, but in a way to convey the meaning nowadays to the audience today.
So everyone has a line?
SWANSON: Everyone has a speaking part of some sort. Some are doing it collectively, some are doing it individually. But I love how some of my shyest and quietest students really came about themselves to speak loud and proud. We had the guidance of a teaching artist from Ford's Theatre who came and visited us about five times over the last couple of months to really help prepare us for the speech.
Since all 28 students have a part, it sounds more theatrical to me.
SWANSON: When you see it in action, it is so invigorating to see the students onstage and how they are conveying our former president's wonderful words where he ended his legacy right here at Ford's Theatre. It's more than a play; it's more of conveying and communicating the meaning of the words, which were as important back in the 1800s as they are today. My students chose the "House Divided" speech by President Lincoln, and it's just amazing how his words over 200 years ago really were just as important back then as they are today.
Also, we interviewed Ford's communication associate Anali Alegria:
Are there other levels or programs?
ALEGRIA: This program, because we perform as classes, so each classroom gets to perform as a unit, it's more of a collaborative process, and it's performing a group project, almost. For this particular program, which serves the DMV area, we don't have a follow-up program for singular students, but we do have many other oratory programs. So, in May, we have what we call the National Oratory Fellows, which is a cohort of teachers from across the United States who teach oratory in the classroom. That program is open to teachers in the DMV, but also across the United States, and what they do is they identify two students to bring with them to the Ford's Theatre stage, and those students perform speeches on their own. Those speeches are either historical, so President Lincoln or other famous orators throughout history, or they're original speeches, so those kids are actually writing their own speeches. That's actually a much different program than the Lincoln Oratory Festival, which is entirely focused on Lincoln's words, and that's why we present it in February, right around Lincoln's birthday.
How do you select schools to participate?
ALEGRIA: We have open applications; any school can apply, any classroom or teacher. The application is very much about how Lincoln's oratory would fit into the classroom curriculum, whether that be...a history curriculum or an English language arts curriculum. Based on those applications, we select schools that we think would do great in this program and would be able to bring their students' talent to our stage.
What are you looking for?
ALEGRIA: We are looking for teachers that are hoping to capture a way to remember Lincoln and study Lincoln that's separate from simply reading his words or studying him, teachers that are interested in making that transition to the stage and live. Saying words in person, it's a very magical jump, so we're just looking for teachers that are excited about expanding their curriculum a little bit when it comes to the Civil War.