WOOF! When considering dog adoption, there are pawlenty of pawsome resources and dogs to consider. At several local rescues, I have friends who help dogs find homes and humans to love.
I pawed with them to learn more about special needs dogs. A Special Needs dog requires extra attention from their humans due to a physical or medical need such as diabetes, loss of an eye or a limb, loss of hearing or an inability to move (needs a set of wheels).
I chatted with a new friend at Lab Rescue this week named Ashley. She and Lab Lady are working to find "forever homes" for pawsome special needs dogs.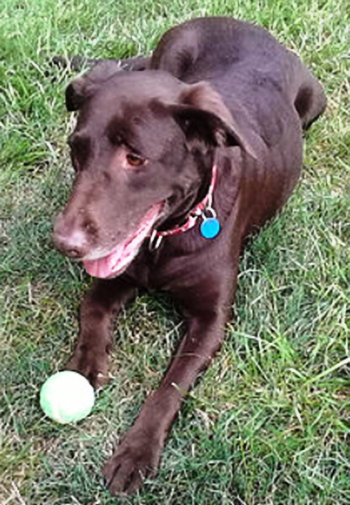 Lab Lady shares, "Noah, meet Lizzie, a chocolate Labrador retriever who is a little shy at first. Once she warms up to you, she'll be cuddling and will make a great walking partner. She has great house manners. She likes the quiet lifestyle with the calming company of other Labradors. Lizzie's "specialness" is pretty hard to spot; she's epileptic, but she hasn't had a seizure in eight months. Medication seems to help keep those things away and she's doing great!"
My friend Ashley shares, "Adopting any dog is challenging, but special needs can be a little different yet just as rewarding. I'll share an inspirational story from a volunteer: 'Hanna is an honorary Lab - I fell in love with her at a shelter while I was on transport for Lab Rescue. She is epileptic and I knew that meant she wouldn't have a great chance of getting adopted quickly, so I decided to foster her until we could find her a home. We couldn't part with her after we had her for about a week, so we kept her. We always say that Hanna is a gift to us. She lives in the moment.'"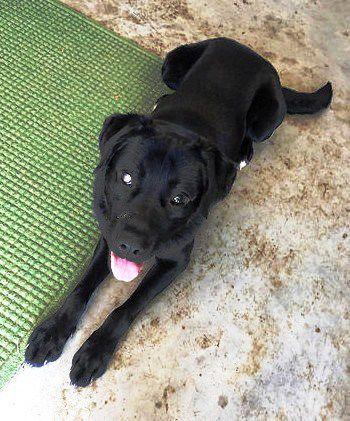 "Noah, another special needs Lab is Stevie," states Lab Lady, "a black Labrador retriever who loves to play, play and play! He loves running around in a fenced backyard with other playful dogs and going for walks, sniffing all he can sniff! He doesn't need a crate as he can be trusted in the house! Stevie is blind in his left eye and has limited sight in his right eye. He uses his sniffer and ears to help navigate the world. He would love homes with a fenced-in backyard (for crazy burst of energy moments that we call zoomies) and maybe another canine friend to play with everyday."
"My adoption inspiration for Stevie," starts Ashley, "comes from a human who adopted a dog named Freddie! This human shared, 'Within one hour of arriving home, Freddie had the lay of the land and was even jumping on my bed. He does stairs, no fear. After every accomplishment, the praise is voluminous. It does take time and patience, but not much more than training any dog. In return, the love and devotion any disabled animal gives back is unlimited, as they completely understand they have been rescued.'"
"My special friend Gilligan," Lab Lady says, "is an extremely lovable black Labrador retriever! He's really good at receiving human attention like ear scratches, belly rubs, baths and brushing. He'll stay by your side during walks because he loves you so much! He loves doggie friends and gets along with new friends. He went to a doctor who determined he has some fluid in his brain. The symptoms are mild -- he prances and runs around in circles sometimes, and he tilts his head to the side. None of this slows him down or keeps him from being his happy-go-lucky, loving self!"
Ashley shares, "Noah, the perfect adoption inspiration is Blitzen's story: 'Right after we decided to adopt, I fell off a horse and broke five bones and my husband tore his Achilles tendon. When we saw Blitzen's profile, which said that his neurological condition meant that he is a bit klutzy, we thought he'd fit right in! His profile said he was sweet and gets along with everyone, humans and animals, so the fact that he might not walk or run exactly like other dogs didn't concern us! We find that he doesn't require much more effort than his older Lab brother."
Interested in adopting a special needs Lab? Pawlease contact: Lab Rescue of L.R.C.P., Inc. www.lab-rescue.org, call the Lab Line: (301) 299-6756 or email info@lab-rescue.org.
About Me:
Noah, Pawthor of www.fromthedogspaw.com- A blog about dog/cat adoption, humor, dog adventures and facts about dogs and cats. He is Dog to his human, Allen Pearson, Dog Photographer and Writer, www.allenpearsonsphotos.com, www.facebook.com/AllenPearsonsPhotos, www.instagram.com/fromthedogspaw, www.facebook.com/fromthedogspaw