WOOF! The last few weeks, I have been pawing about dog adoption. BARK! Dog adoption is more than selecting a dog, paying for it and taking it home! WOOF!! Read my previous articles at http://www.fromthedogspaw.com/p/published-articles.html.
What type of a housekeeper are you? Do you, absolutely, pawsitively, have to have everything in order, everything in its place? Or, can you put up with hair everywhere or maybe some hair here and there? Maybe a few muddy paw prints?
If you need everything pawfect, maybe dog adoption isn't for you. Not every dog is messy, nor does every dog leave hair everywhere, nor does every dog get into everything and make a huge mess, though there are dogs who do such things, and it's not like you know this going-in when adopting. Barks, some dogs shed more than others while some are more destructive than others. WOOF!
My human shares, "When we bought our townhouse, we adopted a dog too. The day we moved in, we got the dog. Our friends helped us move. Everyone loved our new addition, until he had to go out. The backyard was a muddy place located by the back door! When we let the dog inside, his paws were covered with mud and, yes--you guessed it-- it went all over the carpet! Even though I tried to prevent this, the best plans sometimes fail. For my wife and I, it didn't matter as we loved the dog. Carpets can be cleaned; however, our friends were appalled and stated they wouldn't allow a dog in a new home!"
My human hasn't had experience with dog drool. Yes, I drool when I see my food or that delicious treat but not much. When my human learned that a mastiff would be a pawsome dog for him, his first thought was dog drool! Barkingly, for him and Mom, if they loved a mastiff, the intense drooling would be overlooked. Barks, that's not for everyone.
WOOF! Sometimes there are accidents! A dog might poop or pee in your home. While you will learn how to prevent it, accidents happen. The previous owners of our home had cats with litter boxes in the basement. Barks, I smelled them, so I "marked" a spot letting them know I arrived! Needless to paw, my human wasn't happy. Barkingly, this surprised him as I am pawfectly house-trained!
Barkingly, there are products you can buy to prevent hair from shedding, especially if you are preparing to host a party and want your home to be pawfect. Diligence in daily grooming can prevent messes too. Paws, consider how much time you would need to accomplish those tasks, or how long it would take to go to a groomer. Barkingly, keeping a dust buster, cleaning products, towels and rags handy minimizes frustrations! WOOF!
When adopting a dog, ask about the grooming requirements and discuss crate and house training. WOOF!
My friend "Great Dane Dame" from the Mid-Atlantic Great Dane Rescue League brought by a few friends for you to meet!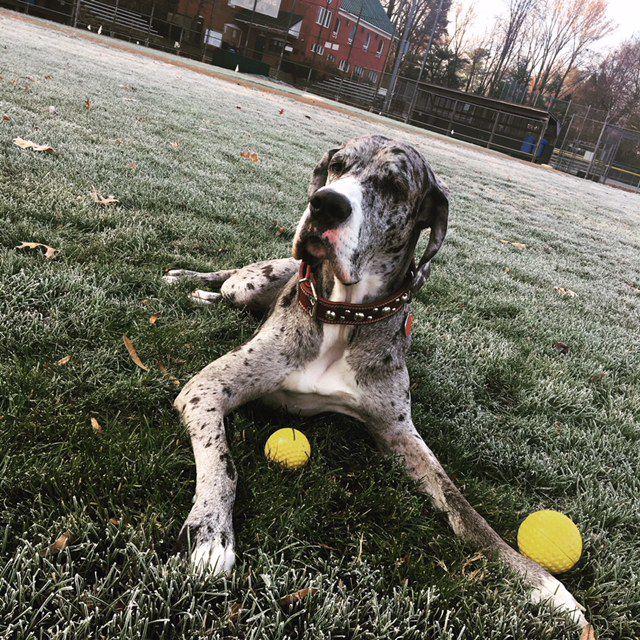 Meet Tessa! A barkingly sweet, pretty 3-year-old merle Great Dane with natural ears! She loves being petted- like all the time-and knows some basic commands and is learning more! She loves chasing squirrels and cats, so no cats in her new home. She would love to be your one-and-only dog or to live with a very calm, submissive large breed dog. Housebroken with excellent manners, she enjoys a calm environment with a few sessions of play and an opportunity to get her energy out.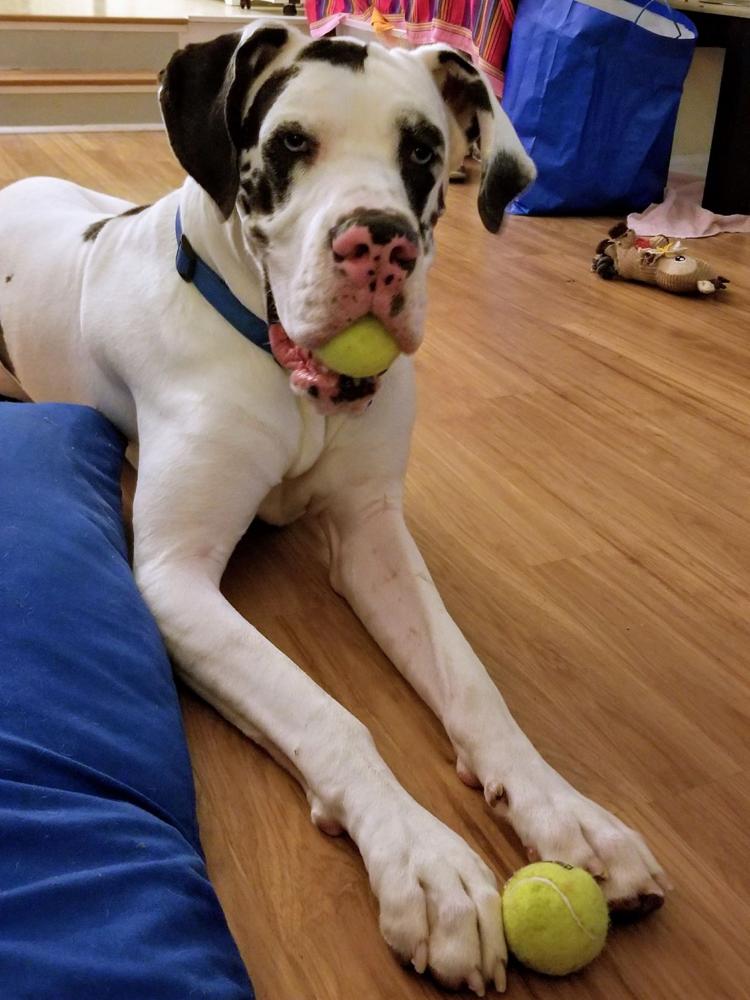 Walter, a harlequin Great Dane with natural ears, loves tennis balls and frequently tries to get two or three tennis balls in his mouth! WOOF!! He loves rolling his tennis balls under the couch and trying to get them! He has his own toy box and can entertain himself for hours! He is learning his leash manners and is enjoying short walks multiple times daily. He likes snuggling and falling asleep while being petted. House and crate trained. He's a sweetheart who just wants to be with his human! No cats in his home.
Contact Mid-Atlantic Great Dane Rescue League, http://www.magdrl.org, call (703) 644-8009, or email coordinators@va-magdrl.org.
About Me:
Noah is Pawthor of www.fromthedogspaw.com- A blog about dog/cat adoption, humor, dog adventures and facts about dogs and cats. He is Dog to his human, Allen Pearson, Dog Photographer and Writer, www.allenpearsonsphotos.com, www.twitter.com/AllensPhotos www.facebook.com/AllenPearsonsPhotos, www.instagram.com/fromthedogspaw, www.facebook.com/fromthedogspaw, www.twitter.com/fromthedogspaw.