Governor Announces Administration Appointments
Governor Ralph Northam announced additional appointments to his administration Sept. 4.
The following Fairfax County residents have been appointed to positions.
Ed Graber* of Fairfax, principal, Edmund Graber Government and Public Affairs Consulting, Eileen Cassidy Rivera* of Alexandria, director, Government Services Cerner Corporation, and Tim Sargent* of Fairfax County, Government and Community Relations, Dominion Energy were all reappointed to the Board of Visitors for Gunston Hall. 
Bennie L. Evans, Jr. of Alexandria, Police Officer and Crisis Intervention Trainer, Alexandria Police Department was appointed to the Criminal Justice Services Board.
Chiquita Brooks-LaSure of McLean, managing director, Manatt Health Strategies, Manatt, Phelps & Phillips, LLP and Ikeita Cantú Hinojosa of McLean, former senior deputy director, D.C. Health Benefit Exchange Authority were appointed to the Virginia Health Benefit Exchange Advisory Committee.
Fairfax County Fire Commission honors recipients of 2019 Volunteer Fire and Rescue Services Awards
The Fairfax County Volunteer Fire Commission honored recipients of the 2019 Volunteer Fire and Rescue Service Awards Sept. 2.
These members are from various volunteer fire and rescue departments in Fairfax County and were commended for their contributions to the Fairfax County Fire and Rescue Department (FCFRD) and the communities they serve. Each of these individuals demonstrated extraordinary commitment to the FCFRD through hundreds of hours providing fire and emergency medical services or through other roles that support the goals of the FCFRD. Fire Chief John Butler was on hand to congratulate each award winner.
Congratulations to all of the following recipients of the 2019 Volunteer Fire and Rescue Service Awards: 
Volunteer Firefighter: Jack Prudence, Vienna Volunteer Fire Department
Volunteer Operational Officer: Al Woolf, Centreville Volunteer Fire Department
Volunteer EMS Provider: Gus Sawatzki, McLean Volunteer Fire Department
Volunteer ALS Provider: Barry Brown, Burke Volunteer Fire and Rescue Department
Volunteer BLS Provider: Kerin Hamel, Great Falls Volunteer Fire Department
Administrative Member: Valentin Neacsu, Vienna Volunteer Fire Department
Administrative Officer: Kelsey Lanza, Vienna Volunteer Fire Department
CERT Member: Susy Ledgerwood, Dranesville District
Special Recognition Award: Dave Presson, Bailey's Crossroads Volunteer Fire Department
Fire Chief's Award: John Hootman, McLean Volunteer Fire Department
Fire Chief's Career Achievement Award: Timothy Fleming, Franconia Volunteer Fire Department.
Stuff the Bus food drives scheduled this month
For the past nine years, Stuff the Bus has held food drives twice a year during times when donations often drop off – after the winter holidays and during the summer. Hosting drives during these critical times ensured that area nonprofits were able to meet the needs of hungry people in Fairfax County.
The COVID-19 pandemic has increased the need for food in our area, so Stuff the Bus is working to respond to the demand.
In May, food drives were held on two days at 21 locations throughout Fairfax County. The response was immense, with 33.6 tons of food collected for area nonprofits.
Fastran buses will again be parked at 21 locations from 10 a.m. to 3 p.m. Sept. 12 and Sept. 26 to collect food donations. Buses will be located in less-frequented lots throughout the county, including many Board of Supervisors' offices and the Fairfax County Government Center, to allow donors to comply with social distancing recommendations. For a full list of locations visit https://bit.ly/324El0R.
For those who are unable to donate in person but want to contribute, donations can be made to the virtual Stuff the Bus food drive by visiting Volunteer Fairfax's Donation Page at https://bit.ly/2F0w31w to connect with and donate to nonprofits serving our community.
Kelly Traver selected as a reunification hero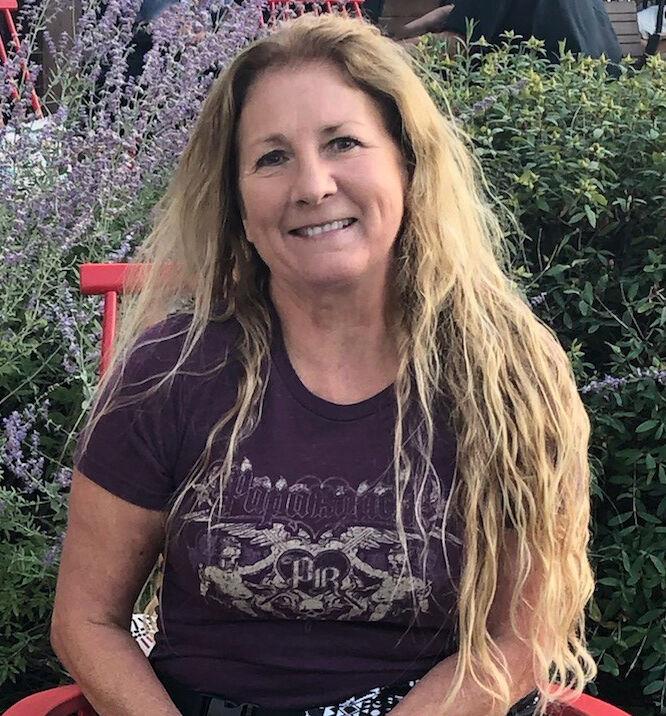 Kelley Traver with Department of Family Services Foster Care and Adoption was recently honored by the American Bar Association as a Reunification Hero.
Each year, the ABA selects professionals, foster parents, and youth reunification heroes who are passionate about helping families stay together. Traver has dedicated 30 years of her career to the children and families of Fairfax County, all in foster care and adoption.
Traver is a part of the Foster Care Case Carrying Unit for the Central Region of Fairfax. The work of this Fairfax Foster Care Unit is about helping to find permanent homes for children in care through reunification or adoption by relatives or fictive kin, as well as providing support to children and families in crisis and older youth who are on the verge of aging out of care. Supervisor Melody Vielbig nominated her in recognition of the work she does as a champion for children and their families.
Traver wholeheartedly believes that every child should have a relationship with their parents, and that while children may need to spend time in foster care, they don't have to grow up in foster care. She works to help foster parents and birth parents to successfully bridge the gap to increase the likelihood of reunifications.
Traver attributes Fairfax County's success in family reunification to the cohesive teamwork of the units and programs within the Fairfax County Department of Family Services. 
"I could not have been selected without the support of so many people," she said. "I am honored to work with such great people and for Fairfax County DFS." 
Fairfax County announces 2020 Environmental Excellence Award winners 
The Fairfax County Office of Environmental and Energy Coordination announced the winners of the 2020 Environmental Excellence Awards Sept. 2. 
Each year, the Environmental Excellence Awards recognize individual county residents, county employees, and organizations/businesses who advance or support the county's environmental goals and policy statements, dedicate personal time and expertise beyond their normal fiscal and civic responsibilities, and demonstrate leadership as a role model for others. 
This year, five awardees were named by the Fairfax County Environmental Quality Advisory Council (EQAC). Together, these awardees have devoted countless hours to the improvement of the natural environment in the county through public advocacy, volunteerism, the implementation of programs and sustainability strategies, and mentorship. 
"The 2020 Environmental Excellence Awardees are outstanding advocates for a healthy, sound natural environment in Fairfax County," said Stella Koch, chair of the Environmental Quality Advisory Council. "We are so fortunate to have these excellent leaders working in our community to ensure that the natural beauty and resources of our county will remain viable for generations to come." 
The 2020 Environmental Excellence Awardees are:
Individual County Resident Category
Sara Holtz. Sara is an active volunteer with several prominent environmental organizations in Fairfax County, including the Fairfax County Park Authority (FCPA), Fairfax ReLeaf,and the Northern Virginia Soil and Water Conservation District. Among her contributions and accomplishments, Holtz serves as the Site Leader at Difficult Run Stream Valley Park in Oakton for the FCPA Invasive Management Area Program. In connection with Fairfax ReLeaf, she has recruited and managed volunteers who have planted nearly 1,000 trees and shrubs and has educated hundreds of youth through the Waples Mill Elementary School STAMP (Science Technology Art Music Philanthropy) program. With the Soil and Water Conservation District she mobilized volunteers to label all of the nearly 800 storm drains in Waples Mill neighborhoods. Holtz particularly enjoys promoting environmental volunteerism with youth including STAMP, Girl Scouts, Cub Scouts, and Scouts BSA; leads by doing; and is an avid volunteer, dedicating over one thousand hours each year to local causes and organizations.
Delegate Mark Keam. Keam represents Virginia's 35th House District, located entirely within Fairfax County, in the Virginia House of Delegates. In early 2020, he was the chief patron of HB572 (referred to as the "Solar Freedom" bill), a critical piece of legislation that lifts the cap on renewable energy pilot projects in Dominion Energy territory. This bill, which became law July 1, will allow Fairfax County to expand its use of renewable energy by moving ahead with planned projects to install solar arrays on rooftops and parking lots of government buildings, schools, and park facilities, as well as a large solar array at the I-95 landfill site. In 2020 Keam was also the chief patron of HB704, the Virginia Environmental Justice Act, which will ensure that environmental justice is considered throughout Commonwealth activities.
Meghan Walker. Walker has held numerous positions with the Friends of Lake Accotink Park (FLAP), including president, treasurer, and communications director, and has served the community for well over a decade. In her roles, she has actively participated in a number of initiatives including the creation of a new pollinator educator garden, which includes 560 plants of 14 varieties and offers classes and brochures to educate the community on the importance of pollinator plants. Additionally, Walker has played a role in the Accotink Creek/Lake Accotink Total Daily Maximum Load Technical Advisory Council and has advocated for funding for various environmental projects and programs.
Business Category
Freddie Mac. Freddie Mac is headquartered in Tysons Corner. Notable accomplishments include the development of sustainability-oriented mortgage products to incentivize the greening of buildings and the successful avoidance of more than 3,600 tons of waste since 2016 through innovative recycling efforts. Freddie Mac has reduced transportation emissions by installing 20 electric vehicle chargers, expanding their vanpool program, which has eliminated 1.9 million commuter miles, and offering shuttles to the Tysons Corner Metro to encourage use of public transit by employees and visitors.
County Employee Category
Vickie Anglin is the county surveyor and is responsible for countywide monumentation, which provides critical data that influences how infrastructure is built. In 2019, She volunteered to lead a team focusing on health and the environment as part of development of the County Strategic Plan. Anglin brought together a diverse team of individuals from different agencies to perform community outreach, research best practices, review existing materials, and develop strategies to move the county forward. She also ensured that there was a strong focus on social equity as the plan was developed, making a special effort to reach historically underrepresented parts of the community. 
For more information on the Environmental Excellence Awards please visit the awards website at https://bit.ly/3byMnSK.
Shepherd's Center honors their volunteers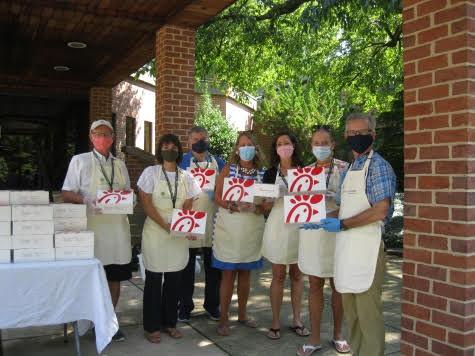 Shepherd's Center Serving Oakton-Vienna-Reston-Herndon (SC) recently held their Volunteer Appreciation event by hand-delivering boxed lunches followed by a virtual awards presentation.
"On behalf of the Board of Directors and Staff of Shepherd's Center of Oakton-Vienna-Reston-Herndon we would like to express our deep appreciation to all our volunteers for making a difference in the lives of others," read a statement from SC. "You have given your time, talent and service to our clients in need of support, enrichment programs and social interaction, especially during the COVID-19 public health crisis. Thank you for being the heart and soul of our organization".
The Town of Vienna Volunteer awardees for 2019 were Nancy Appler, Mike Mulraney, Marsha Komandt, Leigh Banducci, Michelle Kang and Eileen Shaw. SC Service Pins were presented to Florence Andrews, Linda Sherer, Margaret Davenport, Linda Puff, Patrick Browne, Kay DeMarco and Dick "Sully" Sullivan for their many hours of service in 2019.
"We couldn't image NOT honoring all of our wonderful volunteers this year, so we devised a safe, socially distant way to celebrate them", said Co-chair Jayne Young.  Volunteer Appreciation remarks were provided by guest speakers, The Honorable Laurie DiRocco - former mayor, Town of Vienna and The Honorable Linda Colbert - mayor, Town of Vienna.  
SC volunteers have donated 160,000 hours of time since the beginning of SC in 1998 which has a value worth more than $3.5 Million. Currently more than 250 Volunteers provide services and programs to more than 3,000 older individuals in Oakton, Vienna, Dunn Loring, Reston, Herndon and parts of Fairfax.
The event was made possible by the generous support of Chick-fil-A-Vienna, Brightview Assisted Living and Eldementals, LLC.
Fairfax County Deer Management Archery Program begins Sept. 12
The Fairfax County Deer Management Archery Program begins Sept. 12 and runs through Saturday, Feb. 20. 
Under the oversight of the Fairfax County Police Department, in collaboration with the Fairfax County Park Authority and NOVA Parks, the archery program is conducted in parks and other locations throughout Fairfax County.
The archery program began in FY 2010 and is part of an integrated Deer Management Program to reduce and stabilize the white-tailed deer population in Fairfax County in efforts to minimize safety and health hazards related to an overabundance of deer.  These impacts include deer-vehicle collisions, potential spread of diseases, and environmental damage attributed to deer that can impact the ecosystem. The program was approved by the Fairfax County Board of Supervisors in 2000 and is recognized as a safe and efficient method of deer population control by the Virginia Department of Wildlife Resources.
Because of its proven track record of safety, archery is a preferred deer management method in Fairfax County. Archery is a compatible use with residential areas and community parks, allowing for deer population management in urban and suburban areas.  Since Virginia began tracking hunting injuries in 1959, no bystanders have been injured by an archer hunting deer anywhere in the Commonwealth.  The Fairfax County Deer Management Program is conducted on approximately 100 properties countywide. Last year, 868 deer were harvested through the use of archery by hunters in the county program. The archery program accounted for 88 percent of the total deer harvests in the Fairfax County Deer Management Program.
Fairfax County's Archery Program standards require that all archers meet state hunter licensing, education and safety requirements and must pass qualifications to demonstrate skill and marksmanship, in addition to carrying program identification. Archers are also required to have completed additional training through the International Bowhunter Education Program to participate in the Fairfax County Deer Management Program. All archers must also pass a criminal background check to be eligible for the program. Only hunters that have gone through this screening and selection process with the Fairfax County Police Department may hunt within the designated parks.
Parks remain open to the public during the archery program. Florescent orange signs are posted in parks where hunting is authorized. Harvest attempts will be accomplished from elevated tree stands; hunting from the ground level is prohibited in county parks. Tree stands must not be located closer than 100 feet from property lines or closer than 50 feet from established park trails. Archers are not allowed on private property without permission by the owner or tenant. Archers are approved to hunt at assigned sites Monday through Saturday during legal hunting hours, 30 minutes prior to sunrise until 30 minutes after sunset.  No hunting is allowed on Sundays in county parks.
More information about the Fairfax County Deer Management Program can be found at https://bit.ly/2R5pZqH.