Capital One Invests in Fairfax County Schools to Support Student Connectivity, Distance Learning
Capital One has donated $90,000 to the Foundation for Fairfax County Public Schools (the Foundation) to support the purchase of MiFi units for students without internet connections in their homes during the COVID-19 quarantine. The units are being used to provide students in need with internet connectivity for up to five devices so that they can participate in classroom activities and distance learning. 
"Capital One is a long-time partner of Fairfax County Public Schools (FCPS) and has generously donated their employees' time as volunteers and funding to support students in need," said FCPS Chief Operating Officer Marty Smith. "We greatly appreciate their dedication to our students and their contributions to making education for all our students more equitable."
"School building closures over the past couple of months have highlighted the fact that access to computers or high-speed internet at home is a substantial barrier for virtual learning for millions of students across the country," said Jay Sanne, managing vice president of card technology at Capital One. "To truly succeed in the digital age, students first need reliable access to the digital world. As part of Capital One's broader community response to the COVID-19 pandemic, we are pleased to support The Foundation for Fairfax County Public Schools with a grant to support digital access efforts to enable continued learning."
Over the past 17 years, Capital One has been recognized by FCPS as its Partner of the Year (2003-04); for its READesign of the Glen Forest Elementary School library in conjunction with the Heart of America Foundation (2008-09); and as a member of the Virginia School Boards Association Business Honor Roll (2017). 
"This generous donation will support FCPS to provide essential internet access to our most vulnerable students," said Elizabeth Murphy, executive director of the Foundation. "We value partners such as Capital One, who are responsive to critical needs in our community. With their help, we can enable more students to engage in distance learning, enhancing equity in education for all FCPS students."
In addition to its financial support, Capital One associates volunteer in FCPS middle schools with the Capital One Coders program, which teaches students to code in an afterschool setting.  Last year, over 200 FCPS students spent nearly 5,000 hours with Capital One tech associates learning how to build their own mobile apps. Capital One plans to continue the program this fall, and has prepared virtual classroom instruction in the event that it is needed.
Governor Northam Appoints Fairfax Residents to Various Positions
Governor Ralph Northam announced additional appointments to his Administration June 5.
The following Fairfax County residents were appointed to positions (* denotes a reappointment):
Terri M. McKnight* of Fairfax Station, CPA, Partner, and Director of Audit Department, GRF CPAs & Advisors was appointed to the Christopher Newport University Board of Visitors.
Jon M. Peterson of Fairfax, CEO, Peterson Companies, was appointed to the George Mason University Board of Visitors.
Chris Falcon of Annandale, Deputy Clerk and Legal Counsel, Arlington County Circuit Court, and Maribeth Herod* of Herndon, Senior Vice President, Bank of America, and John C. Rothenberger* of Great Falls were appointed to the James Madison University Board of Visitors.
Brenda D. Calderon, PhD of Alexandria was appointed to the State Board for Community Colleges.
Sharon Bulova* of Fairfax County, Former Chair, Fairfax County Board of Supervisors, was appointed to the University of Mary Washington Board of Visitors.
Charles E. Dominy* of Oakton, Retired Lieutenant General, United States Army and Consultant, IAP Worldwide Services, was appointed to the Virginia Military Institute Board of Visitors.
Chris Petersen* of McLean, principal, Arbor Strategies, LLC, and Jeffrey E. Veatch* of Alexandria, entrepreneur and Co-Founder, Apex Systems, were appointed to the Virginia Polytechnic Institute and State University Board of Visitors.
School Board Seeking FPAC Applicants from Hunter Mill, Springfield District, and One At-Large
The Fairfax County School Board invites applications from community members in the Hunter Mill and Springfield Districts interested in serving on the Facilities Planning Advisory Council (FPAC). The School Board is also accepting applications for one at-large member. FPAC advises and informs FCPS staff and the School Board in the development of comprehensive, long-term plans for facilities.
FCPS encourages individuals with experience in construction, engineering, architecture, land use planning, development, demographics, government operations, and financing to apply. The deadline to submit an application is June 19.
For more information visit https://bit.ly/2Y2vE5f.
George Mason Statue Ready to Move to New Home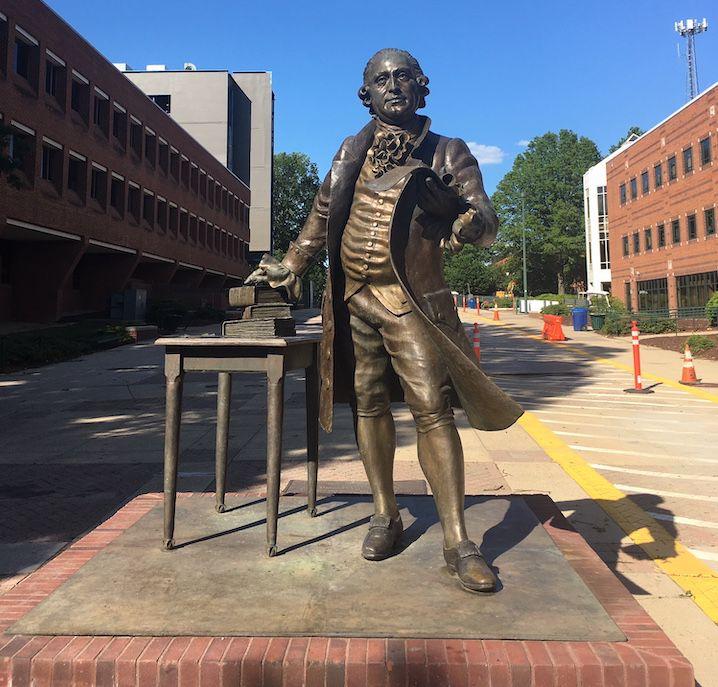 The iconic statue of George Mason on George Mason University's Fairfax Campus was scheduled to be moved June 15, to its new (temporary) home on Holton Plaza.
The move is necessary to make room for the reconstruction of the area of Wilkins Plaza adjacent to Robinson B, which itself will be demolished after the opening of Horizon Hall, expected for the spring 2021 semester.
The Mason statue will return to its usual place on Wilkins Plaza in late summer 2021.
The Mason clock, a gift from the Class of 1999 that was moved into storage in December 2018 to facilitate the expansion of Wilkins Plaza, is expected to make its reappearance in July, slightly north and east of its former location near David King Hall.
"Things are moving along pretty well although productivity has been reduced over the past several months due to COVID," Cathy Pinskey, program director at Mason Facilities, said of the Core Campus Project, which is transforming the center of the Fairfax Campus.
Moving the Mason statue is fairly straightforward, Pinskey said.
After it is loosened from its base, the statue will be picked up by a forklift, be strapped in for safety and shuttled via Aquia Creek Lane and Patriot Circle, past EagleBank Arena to Holton Plaza.
There it will be placed on a newly constructed base.
Once the statue is replaced, it will be part of the memorial on Wilkins Plaza dedicated to the Enslaved People of George Mason.
That memorial, designed by landscape architects with Perkins & Will, in association with a diverse team of Mason faculty, staff and students, intertwines the narratives of two of Mason's slaves: Penny, a 10-year-old girl, and James, Mason's personal manservant.
At the base of the Mason statue will also be four quotes from Mason that explains his important and complex role in American history as the author of the Virginia Declaration of Rights and a slaveowner.
Local Lions Clubs Donate to Community Food Bank
With a $19,525 donation, the Fairfax Lions Club along with Lions of Virginia Foundation (LOVF), other local Lions clubs and individuals, support a special Food for Others priority. 
Food for Others (FFO) is one of the largest providers of free emergency groceries in the region, distributing food each week to more than 4,000 local families in need.  Our Lions contribution will help kick-start FFO's new mobile food pantry delivering emergency food to those not able to get to food distribution centers.
Lions clubs are men and women volunteers who identify needs within the community and work to help fulfill those needs. Our motto is: We Serve! LOVF is funded by Lions clubs across Virginia to address statewide emergencies and humanitarian needs. By teaming up, Lions were able to increase the amount donated to FFO. LOVF matched donations of individual Lions clubs. The clubs contributing to this donation: Fairfax Lions, Falls Church-Annandale Lions, Burke Lions, Springfield Global Lions, Clifton Lions, and Alexandria Asian-American Lions.
As we all suffer from the impact of the pandemic, we are concerned for our neighbors who lost incomes, and families who may not know when they might next have a meal. Representatives of Lions Clubs presented their cash donation to FFO at their main food warehouse at 2938 Prosperity Ave. in Fairfax June 12. We have hope it will go a long way towards providing basic food to those most in need in our community.
"It is deeply gratifying how the various Fairfax area Lions Clubs quickly teamed together and partnered with LOVF to contribute this money to put help put food on the table and provide some comfort to our neighbors in need in these hard times," said Mike Rumberg, president of the Fairfax Lions Club. "Lions Club members thank every person who supported our fund raising projects that make this donation possible. You truly help Lions make a difference in our community."
Lazar Family Honored with National Award for Park Contributions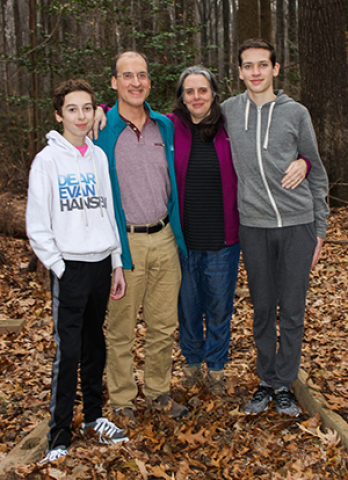 The National Association of County Park and Recreation Officials (NACPRO) has selected The Lazar Family as a recipient of a 2020 NACPRO Award in the Outstanding Contributor category.
The Lazar Family, Heidi Allen and Tibor Lazar, and their sons Corvin and Keaton, are the embodiment of citizen stewards, sharing their love of the natural world in personal and more tangible ways. Heidi and Tibor come from families that love nature, animals and most importantly, giving back to the community.
Heidi's desire to help the environment led her to become a dedicated volunteer with the IMA (Invasive Management Area) program in 2014. This award-winning program has already taken hundreds of unmanaged park acres that were overgrown with invasive plants and returned them to health.
Family members went on to establish The Lazar Family Fund through the Fairfax County Park Foundation to benefit future natural resource management in Fairfax County parks. The fund will include $360,000 contributed as seed money over 10 years. This is in addition to $16,000 donated since 2015. In establishing the fund, Heidi said, "We want this fund to be a starting base and encourage other people to give to this fund so we can have good-quality parkland that people can enjoy. We need to take better care of the land and control invasive plants." 
The fund honors the memory of Tibor's parents, Rita and Csaba Lazar, Hungarian immigrants whose environmental legacy continues in Rappahannock County. In 2020, the Lazars generously committed another $124,000, which will benefit the Park Authority IMA program, natural resource stewardship and the Lazar Family Fund. This gift represents a legacy by honoring the life of Heidi Allen's stepfather, James 'Jim' Hawthorne, who she credits as "my mentor and guide to all things wild." The family's philanthropy is timely and an inspiration for others who love nature and value the importance of beautiful parkland in Fairfax County. 
NACPRO is a nonprofit professional organization that advances official policies that promote county and regional park and recreation issues, while providing members with opportunities to network, exchange ideas and best practices, and enhance professional development. NACPRO awardees are usually honored in person at the organization's annual awards banquet. This year, because of the COVID-19 pandemic, the banquet has been canceled. The Lazar Family will instead be honored by the Park Authority at a still to be determined time.
McLean Citizens Association Selects Four Students as Winners of Teen Character Awards
The McLean Citizens Association has selected four students as winners of its 2020 Teen Character Awards. 
Winners are Ryan Chou, Joshua Lian, Caroline Lucia, and Megan Markwart. 
Chou, a junior at McLean High, participated in EndCoronavirus.org efforts to help improve communication and develop a better general public understanding of the pandemic. He reviewed and edited guidelines for the public, including Essential Actions to #CrushtheCurve and guidelines for respiratory health, grocery shopping, and how to wear a mask. Chou also built and updated dashboards with critical coronavirus-related information, such as statistics relative to population, maps of implemented government measures, and testing center statistics. He also leads a Virginia outreach team to distribute educational materials to the general public.
Lian, a junior at TJHSST, made cloth masks that he helped distribute to local senior centers in Virginia, Maryland, and the District of Columbia. He also used his skills to 3D print personal protective equipment (PPE) faceshields that were distributed to area hospitals.
Lucia, a junior at McLean High sewed hundreds of face masks in support of PPE needs.  They were donated to hospitals in Maryland and the District of Columbia as well as for residents of Fairfax County's homeless shelters. Lucia hosted multiple mask-making tutorials with the Quarantine Academy, a Ted Talk-like daily instructional presentation.
Markwart, a 2020 graduate of Langley High, was elected to the youth member seat of the McLean Community Center (MCC) governing board's Langley District in 2018 and 2019.  She developed a video encouraging youth to run for a seat on the MCC board. Markwart proactively worked to increase youth input and perspective, helping to shape the activities and initiatives of MCC in support of the community.
Fairfax County Residents Receive Degrees from Shepherd University
Six-hundred twenty-two students received baccalaureate degrees during Shepherd University's 147th Commencement, which took place virtually May 9. 
Shepherd alumna Judee Ann Williams, Class of 2001, co-head of CAA Social Impact at leading entertainment and sports agency Creative Artists Agency, delivered the undergraduate commencement address and was awarded an honorary doctorate.
The following Fairfax County residents received their baccalaureate degrees: Nicolette Marie Bruley and Stephany C. Chavez of Centreville, Henry Stanley Navarrete Mendez and Cindy Vanesa Moscote Rodriguez of Chantilly, Sarah Elizabeth Strong of Fairfax and Kristina Marie Martinez of Falls Church.
Fifty-six students received master's and doctoral degrees. Dr. James V. Denova, vice president of the Claude Worthington Benedum Foundation, delivered the graduate commencement address and was awarded an honorary doctorate.
Hanqiang Zhang of Fairfax was awarded a Master of Arts degree.
FCPS Offers Free Online Summer Arts Enrichment Program
Fairfax County Public Schools will offer a free online arts enrichment program for current K-12 students over for five weeks from July 6 to August 7.  A variety of classes will be offered in art, music, theater, and dance. 
Elementary classes include K-6 Art, Stitchery and Weaving, Claymation and Recycled Art, K-6 Music, Drumming, Contemporary Vocals, Sixth Grade Band, Sixth Grade Strings, K-6 Theater, and K-6 Dance.
Secondary classes include Cartooning, Cell Phone Photography and Animation, Digital Art, Exploratory Drawing and Painting, Guitar, Jazz Band, Creative Strings, Show Choir, Musical Theater, Acting, Theatre Games and Improv, Technical Theater Design and Production, Creative Writing, Yoga for the Artist, Summer Dance Exploration, Summer Dance Intensive, and Fitness for the Performing Artist.
Students may participate in as many classes as they wish, continuing to take their favorite art classes or trying something new. Registration is not required.
Every class is taught by a licensed FCPS teacher in a fun and supportive environment. The site is already online with class descriptions posted. Most classes will require a few supplies or an instrument; this information will be included in the class description. Each week a new activity with a demonstration video and directions will be posted online. Families are encouraged to come back each week to see what is new.
Email fasummerlearning@fcps.edu for more information.
Town of Herndon Announces Candidates for Fall Election
The next Town of Herndon election day will be November 3. Polling locations for town elections correlate with locations for national elections, which are also held that day. 
For more information on upcoming elections visit https://www.fairfaxcounty.gov/elections/.
List of Candidates:
MAYOR
Sheila A. Olem
Roland B. Taylor
TOWN COUNCIL
Naila Alam
Cesar A. del Aguila
Bessie E. Denton
Pradip Dhakal
Signe V. Friedrichs
Clark A. Hedrick
Syed F. Iftikhar
Stevan M. Porter
Sean M. Regan
Jasbinder Singh
For a list of frequently asked questions regarding Town of Herndon elections visit https://tinyurl.com/ya2hokwn.