$59M Multi-Family Housing Project Commences in Fairfax County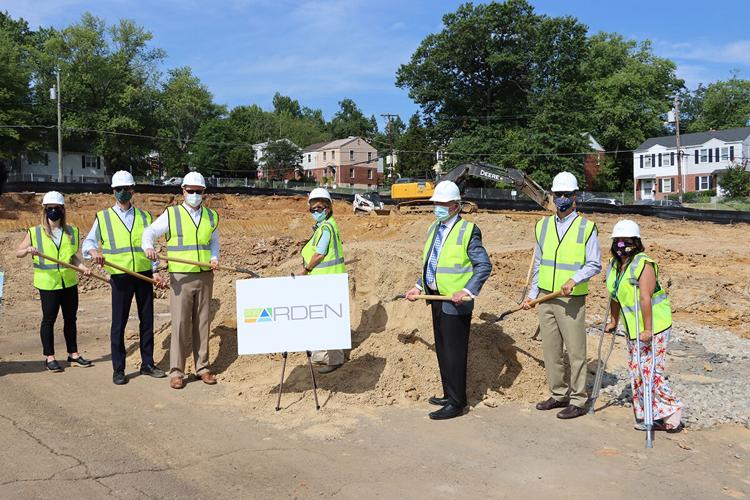 Wesley Housing, Fairfax County, and other project partners gathered on Monday to break ground on The Arden, a highly-anticipated new affordable family development located one block from the Huntington Metro in the Mount Vernon District of Fairfax County.
The ceremony, limited in size to adhere to current guidelines issued by the Centers for Disease Control, officially kicked off the construction of 126 affordable units, including 10 efficiencies, 26 one bedrooms, 76 two bedrooms, 14 three bedrooms, and 11 fully accessible units in the transit-oriented neighborhood. Resident amenities will include a community room, courtyard patio, bike storage, on-site laundry facilities, surface parking, and a dog walking area. In addition, the ground floor will host 7,500 sq. ft. of office space, which will allow Wesley Housing to relocate its main office to the property. Wesley Housing will be meeting Energy Star and EarthCraft Multifamily Gold green building standards for the new development.
"When complete, The Arden will be a shining example of transit-oriented affordable housing in Fairfax County," said Wesley Housing President/CEO, Shelley Murphy.
"A safe, affordable, and stable housing environment is fundamental to building stronger communities and the economic success of all of our residents. In serving families who are otherwise struggling in this housing market, The Arden is an outstanding example of our pursuit of the vision of One Fairfax," said Jeffrey McKay, Chairman of the Fairfax County Board of Supervisors. 
"I am very pleased to be groundbreaking on this exciting project, The Arden," said Mount Vernon Supervisor Dan Storck. "When we talk about affordable housing, we often lose site of the people who represent this segment of our population – our teachers, police officers, grocery store and construction workers, many working more than one job to make ends meet. This well planned, beautiful and high-quality community asset will provide dignified housing options for those who need and deserve them. As we redevelop and re-envision the Mount Vernon District, we need all our neighbors to remain in our incredibly diverse communities. This is what makes us strong, resilient, understanding and proud."
The project has received a substantial contribution from Fairfax County and the Fairfax County Redevelopment and Housing Authority in Housing Blueprint funding, awarding Community Development Block Grant (CDBG) funding, and a commitment of 12 project-based vouchers to serve extremely-low-income households and individuals with developmental disabilities.
"It has definitely taken a creative mix of resources to bring this project about," said Tom Fleetwood, Director Fairfax County's Department of Housing and Community Development. "Of the dozen or so resources feeding into this project, many have been locally directed – including $7.4 million in local Housing Blueprint loans; nearly $1 million awarded in federal Community Development Block Grant Funding; and committing project-based rental assistance from the State Rental Assistance and Housing Choice Voucher Programs to serve extremely low-income households and individuals with developmental disabilities. It is a prime example of a cooperative effort using all the tools in our toolbox to make this project possible."
Located at 2317 Huntington Avenue, The Arden will be a seven-story building at the intersection of Huntington Avenue and Biscayne Drive. The building is designed to ensure the long-term sustainability of the property at standards comparable to other properties in the market area and will remain committed to affordability for 30 years. Wesley Housing expects to begin accepting rental applications in Spring 2022 from the public and referrals from individuals coming from the Fairfax County Redevelopment and Housing Authority (FCRHA) waiting list to more effectively meet the needs of Fairfax County's most vulnerable populations. To learn more about the project or to sign-up to receive future leasing information, please visit www.LiveTheArden.com.
Three Park Volunteers Honored with Elly Doyle Service Awards
Volunteers from Colvin Run Mill, Frying Pan Farm Park and the Olander and Margaret Banks Neighborhood Park will be honored for their outstanding service contributions as recipients of the Fairfax County Park Authority's 2020 Elly Doyle Park Service Awards.
Kathleen "Kitty" O'Hara has been giving tours at Colvin Run Mill for 17 years and supports the historic site as the treasurer for Friends of Colvin Run Mill. She shares her knowledge about milling and the importance of simple machines with hundreds of local third-graders who visit the mill each year on school field trips. This past year, she initiated the design and purchase of a unique educational object that will give visitors a hands-on experience and a "behind-the-curtain" look at how raw grain and finished flour are moved around the mill untouched by human hands.
Leslie Painter has been a volunteer at Frying Pan Farm Park for more than a decade. As secretary of the Friends of Frying Pan Farm Park Board, she has provided a wealth of technology support for the Board and park staff. The avid horsewoman also teaches equestrian sessions, helps manage shows at the park, and is quick to volunteer when any work needs to be done -- from serving meals to cleaning the barn to running major events. She has made a major impact on the Friends' fundraising efforts by increasing participation and managing the paperwork and responses to the group's many donors.
Carolyn Banks Summers has volunteered for more than 15 years to maintain the home, grounds and cultural aspects of her family's former homestead for the use and enjoyment of the Kingstowne and Franconia communities. She has done this at the Olander and Margaret Banks Neighborhood Park through myriad activities, cleanups and engagement with the community and neighborhood students. She created the Friends of Olander Banks group to support the park, and she worked with her father and the Park Authority to design and dedicate a large brick and stone memorial bearing her parents' likeness and names.
The award winners will be honored at a virtual ceremony in November.
The Elly Doyle Park Service Award was established by the Park Authority in 1988 in recognition of former Park Authority Board Chairman and member Ellamae Doyle's years of outstanding service toward the preservation of parkland and establishment of natural and recreational areas for the benefit of Fairfax County residents. The purpose of the award is to publicly recognize a volunteer or group of volunteers for outstanding contributions to Fairfax County parks.
School Board Renames Robert E. Lee High School for Late Congressman John Lewis
The Fairfax County School Board voted to rename Robert E. Lee High School after the late U.S. Congressman John R. Lewis at its business meeting July 23. The new name will be effective for the 2020-21 school year.
"The Board heard from students, teachers and staff members, families, and the community about the old name," said School Board Chair Ricardy Anderson.  "It was important for us to be mindful of these comments and to select a name that reflected the diversity and multiculturalism that currently exists at the school and in our community. Rep. Lewis was a champion of the Civil Rights movement, and our Board strongly believes this is an appropriate tribute to an individual who is a true American hero. We will also honor his life's work by continuing to promote equity, justice, tolerance and service in the work that we do." 
"The name Robert E. Lee is forever connected to the Confederacy, and Confederate values are ones that do not align with our community," said Lee District School Board member Tamara Derenak Kaufax, who proposed the name change along with at-large member Karen Keys-Gamarra.  "Our schools must be places where all students, staff, and members of the community feel safe and supported. I believe that John Lewis' extraordinary life and advocacy for racial justice will serve as an inspiration to our students and community for generations to come." 
The Board voted to change the name of the school June 23 and held a one-month period of public comment on possible new names. A virtual town hall meeting was held July 15 and a public hearing was held July 22. Details about the process for the name change can be found online. 
Congressman John Lewis represented the state of Georgia in the U.S. House of Representative for 33 years. He was a civil rights leader and one of the original organizers of the 1963 March on Washington to draw attention to inequalities faced by African Americans. He also led the Selma to Montgomery march across the Edmund Pettus Bridge in 1965. Known as Bloody Sunday, the civil rights demonstrators were marching to the state capital to demand voting rights for African Americans when they were met by armed police who attacked them. The Voting Rights Act of 1965 was signed into law later that year and is considered one of the most far-reaching pieces of civil rights legislation in U.S. history. Congressman Lewis was the recipient of many awards throughout his lifetime, including the Presidential Medal of Freedom in 2011. Congressman Lewis died July 17.
Youth Honoree Named for Elly Doyle Park Service Awards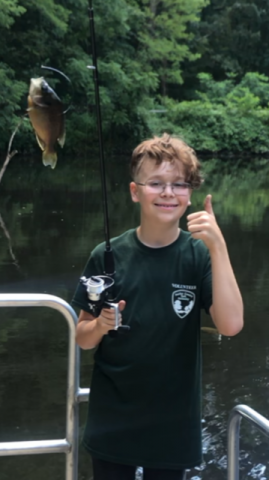 A Springfield teenager described as an "all-round volunteer dynamo" is the 2020 Youth recipient of a Fairfax County Park Authority Elly Doyle Park Service Awards.
Hidden Pond Nature Center volunteer Josh Morrison was nominated for the award to honor the service contributions he has made to the park through a variety of volunteer roles.
Morrison worked regular weekend volunteer shifts at the park, often filling in for others who were unable to work their shifts. He was assigned to live exhibit care, which included feeding and cleaning of tanks, and during his Saturday shifts, he often led or co-led birthday party reptile talks and pond studies for the participants. He also performed light maintenance work, assisted with trail maintenance projects, and gave occasional impromptu reptile talks for visitors to the nature center. Aside from his regular duties, Morrison also helped with summer camps, proving to be a responsible group leader.
In 2020 alone, the 14-year-old contributed more than 75 hours of service to Hidden Pond before the facility was closed due to the COVID-19 pandemic. When site management began sending out calls for interest in returning to volunteering, Morrison was one of the first to say he was ready to get back to volunteering and was scheduled to help with animal care and some programs.
The Elly Doyle Park Service Award was established by the Fairfax County Park Authority Dec. 20, 1988, in recognition of former Park Authority Board Chairman and member Ellamae Doyle's years of outstanding service toward the preservation of parkland and establishment of natural and recreational areas for the benefit of Fairfax County residents. The purpose of the award is to publicly recognize a volunteer or group of volunteers for outstanding contributions to Fairfax County parks.
The Elly Doyle winners will be honored at a virtual Park Authority ceremony in November.
FCPS Names Assistant Superintendent for New Department of School Improvement and Supports
Fairfax County Public Schools (FCPS) Superintendent Scott S. Brabrand has named Mark Greenfelder, who currently serves as executive director of the Office of School Support, as the assistant superintendent for the new Department of School Improvement and Supports, effective July 24.
"Mark Greenfelder is a seasoned educator and administrator who has extensive experience working with students and educators at all levels—elementary, middle, and high school—with a track record of helping close achievement gaps while challenging and supporting students at all levels of learning," said Brabrand. "We are fortunate to have him lead this new department, which will concentrate on improving individual student outcomes while using research-based instructional strategies, keeping equity at the forefront of his work.
"Mark will be able to build upon the work he has been doing for the past several years as well as overseeing the Office of Student Activities and Athletics, the Office of Assessment and Reporting, and Non-Traditional Schools and Programs," added Brabrand. 
In July 2016, Greenfelder was tapped as executive director of the new Office of School Support and was charged with developing and facilitating district-wide school improvement strategies and resources.  He developed a Region-based support structure to strategically provide resources and personnel to schools and created the Project Momentum school improvement initiative that resulted in a decrease of 18 schools Accredited with Warning to one school Accredited with Conditions over a period of five years. As executive director, Greenfelder serves as liaison and primary point of contact with the Virginia Department of Education for FCPS school improvement initiatives, building a positive relationship with that body that resulted in FCPS being the first school division in the state to conduct its own school improvement academic reviews.
Greenfelder began his education career as a classroom teacher Mount Vernon Woods Elementary School, Cameron Elementary School, and Irving Middle School, then was promoted to assistant principal at Greenbriar East Elementary School, where he served for three years before being named a subschool principal at Robinson Secondary School. He was named principal at Thoreau Middle School, where he served for eight years, then served for three years as principal at West Springfield High School. He then served as executive principal for Region 3 schools prior to being named executive director of the then-new Office of School Supports.
A graduate of Virginia Tech with a bachelor of science in education, he earned a master of education in education leadership from George Mason University. Greenfelder has presented at state and national conferences on Project Momentum as a county and state model for school improvement and, as Thoreau principal, was recognized for the school's successful use of professional learning communities.