Health Department Fit Test Team Helps Keep Health Care Workers Safe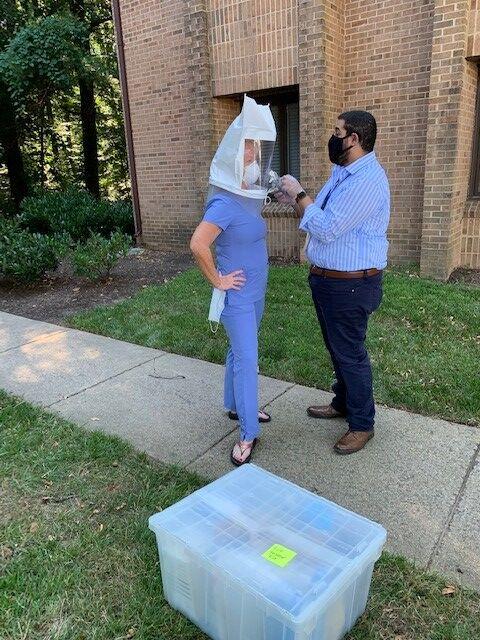 Under normal circumstances, Lauren Lochstampfor's work at the Fairfax County Health Department revolves around setting mosquito traps or studying insects under a microscope.
Sam Gaber spends most of his time performing inspections at restaurants or doing research on the impact of climate change.
And Adam Newland manages financial records and processes insurance payments.
But the three of them now make up a team of fit testers who are helping ensure that essential workers have the right personal protective equipment (PPE) needed to stay safe from COVID-19. Since the early days of the pandemic, the Health Department has been sending rapid response teams into long-term care facilities and other high-risk settings to ensure that staff have the knowledge and equipment for proper infection control. Now a fit testing strike team is available to assist doctor's offices, dental practices and other healthcare providers as well.
Although not recommended for the general public, respirators and surgical masks are examples of personal protective equipment used in industrial or healthcare settings to protect the wearer from airborne particles. Certain respirators, such as N95s, must form a tight seal with the face or neck to work properly. If the respirator doesn't fit properly, it won't protect properly. So a fit tester must make sure that the respirator is the right make, model and size for the person wearing it. It takes about 15 to 20 minutes to complete a fit test, and after passing the person must use that same respirator on the job.
Lochstampfor, an insect biologist with the department's Disease Carrying Insects Program, is an experienced fit tester from years working with chemicals for mosquito control. Because of that experience, she was assigned to one of the first response teams deployed to nursing homes. It was challenging work, she says, but it also "make you feel like you were doing something very important."
Gaber, an environmental health specialist, has been fit testing Health Department employees for the last 18 months. Early in the response he assisted with case and contact investigations as needed before being re-assigned to the fit testing team. He says it is a small way to contribute to the cause and he's happy to do it.
For the first few weeks of his activation, Newland was assigned to a facilities team, which identified socially distanced group space for the new teams being formed every day at the Health Department's administrative offices, the clinics, and the call center. Once the teams were in place, the facilities group was reduced and he was made a fit test trainer on a rapid response team.
For an administrative professional who ordinarily works in a Finance office to suddenly be sent into homes and home care facilities in full PPE with nurses and health inspectors was a bit of a culture shock.
On my first day I was so nervous I spilled the bitters solution on my gown," he admitted.
Some days Newland was a nurse's helper, putting their samples away and running them in a cooler to the Health Department's mobile lab. More recently he is serving in a dual role, assisting with supply management at community testing events and doing fit testing of new public health nurses, Medical Reserve Corps volunteers and other providers as needed.
Although the schedule has been unpredictable and the days are sometimes long for this working parent, Newland likes being part of a team that is "making a difference in the world around me."
Dewberry Welcomes New Head of Mid-Atlantic Operations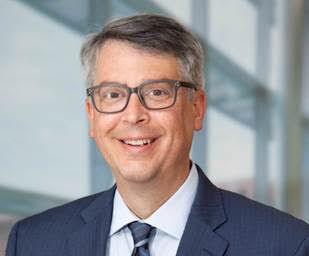 Dewberry, a privately held professional services firm, has announced that Robert Victor, PE, F.ASCE, has joined the firm as an operating unit manager to lead its mid-Atlantic engineering operations, based in Fairfax, Virginia.
Victor joins the firm with more than 25 years of experience, most recently at HDR where he led the transportation group for northern Virginia, Maryland, and Washington, D.C.; and served as the deputy transportation group manager for the mid-Atlantic region. As the new operating unit manager for Dewberry's mid-Atlantic region, Victor will oversee a staff of more than 350 employees across 11 offices. These offices represent extensive services, such as, engineering, geospatial, survey and mapping, environmental, and construction across federal, state and local, and commercial markets, including real estate and commercial development.
"We are thrilled to welcome Robert to Dewberry," says Dewberry President Darren Conner, PE. "His time spent working in the mid-Atlantic region has gained him valuable experience and we are fortunate to be able to provide our clients and employees with his expertise."
Victor earned a bachelor's degree in civil engineering from the University of Michigan (1993), his master's degree in civil engineering from the University of Illinois (1995), and became a graduate of the American Road and Transportation Builders Association's (ARTBA) Young Executive Leadership Development Program in 2009.
In addition to his involvement in ARTBA, Victor serves on the transportation and land use committee and is a member of the mobility and logistics solutions group for the Greater Washington Board of Trade; is a member of the transportation committee for the American Council of Engineering Companies / Metro Washington; is a volunteer mentor for the Women in Transportation Seminar; and is an active member of the American Society of Highway Engineers and the Morgan State University National Transportation Institute advisory committee. He is a former society board member and fellow of the American Society of Civil Engineers and most notably led the production of the "Report Card on America's Infrastructure" in 2013.
FCPS Announces the Appointment of New Principals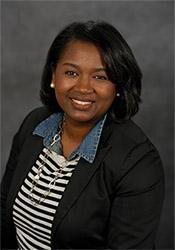 April Cage, who currently serves as principal of Bonnie Brae Elementary, has been named the new principal of Garfield Elementary, effective July 27.  
Cage brings a wealth of knowledge and experience to the principalship having served in multiple schools with diverse communities, and various academic programs. She has served as the principal of Bonnie Brae since 2016. Prior to serving as principal, she held the following positions, all in Region 3 schools: advanced academics resource teacher, instructional coach, assistant principal at Riverside Elementary School and assistant principal at Island Creek Elementary School.  
In addition to her professional credentials, Cage leads numerous professional development opportunities within FCPS for teachers, aspiring leaders, as well as current school division leaders and has received the following distinctions: National Certification, the Superintendent's Excellence in Equity Award (2019), and FCPS' Region 4 Outstanding New Principal FCPS Finalist (2019). 
Cage earned her Bachelor of Science from Southern University Agricultural & Mechanical College in Baton Rouge, Louisiana, and her Master of Arts in Educational Leadership from The American College of Education in Indianapolis, Indiana. She holds her Virginia Postgraduate Professional License in Administration & Supervision PreK-12, Elementary Ed. Pre-K-6 and Gifted Education.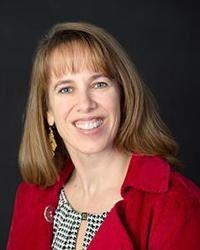 Ellen Mukai, who currently serves as the assistant principal at Saratoga Elementary School, has been named the new principal for Brookfield Elementary School. 
Mukai has served as the assistant principal at Saratoga Elementary School since 2018. Prior to that, Mukai was the manager for the School-Based Technology Specialist Program (Division-Wide) from 2015-2018. From 2013-2015, Mukai was the assistant principal at Forestdale Elementary School. Before serving the Forestdale community, Mukai was the manager for the Best Practices for Teaching and Learning Program (Division-Wide) from 2010-2013. She also served as an instructional technology specialist-elementary (Division-Wide) from 2008-2010, and as a school-based technology specialist at Fairfax Villa Elementary from 2005-2008. Prior to that, Mukai taught fifth grade at Centre Ridge Elementary; third and fourth grades at Canterbury Woods Elementary; and fifth grade at London Towne Elementary. She began her teaching career as an eighth-grade teacher at Hillsville Middle School in Hillsville, Va.
Mukai holds a Bachelor of Science in Family and Childhood Development from Virginia Tech, a Master of Education in Educational Technology Leadership from George Washington University, and a Postgraduate Professional License, Endorsement in Administration and Supervision from the University of Virginia.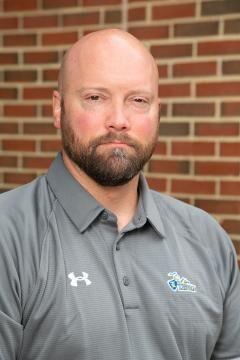 Peter Kelly, who currently serves as assistant principal at Lee High School, has been appointed as principal of Pulley Career Center, effective Monday, August 3.
Kelly brings a wealth of knowledge and experience to the principalship having diverse leadership experiences in multiple school settings, each time supervising the special education community. He has served as a positive behavior supports team leader, special education teacher, Special Education Department chair and assistant principal at Lake Braddock Secondary School. Kelly has also served as the extended school Year principal at Key Middle School (2015), Mark Twain Middle School (2017) and Frost Middle School (2018).
Kelly has served as an assistant principal at Lee High School since 2016 where he was the administrator and instructional lead for the Category A and B Special Education Departments. Kelly has worked directly with the FCPS Applied Behavior Analysis (ABA) program to further the training and retention of ABA skills for students and staff. He also successfully led the for Pathways to Accessing Community Environments (PACE) implementation at Lee High School to promote work readiness skills of Category B, Special Education students giving him a unique understanding of Pulley Career Center students. 
Kelly earned his Bachelor of Arts at James Madison University and his Master of Education in Special Education and Educational Leadership from George Mason University. He holds his Virginia Postgraduate Professional License in Administration & Supervision PreK-12 and Specific Learning Disabilities K-12.  
Five 2020 Graduates Named 2020 National Merit Scholarship Winners
Five Fairfax County Public Schools (FCPS) graduates from the class of 2020 have been named winners of college-sponsored scholarships by the National Merit Scholarship Corporation (NMSC).
Recipients of college-sponsored scholarships from the NMSC, with their probable career fields in parentheses, are:
Rithika Balguri of Chantilly High School (biology), National Merit Virginia Commonwealth University Scholarship.
Tanya Kurnootala of TJHSST (medicine), National Merit Virginia Commonwealth University Scholarship.
Rohan Voddhi of TJHSST (computer science), National Merit University of Chicago Scholarship. 
Jessica Yoon of TJHSST (oncology), National Merit Emory University Scholarship.
Mikhail Allen of TJHSST (computer engineering), National Merit University of Maryland Scholarship. 
College-sponsored Merit Scholarships provide between $500 and $2,000 annually for up to four years of undergraduate study at the institution financing the scholarship. Nationwide, more than 7,600 students have won Merit Scholarship awards in 2020. This is the final group of scholarship recipients for the class of 2020.
National Merit Semifinalists are named each September in a state-representational basis in numbers proportional to each state's percentage of the national total of graduating high school seniors. Semifinalists for 2020 are students with the highest scores on the 2018 Preliminary SAT-National Merit Scholarship Qualifying Test (PSAT-NMSQT®), which serves as an initial screen of program entrants. Winners are chosen by the National Merit Scholarship Corporation, which administers the program.
Outstanding Park Authority Volunteers to be Honored
Nineteen Fairfax County Park Authority volunteers will be honored as Outstanding Volunteers at the 2020 Elly Doyle Park Service Awards virtual celebration in November.
Volunteers offer invaluable services at county parks, recreation facilities, golf courses, nature centers and historic sites. 
In fiscal year 2019, more than 5,000 volunteers provided 188,386 volunteer service hours to the Park Authority.
Those volunteers, who work at a wide variety of park locations and serve diverse needs, include the following individuals who will be honored for outstanding service: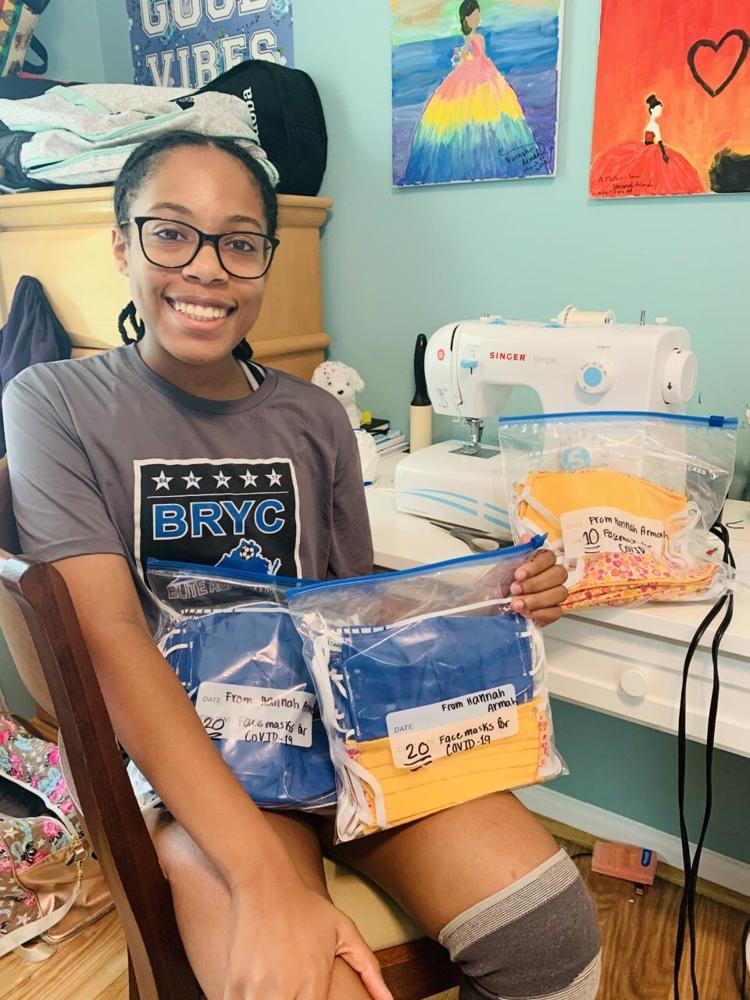 Debbie Berry – Providence RECenter
Ronald "Ronnie" Billodeaux – Frying Pan Farm Park
Roberta Bucher – Huntley Meadows Park
Allison Carnathan – Sully Historic Site
Lisa Dickenson – Oak Marr RECenter
Bob Dinse – Hidden Oaks Nature Center
Lina Le Faucheur – Spring Hill RECenter
Sara Holtz – Invasive Management Area Program
Karen Hunter – Cub Run RECenter
Mary Alice Huybrechts – Green Spring Gardens
Janet Jaeger – Lee District RECenter
Richard Langguth – Twin Lakes Golf Course
Johnny T. Lopez – South Run RECenter
Ron Pickett – Laurel Hill Golf Club
Peggy Plunkett – Audrey Moore RECenter
Savannah Purdy – Hidden Pond Nature Center
Robert "Tim" Schnoor – Adapted Aquatics at Spring Hill RECenter
Tony Williams – Mount Vernon RECenter
Justinian "Juss" Wright – Ellanor C. Lawrence Park
The Elly Doyle Park Service Awards were established by the Park Authority in 1988 in recognition of former Park Authority Board Chairman and member Ellamae Doyle's years of outstanding service toward the preservation of parkland and establishment of natural and recreational areas for the benefit of Fairfax County residents. The purpose of the annual awards is to publicly recognize volunteers for outstanding contributions to Fairfax County parks.
2020 Collect for Kids School Supply Drive to Be Online Only
Students need school supplies to be prepared to learn. Once again, Fairfax County Public Schools (FCPS) and the Foundation for FCPS are leading the Collect for Kids effort, a consortium of not-for-profit, for-profit, and government entities promoting, coordinating, and providing school supply drives to benefit FCPS students that otherwise might go without them.
This year, to help keep staff, students, and volunteers safe, the Collect for Kids effort is moving exclusively to a virtual, online-only campaign. All donated funds will be used to purchase assembled grade-level appropriate kits for students in need.
Prior to the COVID-19 crisis, nearly 60,000—or a full one-third—of FCPS students lived at or below the poverty level and struggled to afford basic necessities.   
Contributions can be made online through the Foundation for FCPS. Donations will be used to purchase bulk school supply kits at discounted pricing.
For more information, visit collectforkids.org or contact Kathy Ryan at krryan@fcps.edu.
Repair Work to Begin Soon on Burke Lake Park Loop Trail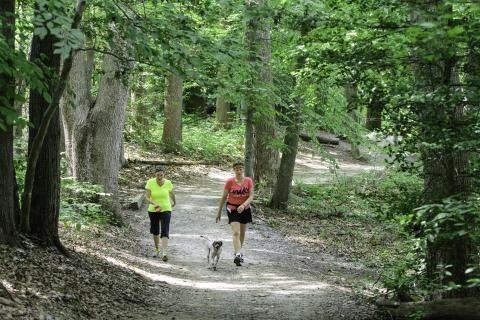 The Fairfax County Park Authority will soon begin work on the Burke Lake Park Loop Trail Repair Project. The work will involve replacing culverts, milling existing asphalt trail, overlaying existing asphalt trail with new asphalt, and shoulder restoration along the trail section from the marina to the ADA fishing piers. 
The contractor, Tibbs Paving, will mobilize on or about July 27, with active repair activities beginning on or shortly after mobilization -- weather permitting. The paving operations are expected to take 10 to 14 days to complete. 
During the renovation, the trail will remain open. However, there will be significant disruptions to users as the crews are working. Tibbs will route trail users around the work area when possible, but at times, users may be asked to stop temporarily while work is progressing.
For more information, please contact Construction Maintenance Project Manager Karen Kressin at 571-789-6697 or e-mail Karen.Kressin@fairfaxcounty.gov.