Mason team sets the stage for a test that can detect tuberculosis in children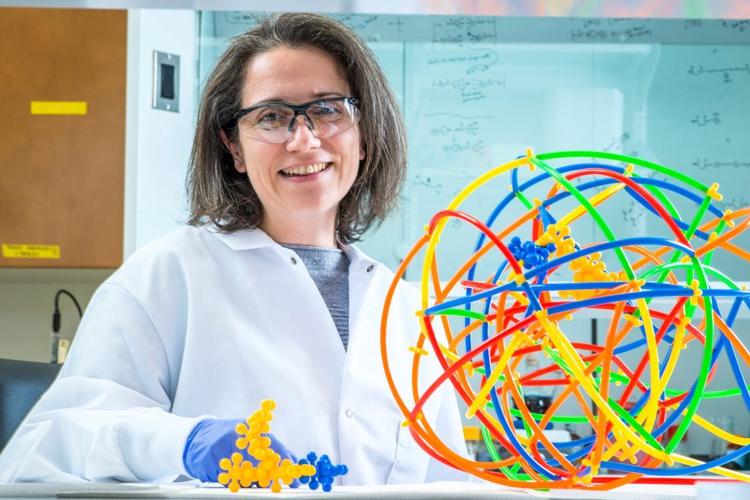 A team headed by two George Mason University scientists has developed a urine test that detects tuberculosis in many types of patients, but has proven especially effective in children.
The groundbreaking test can work anywhere in the world and can accurately detect tuberculosis lung infection, even in absence of HIV co-infection. During a new clinical study involving 430 tuberculosis patients and controls from five different countries, Alessandra Luchini, Lance Liotta and their team discovered novel kinds of tuberculosis markers that reached high levels of sensitivity and specificity to meet World Health Organization (WHO) criteria.
The test proved especially effective in diagnosing tuberculosis in children, where it especially lethal when unidentified and untreated. The researchers recently presented their data in a paper published in the August 18 issue of the journal Science Reports.
"Untreated children have a high mortality rate and are responsible for spreading the disease," said Luchini, an associate professor within Mason's Center for Applied Proteomics and Molecular Medicine (CAPMM) within the College of Science. "A urine test is a very simple solution that can be deployed in developing countries."
The urinary markers identified by the researchers were able to correctly detect the disease in patients affected by tuberculosis infection of the bones, the larynx, and the brain and surrounding membranes, which usually require sophisticated and very invasive diagnostic techniques.
Tuberculosis diagnosis in children currently requires sophisticated hospitals and very invasive procedures such as lowering a string into the child's throat. Not even these techniques always provide a conclusive diagnosis, Luchini said.
The researchers have identified a new type of biomarker that has high selectivity for children. Their urine-based test targets a molecule that derives from the surface of Mycobacterium—the microorganism that causes the disease—and can be used to directly monitor the presence of the microorganism in the body.
Additionally, this study was the first to define a relationship between diabetes and tuberculosis, suggesting that sugar composition of the tuberculosis bacterium cell wall is altered in diabetic patients.
"Tuberculosis is a deadly disease, particularly in children," said Liotta, a University Professor and the co-director of CAPMM. "The number of patients we could help by an early urine diagnosis is in the millions."
The study was conducted on a large number of patients living in Guinea Bissau, Uganda, Peru, Venezuela and the United States, and defined the criteria needed for a worldwide test. 
The research was funded by the Eunice Kennedy Shriver National Institute of Child Health and Human Development, the Bill and Melinda Gates Foundation, and the National Institute of Allergy and Infectious Diseases.
Tuberculosis remains the world's top infectious killer, with 10 million people annually falling ill from the disease and 1.5 million dying, according to the WHO. It's the leading cause of death of people with HIV.
College of Science Dean Fernando Miralles-Wilhelm lauded the Mason researchers and their team for the partnerships that made the medical advance possible.
"Our infectious disease experts are diligently working to solve the world's toughest public health problems, including cancer, COVID-19, HIV and tuberculosis," he said. "We appreciate the partnerships with NICHD and organizations that prioritize child health to allow our scientists to pursue these global breakthroughs. This proven TB testing method indicates that together we are making significant progress."
Luchini, Liotta and their team drew international headlines more than two years ago following their publication in Science Translational Medicine describing the use of nanotechnology to measure a sugar molecule in urine that identified active tuberculosis with a high degree of sensitivity and specificity, particularly in patients who were not co-infected with HIV.
Hwang family honored for support of county parks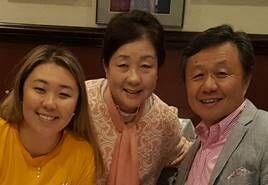 The Hwang Family will be honored by the Fairfax County Park Foundation (FCPF) for their support of county parks and park programs. Family members will receive the 2020 Eakin Philanthropy Award in the Individual category at a virtual ceremony in November.
The Hwangs have generously supported a variety of Park Foundation programs since 2011, with monetary gifts at the five-figure level. William Won K. Hwang has served three terms as a director on the FCPF Board, spanning nine years. He and his wife, Young W., and daughter, Jennifer, have donated funding for camp scholarships through the Rec-PAC summer camp program for children living in low-income households and PACT (Parks and Community Together) camps for children living in homeless shelters and supportive housing.
Their philanthropy also has included sponsorships of the U.S. Amateur Public Golf Links Tournament and numerous Combo Classic Golf Tournaments. Their Summer Entertainment Series contributions for Evenings on the Ellipse helped bring nationally recognized performers to Fairfax County for the enjoyment of residents and visitors. The Hwang family also facilitated outreach between Fairfax County parks, the Park Foundation and members of the local Korean community, who frequently visit golf courses and other parks.
The FCPF is a charitable organization that supports the Fairfax County Park Authority. Its Eakin Philanthropy Award, established in 2009, is named in honor of the Eakin family, donors of the first parcels of parkland to the Park Authority more than 50 years ago. The annual award recognizes individuals and organizations whose financial or in-kind contributions have significantly enhanced Fairfax County parks through the Foundation. The impact of Eakin awardee-supported projects have long-term benefit to the community, and visionary contributions create new programs or facilities and provide a creative approach to addressing community needs.
Officials celebrate groundbreaking at Lorton Community Center and Lorton Library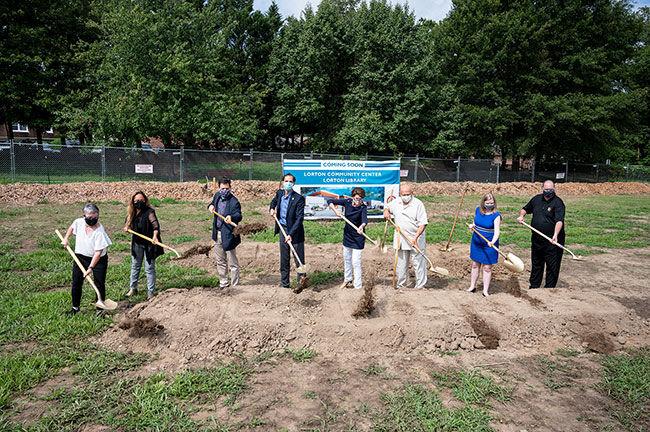 Fairfax County, the Lorton Community Action Center (LCAC) and the community celebrated construction of the new Lorton Community Center and Lorton Library with a groundbreaking ceremony Aug. 22.
Located at 9520 Richmond Highway, the project includes a complete renovation of the existing 10,000-square-foot library with 6,000 square feet of new additional library space. It will also include a new 30,000-square-foot single-story community center building. The facility will include space for the LCAC and will also serve as the new home for the Lorton Senior Center.
The project includes upgrades to the existing park, playground and fitness equipment and walking trails. Construction began in July 2020 with completion anticipated in spring 2022. 
"This incredible, modern, 21st century community asset combines a community center, renovated library, senior and teen centers Mount Vernon District Supervisor Dan Storck addresses the crowd.and the Lorton Community Action Center right in the heart of the community that needs it most," said Mount Vernon District Supervisor Dan Storck. "Many will be able to walk to the Lorton Community Center for a game of hoops, quiet computer or reading time, career and education guidance, food assistance or just a safe place to spend time with friends. With a broad spectrum of offerings for all ages and abilities, this center is a showcase of the county's commitment to equity for all."
The new Lorton Community Center and Lorton Library will provide a broad array of new services to meet the growing needs of the surrounding community. The design incorporates the existing open park area with new and expanded outdoor facilities that provide an interrelationship between the building and outdoor amenities. Project highlights include a new gymnasium/fitness room and multipurpose rooms; expanded library reading and study areas; a teen room with a game center and children's area; and conference rooms. 
The building is also designed with sustainability features including a bio-retention rain garden enhancement and underground stormwater facility; infrastructure for solar panels and electric vehicle charging stations; energy efficient systems and materials that promote indoor air quality; and will include native plants and a bird-friendly design. 
In November 2016, Fairfax County voters approved the Human Services and Community Development Bond Referendum, which provided funding for the construction of two new community centers - including the new Lorton Community Center. In fall 2019, funding for the complete renovation and expansion of the existing Lorton Library was approved.
Fairfax County Fire and Rescue Department honored for leadership hiring veterans 
The Fairfax County Fire and Rescue Department (FCFRD) was recently honored by the Virginia Values Veterans (V3) Program for efforts related to the recruitment and hiring of Virginia military veterans and transitioning service members.
During the 2020 Virginia Veterans and Military Affairs Conference, held virtually August 19, FCFRD was announced as the recipient of the 2020 V3 Locality Award. The award is presented annually to a V3 Certified Locality for demonstrated innovative methods and overall support for Virginia veterans and for leadership in a creative and military-friendly community.
FCFRD was recognized for enhancing its military outreach and recruiting strategy by: 
Including the V3 logo on marketing materials.
Military applicants are offered the opportunity and often take the opportunity to speak with an FCFRD recruiter who is either retired, active duty reserve, or National Guard member. The recruiter helps answer questions about the transition and how being former or current military personnel fits into daily firefighting life.
FCFRD has started tracking military hires each quarter. FCFRD is also tracking military applicants who become eligible for hire.
FCFRD will begin offering new firefighters, who have a military background, the option to speak to an FCFRD recruiter, who also has a military background. This option is available after hire and throughout their career. This is geared to make an easy transition for the new employee and help create a sense of community in a new environment.
Grow our base of diverse FCFRD recruiters with a military background.
Reconnect with TAP about virtual hiring events.
FCFRD will focus marketing strategies and hiring events for military applicants. Through virtual recruiting, applicants with a military background will have the opportunity to speak to a recruiter about the overall process and ask military specific questions to FCFRD human resources personnel and former and current military FCFRD recruiters.
FCFRD will begin to brainstorm ideas on how to best assist our military spouse workforce.
FCFRD will advertise outreach events through current recruiters and through social media: LinkedIn, Facebook, Twitter.
FCFRD will build on early efforts to increase our military outreach and support in the coming months and years.
"As a veteran of the United States Marine Corps, I am extremely honored and proud of this recognition." commented Fire Chief John Butler. "Veterans possess highly valuable skills that translate well for a career with the FCFRD. We will continue to strive to be a leader in best practices for recruiting, hiring, and retaining veterans."
MCC Governing Board Holds Virtual Finance Meetings Next Month
The McLean Community Center (MCC) Governing Board will use the video conferencing platform Zoom.us to hold two budget meetings in September.
MCC is seeking input and suggestions on the Center's fiscal year 2022 budget from Dranesville Small District 1-A residents. The first meeting, the Finance Committee Meeting of the Whole, will be held at 7:30 p.m. Sept. 8. A second meeting, the Public Hearing on the FY 2022 Budget, will be held virtually at 7:30 p.m. Sept. 23. All meetings of the Governing Board are open to the public; participation in this meeting by the public, MCC Board members and staff, will be virtual only.
The FY 2022 budget year begins July 1, 2021 and ends June 30, 2022. Finance Committee Chair Barbara Zamora-Appel will chair the Finance Committee Meeting of the Whole on Sept. 8, when the full board will work on the FY 2022 budget. The departmental and consolidated budget proposals will include a review of FY 2020 year-end actuals, the current year's budget (FY 2021) and new proposals for FY 2022. The preliminary consolidated budget will be posted on the Center's website, www.mcleancenter.org, and available at the Center's reception desk a week prior to the public hearing.
The FY 2022 Budget Public Hearing, held virtually Sept. 23, will give residents a second opportunity to review and comment on the budget proposal. Residents of Small District 1A-Dranesville who wish to speak from their remote location during the virtual public hearing are asked to call 703-744-9348, TTY:711, to have their names placed on a speakers list, which is coordinated by the ZOOM meeting host. In addition, written comments can be sent to the Governing Board by mail (address to McLean Community Center, 1234 Ingleside Ave., McLean VA 22101), or email to MCC Executive Director George Sachs at george.sachs@fairfaxcounty.gov.
Residents may continue to submit written comments after the public hearing through Oct. 26. The Board will approve the FY2022 budget when it meets at 7:30 p.m. Oct. 28. The final budget will be approved by the Fairfax County Board of Supervisors in spring 2021.
For more information, call the Center at 703-790-0123, TTY: 711, or visit the Center's website, www.mcleancenter.org.
Mason economists recognized as world's most influential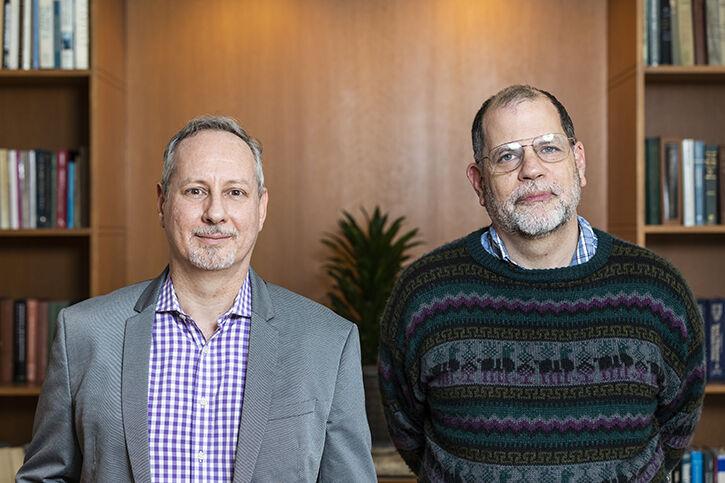 Two prominent George Mason University economists were recently recognized as among the 100 Most Influential in the world.
Both Tyler Cowen and Alex Tabarrok made the list recently compiled by Richtopia, a leading publisher of contributions from pre-eminent academics and subject-matter experts on different subjects. Cowen, the Holbert L.Harris Chair of Economics within Mason's College of Humanities and Social Sciences and the chairman and faculty director of the Mercatus Center, ranked No. 17. Tabarrok, a professor of economics within CHSS and the Bartley J. Madden Chair in Economics at the Mercatus Center, came in at No. 72.
The two men are co-authors of the popular economics blog, "Marginal Revolution," and the co-founders of the online educational platform "Marginal Revolution University."
"I am happy to see the world taking ever greater notice of the accomplishments of George Mason University economics," Cowen said. "And I am honored to be one part of that. That said, I don't believe in getting too caught up in any particular possible praise of oneself. Mostly, receipt of such praise has a long-term negative influence on critical thinking."
Both economists credited a supportive environment at Mason for contributing to their success.
"It's nice to be recognized," Tabarrok said, "but a quick look at U.S. policy belies the idea of influence! Most of all, I appreciate the spirit of open inquiry and free expression at George Mason University that has made it possible for the Mason Department of Economics to be one of the most influential in the world."
The Richtopia economists rankings list is compiled from a combination of several metrics, including social media followers, engagement, overall news coverage, monthly name searches on Google, LinkedIn followers and online presence.