PEOPLE AND PLACES
Volkswagen Group of America chooses to keep HQ in Fairfax County
In a move exemplifying the continuing strength of Fairfax County as a corporate headquarters, and as a prime location choice for major international corporations, Volkswagen Group of America, a subsidiary of Volkswagen AG, one of the world's leading automobile manufacturers and the largest carmaker in Europe, has chosen to retain its headquarters in Fairfax County.
"Northern Virginia has proven to be a great place to do business," said Scott Keogh, chief executive officer and president of Volkswagen Group of America. "Volkswagen and Audi and our brands are on the forefront of mobility and sustainability in the automotive industry and we look forward to building on that innovation here for years to come."
The company will be an anchor tenant in Boston Properties' next phase of development in the Reston Town Center.
Volkswagen Group of America has been a highly visible and active member of the Northern Virginia and Washington, D.C.-area business community since it selected Fairfax County for its North American headquarters in 2007.
Laurel Ridge Elementary, Falls Church High students recognized
A group of 52 students from Laurel Ridge Elementary School and one student from Falls Church High School have been recognized by Governor Ralph Northam for nominating Black Virginians to be recognized on highway markers throughout the state. 
The students—who nominated Barbara Johns, Ona Judge, William H. Carney, Katherine Johnson, and "Angela"—selected historically significant Black Virginians for the governor's inaugural Black History Month Historical Marker Contest.
Of the new highway markers to be installed, five were nominated by students from across Virginia.
The markers will highlight people, places, or events tied to African American civil rights, education, health, or Civil War and Reconstruction-era history.
Former Laurel Ridge school-based technology specialist Maura Keaney—now at Kings Glen Elementary—led the fourth-grade students in a yearlong, blended learning scavenger hunt called History Hunters. In addition to challenging students to find Virginia history all around, students were given points for discovering highway markers. During their research, Keaney said, "they asked why there were hundreds and hundreds of markers for people who fought to preserve slavery but nothing about Barbara Johns, who set into motion events that improved lives not only for generations of children in Virginia but also for the entire country." The students even researched the steps necessary to get a historical marker erected and learned it required approval from local legislators and a hefty fee. Then the Black History Month Historical Marker Contest was announced.
"Learning about their lives gave me hope to find solutions of equal rights, racism, and opportunities for everyone," said Javier Rodriguez Aragon.  
"I thought Barbara Johns deserves a historical marker because she truly changed history by leading a strike against unequal segregated schools. She deserves to have her name on a marker for being brave and standing up for what's right," said Natalia Torres. 
 "I think Barbara Johns deserved a history marker because of the things she did to help the social justice movement. I'm honestly surprised she didn't have one already," said Evan Bartoletti.
"At 16 years old, she was able to lead a student strike at R.R. Moton High School for equal education so that they would let all races of kids be able to get equal education. I think that's pretty cool," said Tiger Richardson.
Laurel Ridge students wrote individual nominations to nominate these three Virginians:
Barbara Rose Johns (1935-91) at age 16 led a student walkout to protest conditions at Farmville's segregated and "vastly inferior" Robert Russa Moton High School. The resulting NAACP lawsuit seeking to end segregation, Davis v. Prince Edward, was the only student-initiated case consolidated into the U.S. Supreme Court case Brown v. Board of Education (1954), in which the court ruled public school segregation unconstitutional (Prince Edward County). 
Ona Judge (ca. 1773-1848) was a woman born into slavery at Mount Vernon. After George Washington became president, Judge escaped during one of Washington's many extended residences in Philadelphia as president. She successfully resisted Washington's attempts to recover her and ultimately married and raised a family in New Hampshire (Fairfax County).
Sergeant William H. Carney (1840-1908) was born into slavery in Norfolk, later gained his freedom and settled in Massachusetts around 1856. In 1863, he enlisted in the 54th Massachusetts Volunteer Infantry Regiment and fought at Fort Wagner near Charleston. In May 1900, he received the Medal of Honor for his actions while experiencing heavy fire and serious wounds during the battle.
A Falls Church High School student, Taylor Forrest, nominated two Virginians:
Katherine Johnson, an American mathematician whose calculations of orbital mechanics as a NASA employee were critical to the success of the first and subsequent U.S. crewed spaceflights. Johnson's role was chronicled in the film, "Hidden Figures." (Hampton)
"Angela," one of 350 enslaved Angolans and the first African woman brought to Jamestown in 1619; her name is still on the records in 1625. As a slave, she served as skilled labor and contributed to the colony's recovery from starvation and drought. (Jamestown)
Laurel Ridge students Dahlia Cohen, Kenzie Ngo, and Cherianne Truong also nominated Katherine Johnson.
Students nominating Barbara Rose Johns included Zoe Adams, Serena Anmuth, Evan Bartoletti, Nicholas Belmonti, Madailein Bender, Ethan Burke, Caleb Burley, Logan Carney, Grace Christensen, Emily Close, Dahlia Cohen, Holly Cotton, Kathryn DiePietro, Alexia Donohue, Danny Espinoza, Alexander Fenn, Lily Fogarty, Georgia Heatherman, Amara Hemrick, Jaelyn Hernandez, Christopher Justice, Noah Klein, Elise Larson, Maya McKnight, Mason Medrano, Diego Meruvio Rojas, Zoe Miller, Charles Murray, Kenzie Ngo, Brandon Nguyen, Will Nguyen, Ilona Osorio Daza, Zavier Owens, Naya Parks, Tomas Pena, Dominic Presidio, David Rah, Annabel Reed, Charles Richardson, Javier Rodriguez Aragon, Leah Rudd, Mario Saravia, Bryce Schaffling, Hannah Scott, Scott Shelby, Olivia Szydlik, Harlan Taylor, Natalia Torres, Kiptyn Trieu, Tessa Tritten, Cherianne Truong, and Karen Wheeler.
Students nominating Ona Judge included Grace Christensen, Holly Cotton, and Tessa Tritten.
Students nominating William H. Carney included Madailein Bender, Holly Cotton, Danny Espinoza, Hugh Keaney, Charles Murray, Naya Parks, and Javier Rodriguez Aragon. 
The Barbara Johns marker resulted from the Black History Month Historical Marker Contest that Governor Northam announced in February. The contest encouraged schools to feature a different African American historical marker each day of February, provided teachers with resources to guide history discussions, promoted Black History Month events around the Commonwealth, and initiated a competition for students to submit ideas for new historical markers to the Virginia Department of Historical Resources. More than 285 students submitted ideas, including more than 60 students who suggested a marker be erected for Barbara Johns.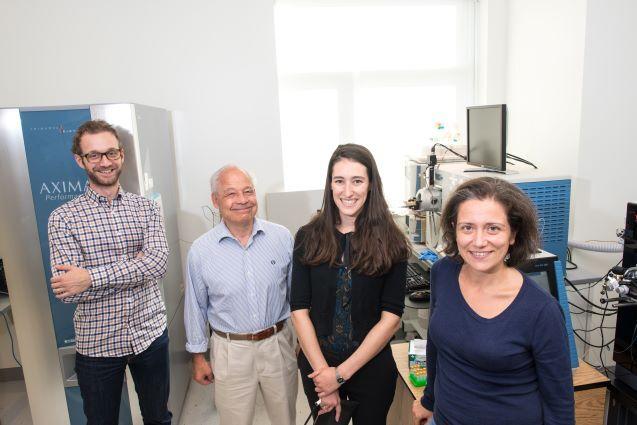 Mason expands urine-based test for Lyme disease
A urine-based Lyme disease test created by a team of George Mason University researchers could soon become available statewide after a recent clinical validation study confirmed that it meets sensitivity and absolute molecular specificity standards.
The research project, which was led by Alessandra Luchini, has been formally approved by the Food and Drug Administration's Institutional Review Board after demonstrating its effectiveness among a cohort of 408 patients. 
"There are many controversies surrounding Lyme disease," said Luchini, the project's principal investigator and an associate professor in the School of Systems Biology within Mason's College of Science. "The state support has been essential for us to use our study to investigate the objective truth about sensitivity and accuracy about Lyme disease testing to help the citizens of Virginia and worldwide." 
Luchini said that Mason is uniquely qualified to offer the test, citing the novel technology she and her team have developed and the high-tech laboratory certified for its reliability, accuracy and timeliness that is being used by Mason's Center for Applied Proteomics and Molecular Medicine (CAPMM). 
The College of Science provided two new mass spectrometry instruments that significantly increased patient testing capacity in the CAPMM laboratory directed by Lance Liotta, a professor within the School of Systems Biology and the center's co-founder and co-director. 
"Using mass spectrometry, we can see hundreds of thousands of protein fragments in the urine," said Ruben Magni, a CAPMM research associate. "We developed a new software to sieve through the data and to identify protein fragments derived from tick-borne pathogens with high-stringency criteria." 
Luchini and her team have developed a method that detects molecules derived from tick-borne pathogens in the urine of patients. Molecules shed by pathogens are eliminated from the body through urine after circulating in the blood. 
The study was funded by the Commonwealth of Virginia and the National Institutes of Health. 
Lyme disease is the most common vector-borne disease in the United States, according to the Centers for Disease Control and Prevention (CDC). It is largely caused by the bacterium borrelia burgdorferi and is transmitted to humans through the bite of infected blacklegged ticks, also known deer ticks. Typical symptoms include fever, headache, fatigue and a skin rash. If left untreated, the infection can spread to joints, the heart and the nervous system. 
The idea of a urine-based Lyme disease test originated few years ago when a high school student participating in Mason's Aspiring Scientists Summer Internship Program, Temple Douglas, asked Luchini and Liotta to work on a test for Lyme disease, which had caused terrible suffering for her family members. Now a post-doctoral fellow at the University of Pennsylvania, Douglas used a nanotechnology invented by the Mason scientists to develop a test that detected one protein derived from borrelia burgdorferi. The nanotechnology used in the test has been licensed to the Virginia-based company Ceres Nanosciences. 
The early stage of the project was supported by the state through a Virginia Biosciences Health Research Corporation (VBHRC) grant that began in 2017, with trials beginning the following year. Since then, the Mason scientists decided to use mass spectrometry to expand the capability of the test to simultaneously measure thousands of proteins derived from all tick-borne pathogens, including Borrelia, Babesia, Rickettsia, Anaplasma, etc.
"Our goal is to expand the study to a statewide testing service, a clinical survey trial for which any doctor and any patient in Virginia can volunteer," Luchini said.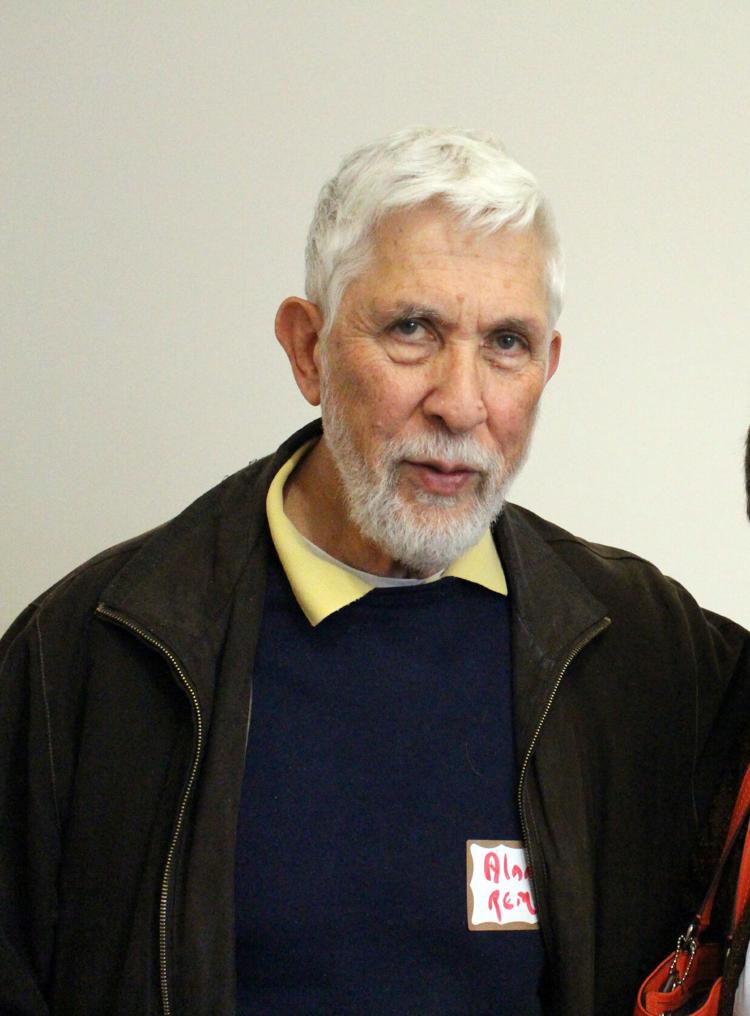 Familiar face in the Virginia Room receives county recognition
Congratulations to Alan Rems, volunteer library genealogy researcher, for his receipt of a 2020 Fairfax County Volunteer Service Award. 
When FCPL branches are operating regularly, Rems is highly sought after by library customers during his weekly volunteer shifts at the Virginia Room. While expertly navigating through complicated cultures, names, languages and political boundaries, he meticulously uncovers the story of an individual's history.
"His work method can best be described as painstaking research combined with lightning flashes of intuition — the kind of intuition that comes from a lifetime of being steeped in the culture and lore of a community," staff member Liz Milner said of Rems.
In addition to providing one-on-one research assistance, his work on many other projects at the Virginia Room will provide generations to come with better capabilities to research their genealogy.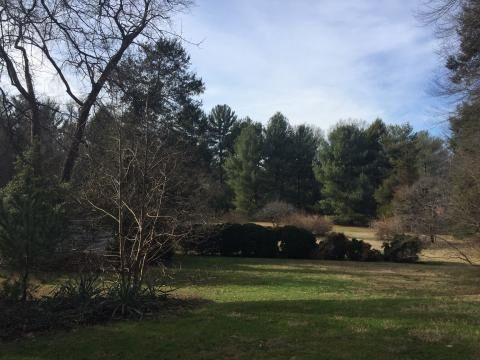 Fairfax County Park Authority acquires historic property in McLean
The Fairfax County Park Authority has completed the acquisition of a 5.45-acre property known as Spring Hill, located in the Dranesville District near the intersection of Spring Hill Road and Old Dominion Drive in McLean.
The property was acquired from the Brzezinski family. The property, with both rolling terrain, informal trails, as well as level ground, currently preserves open space and holds potential for a future community park.
"I am grateful to the Park Authority for preserving this property, and many other beautiful properties in our county, for the use of current residents and future generations," said Dranesville District Supervisor John Foust. "I also appreciate the Brzezinski family's desire to protect the natural beauty and cultural significance of this property, and their willingness to work with the Park Authority to make sure that happened."
The property was the residence of the Brzezinski family since 1977. Former national security adviser Zbigniew Brzezinski, his wife Emilie Brzezinski -- well-known in the art world for her creations of monumental wood sculpture -- and their children lived there. The family often hosted diplomatic gatherings with foreign leaders.
The property was purchased for $2.4 million funded through Park Bonds. The sale was coordinated with Washington Fine Properties and the deed was recorded in October 2020.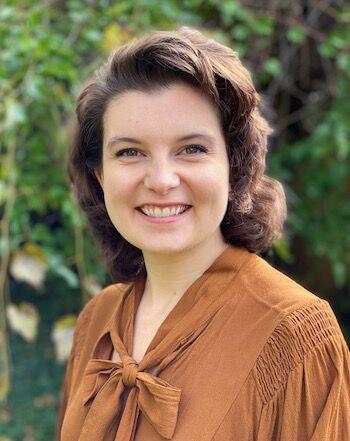 GMU names employee of the month
When the COVID-19 pandemic hit in March, and George Mason University closed its campuses and pivoted to online learning, the College of Visual and Performing Arts (CVPA) faced a problem.
What to do about the students who had recitals to give as part of their graduation requirements? What about the local community, which was looking forward to another 20 performances at either Mason's Center for the Arts or the Hylton Performing Arts Center. And what about the professional artists who were counting on the income for their performances?
"We saw all of these dual needs and said 'let's figure out how to do some digital programming,' " said Haley Smyser, CVPA's programming and engagement coordinator. "People need distractions, they need entertainment. They need a feeling of community."
The solution was Mason Arts at Home, a virtual performance platform that showcased about 80 events from April 2 to the end of the spring semester.
For being what CVPA Dean Rick Davis called "the tip of the spear" in terms of CVPA's public response to the coronavirus, Smyser is Mason's November Employee of the Month.
"Without Haley's work, we would have been seriously set back from the outset of the crisis, and our artistic and intellectual vitality would have gone into quarantine, along with our physical selves," Davis said.
Smyser, who came to Mason in 2019, stressed that establishing Mason Arts at Home was a collaborative effort undertaken by herself, Davis and Adrienne Bryant Godwin, CVPA's director of programming.
In the spring, the program consisted of student projects, curated talks with professional artists, videos and recordings of past performances at Mason.
This semester, hoping to avoid what Smyser called "digital fatigue," the number of shows has been trimmed to around 50 specifically curated pieces and programming in collaboration with the Hylton Center's Affiliate Arts Organization.
"Coming to Mason gave me the ability to truly grow within the specific areas that inspire me—building community through the arts, creating more welcoming spaces for artists and art-lovers alike, and fostering amazing experiences for the Mason students, faculty, and staff," Smyser said.