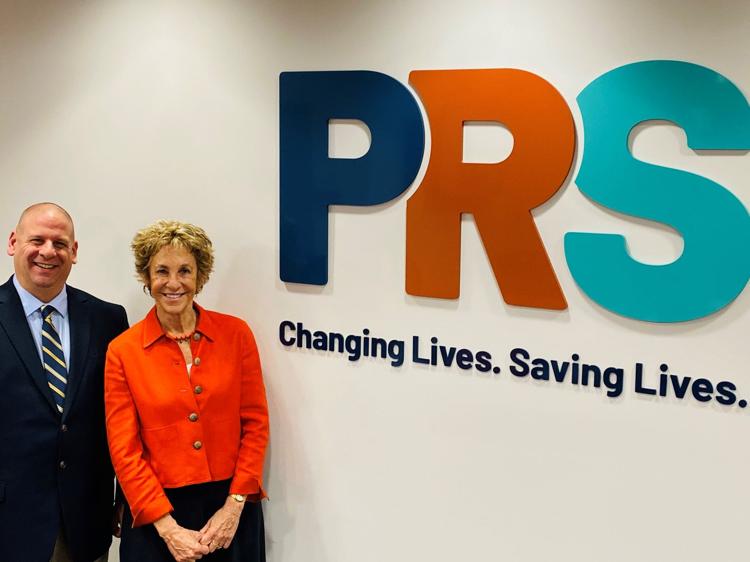 PRS Announces New CEO
Joseph Getch assumed the position of CEO of PRS, a regional nonprofit July 1. PRS helps individuals living with serious mental health issues and facing life crises.  Getch most recently served as president and COO of PRS, and takes over for Wendy Gradison, who retired as CEO after 23 years of exceptional service.
"This is an extraordinarily difficult period in history for all people—but particularly those we serve," said Getch. "As CEO of a nonprofit that I know well and respect ensures a seamless transition during a vulnerable period for our clients and community. I look forward to building upon Wendy's tremendous legacy that has helped thousands of people throughout the region achieve safety, personal wellness, recovery and community integration."
For the past 15 years, Getch has been an integral part of leading PRS' growth, vision and success in serving the greater community. Noting his skills, experience, and vision, the Board of Directors felt he was the perfect leader to take over for Gradison to continue PRS's important work and trajectory.
Under Gradison with key leadership support from Getch, PRS matured into a regional nonprofit that is a leader in addressing the needs of people with serious mental health issues and facing life crises. She did this in a rapidly changing mental health landscape while maintaining PRS' core values. Clients served increased three-fold; staff grew more than 200 percent; and the organization was repeatedly recognized by The NonProfit Times as one of the nation's 50 Best Nonprofits to Work For. 
In addition, revenue increased 162 percent; PRS merged with and grew the region's suicide prevention and crisis hotline—CrisisLink, which now receives 300 percent more call volume as a National Back-up Center and Core Chat Center for the National Suicide Prevention Lifeline Network. Further, the organization expanded to serve all of Northern Virginia.
"As Virginia undertakes a process to redesign its behavioral health system, we have an unprecedented opportunity to meet our communities' behavioral health, crisis intervention and suicide prevention needs in new ways, and thanks to Wendy's leadership, I know that we are well positioned to take on this challenge," said Getch. "This is especially important as we adapt to the realities imposed by a global pandemic as well as remaining a strong voice for social change."
Getch began at PRS in 2005 and most recently served as president and COO, where he provided leadership and oversight for the organization's financial and administrative operations and worked collaboratively with clinical leadership and managers to improve operational quality and efficiency of PRS' programs. In addition, Getch manages PRS' relationships with Virginia's managed care organizations, serves on statewide workgroups, and as a board member and treasurer of the Virginia Association of Community-Based Providers, worked to strengthen opportunities for its private provider members throughout the state.
Prior to PRS, he held C-Suite positions at Best Friends Foundation, First Nations Development Institute, Benton Foundation, and the Hitachi Foundation. Over the years, he has also been active in the community serving on a number of nonprofit boards. Getch has an MBA from Virginia Tech, a Master's in Administration from Central Michigan University, and a Bachelor's in Economics from George Mason University.
Volunteer Fairfax Announces Volunteer Service Award Winners
Each year, Volunteer Fairfax looks forward to honoring the volunteers, nonprofit organizations, and corporate partners who work tirelessly to make Fairfax County a better place.
Due to the COVID-19 pandemic, Volunteer Fairfax moved its Annual Fairfax County Volunteer Service Awards to a virtual platform at https://bit.ly/3dHiUFF, which launched today.
As Volunteer Fairfax listened to feedback from its stakeholders, it was clear that the Volunteer Service Awards represented an opportunity for the community to come together and celebrate volunteerism. Considering that an in-person event was no longer possible, Volunteer Fairfax was determined to provide a memorable way to both recognize the award recipients and virtually celebrate as a community. 
Volunteer Fairfax is proud to share the Virtual 2020 Annual Volunteer Service Awards, where the 13 competitive award winners, and the Community Champions, are recognized and celebrated. Each honoree will have a uniquely crafted celebration board, called a Kudoboard. Volunteer Fairfax encourages everyone to visit these celebration boards and join them in recognizing these amazing volunteers by posting a congratulatory message, image, or video.
Additionally, in conjunction with the launch of the virtual Volunteer Service Awards, an online raffle will be held through July 6, supporting Volunteer Fairfax's efforts to celebrate the honorees on this virtual platform during these unprecedented times. Lastly, to encourage people to join them in celebrating volunteerism, people who post on a Kudoboard will receive a code that will grant 10 free raffle tickets.
"Those celebrated within these pages assist our local government agencies and non-profits by providing enrichment and educational opportunities for the community, supporting environmental stewardship and providing aid to the most vulnerable among us", said Steve Mutty, CEO of Volunteer Fairfax.  "Their support inspires us and that's why Volunteer Fairfax will continue to honor them and to share their stories.  They represent the best in each of us."
The 2020 Volunteer Service Awards are supported by Deloitte, The Sica Family Charitable Fund, Kaiser Permanente and Northwest Federal Credit Union. Follow social media for updates on the Volunteer Service Awards.
For more than 45 years, Volunteer Fairfax has mobilized people and resources to improve communities in the region. Please visit their website for details on how Volunteer Fairfax is responding to the communities' needs during the COVID-19 pandemic.
Herndon Student at IUP Culinary Receives Academic Honors
Nora Kelly of Herndon, a baking and pastry arts student at Indiana University of Pennsylvania's Academy of Culinary Arts, has been named to the Dean's Recognition List for Academic Excellence for the spring 2020 semester.
Students are named to the Dean's Recognition List for Academic Excellence when they achieve a grade-point average of 3.25 or higher.
The Academy, located in Punxsutawney, is one of only 112 programs in the United States fully accredited by the American Culinary Federation.
Help Provide Supplies for Students in Need
No matter how FCPS looks for fall 2020, many students will not have the school supplies they need to be successful in their learning journey.
​More than 57,000 FCPS students live at or near the poverty level and increase of the number of students needing assistance due to the pandemic is expected.  
Your contribution can help provide kits of supplies for these students which will be delivered to them in August before the start of school.
Please help make sure all students have what they need to be creative, and successful, in school.
For more information visit https://bit.ly/3dDYZr7.
TJHSST Student Chosen for Governor's Education Work Group
Shan Lateef, a rising senior at Thomas Jefferson High School for Science and Technology (TJHSST), is the only student representative chosen to serve on Governor Ralph Northam's Education Work Group that is developing a way to safely reopen Virginia's PreK-12 schools. 
Lateef is participating in focus groups and strategy sessions with Virginia Secretary of Education Atif Qarni, working alongside professional educators, parents, state agency representatives, special education advocates, and museum directors.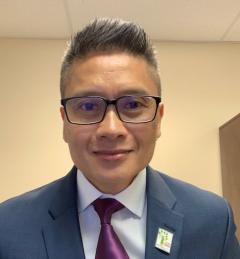 FCPS Announces the Appointment of Two New Principals
Hoang Nguyen, who has served as assistant principal of Kilmer Center since 2016, has been named the new principal of Kilmer Center, effective July 1.  
Nguyen began his career in FCPS as a special education teacher at Armstrong Elementary before moving to Marshall Road Elementary to serve as a crisis resource teacher where he remained for seven years. He taught at St. Coletta School in Washington, D.C., before joining the staff at Armstrong. As a Level 2 Professional Crisis Management (PCM) behavior analysis practitioner, he is able to respond and supervise every student Crisis Response Team call to ensure multiple strategies are being implemented, fidelity to Behavior Intervention Plans are being followed, and students and staff are safe throughout any crisis. 
Nguyen earned his bachelor of science degree in organizational development from Indiana University of Pennsylvania and a master of arts in teaching children with emotional/behavioral disabilities from the George Washington University. He received his administrative endorsement in School Administration and Supervision PreK-12 from George Mason University.  
Erica Loesch, who currently serves as assistant principal at Burke School, has been appointed principal of Saratoga Elementary, effective July 1.  
She has been a teacher at the elementary level, a special education department chair, a summer-school site administrator, and assistant principal at Saratoga Elementary. 
At Burke School, Loesch was integral in establishing a separate day school program for students in grades K-6.  As assistant principal at Saratoga, she oversaw the Comprehensive Services Site program and worked with grade level teams to ensure fidelity of literacy, math, and science instruction. 
Loesch earned her bachelor of arts in special education and elementary education at Elon University and her master of arts in education—leadership and policy studies from Virginia Tech.  She has certifications and endorsements in Special Education K-12; Elementary Education, Pre-K-6; and Administration and Supervision, PreK-12.  
Bailey's Elementary School PTA Receives $5,000 Grant from National PTA
Bailey's Elementary School for the Arts and Sciences has received a $5,000 grant from the National PTA to support families who are in need of internet and device access. 
The funds are part of a $1.25 million regional PTA package of COVID relief funds that are being distributed to more than 150 local and district-councils across the country with support from TikTok. 
Bailey's serves approximately 1,300 students, two-thirds of whom qualify for free and reduced-price lunch and 60 percent of whom are English language learners representing 30 different home languages. Many Bailey's families receive support from the school and, as such, the school closures resulting from the COVID-19 pandemic have had a disproportionately high impact on them. The Bailey's PTA is initiating fundraising efforts to help provide food services, access to devices, ensure internet connectivity, and support students' summer learning.
Fairfax County Reduces Penalties for Late Car and Real Estate Tax Payments
As a move to help taxpayers during the ongoing pandemic, Fairfax County significantly reduced penalties for late personal property and real estate tax payments this year.
On June 23, the Fairfax County Board of Supervisors approved these changes that will apply only to tax year 2020. County leaders cut the penalty in half from 10 percent to 5 percent for late payment of these taxes. They also eliminated the additional 15 percent penalty for personal property taxes—better known as car taxes— that are more than 30 days overdue.
"These uncertain times are causing financial hardships for many in our community and the stress of balancing property payments with basic needs can be overwhelming," said Fairfax County Chairman Jeffrey C. McKay. "The board is committed to taking the actions necessary to help our residents and I'm glad that we have the resources to be able to implement another option for relief."
2020 tax penalties and fees cut or eliminated.
In late March, the board extended the due date to pay the first half of real estate taxes until Aug. 28. This payment is normally due a month earlier July 28. The deadline to report changes in personal property ownership was also extended to June 1. Taxpayers who missed this deadline are subject to the normal 10 percent penalty, however.
As always, Department of Tax Administration staff are available to assist taxpayers experiencing financial difficulties with setting up reasonable payment plans.
Residents and businesses are strongly encouraged to pay their taxes online because it is the safest, fastest and easiest way during the pandemic. E-check payments are easy, quick and free. Officials want to remind residents who normally pay with cash in person that they can do so by mailing a money order instead.
For more information or questions, contact the Fairfax County Department of Tax Administration by email or by phone at 703-222-8234, TTY 711.
15 Hiring Companies Headline July 14 Fairfax County EDA Virtual Career Fair for Tech Professionals
Microsoft, Amazon Web Services and 13 other leading tech companies in Northern Virginia are bringing recruiters to a virtual career fair that the Fairfax County Economic Development Authority is presenting July 14 to help mid-career tech professionals find jobs. The companies represented will be offering a combined 3,000 job opportunities in Northern Virginia.
The Tech Virtual Career Fair is the latest FCEDA response to the COVID-19 crisis by connecting job-seekers with companies that are hiring now. While the fair is primarily for those in tech fields including data science, software engineering, IT, cybersecurity, defense and aerospace, some companies are featuring non-tech positions such as marketing, sales, finance, human resources and legal.
In addition to Microsoft and AWS, other companies in attendance will be AppGuard Inc.; CGI; CVP (Customer Value Partners); Expedition Technology; EntropyZero Consulting; FireEye; Ipsun Solar; General Dynamics Information Technology; ManTech International; MicroHealth; NTT Data Federal; Serco, Inc.; and SOSi.
Participants will be able to browse companies in a virtual lobby, enter companies' booths, view open positions, engage in video conferencing and chat with HR representatives in real-time – all from the comfort of their homes. If you are (or know) a tech professional looking for a meaningful, new job or career change, please view the registration page here. Individuals with security clearances are strongly encouraged to attend.
The Tech Virtual Career Fair is the second in a series of online hiring events presented by the FCEDA. The FCEDA's first virtual career fair for recent college graduates drew nearly 1,000 attendees and 13 participating companies, resulting in more than 900 completed conversations between hiring reps and job seekers.
"We connected almost a thousand college graduates with job opportunities last month, and now we have the opportunity to get mid-career professionals in front of diverse Northern Virginia companies with thousands of open jobs during the pandemic – this is why we do what we do," said Victor Hoskins, president and CEO of the FCEDA. "Every job represents a household, so when we connect people — whether newly minted graduates or those midway through a career — to thousands of open jobs, we are really improving lives, saving households and communities."
Boasting 8,900 technology establishments and more than 50 Cybersecurity 500 firms, Fairfax County is a proven resilient tech hub. It is the business hub of the Washington, D.C., area, which is projected to add more than 130,000 tech jobs within the next five years, outranking cities such as San Francisco and Austin.
"Fairfax County has worked hard to create a resilient economic base centered on technology, but no region is immune to this economic downturn so I am delighted to see initiatives like these organized by the Economic Development Authority and partners especially now," said Jeffrey C. McKay, chairman of the Fairfax County Board of Supervisors . "It is also heartening to see that these virtual career fairs can connect companies with a diverse range of job seekers so that we can offer the hope of economic recovery to all people and communities in our county."
Organizations promoting the career fair to their members include the NOVA Hispanic Chamber of Commerce, Women in Technology, the Soldier for Life-Transition Assistance Program, and more than 30 university career offices.
In addition to the Tech Virtual Career Fair, FCEDA is also sponsoring the Northern Virginia Hispanic Chamber's virtual career fair slated for July 28.