Fairfax Health District is hiring for pandemic response efforts
The Fairfax County Health Department is hiring staff to support its COVID-19 vaccination and pandemic response efforts. 
Specifically, the agency is looking for nurse practitioners, physician assistants, registered nurses, and licensed practical nurses to join its vaccination team on a part-time, temporary basis.  
These individuals will join a team of health care professionals to administer vaccinations and perform other response roles with the ultimate goal of stopping the spread of COVID-19 in the community.  
Interested persons can apply online at https://bit.ly/2MJHoXm. The Health Department plans to hire 100 individuals.
"As we continue through this vaccination campaign, we need to ramp-up our team of health care professionals so we are prepared to continue to administer vaccine on a mass scale particularly when greater supply is available and as more people become eligible," said Emergency Planning Coordinator Stephanie Nikola, Fairfax County Health Department. "Our community has consistently risen to each challenge this pandemic has presented. Now, once again, we have an opportunity to call upon our community to make a difference." 
Candidates who are interested must have experience providing immunization care and possess a current license or a multistate licensure privilege to practice as a nurse practitioner, physician assistant, registered nurse, or licensed practical nurse in the Commonwealth of Virginia, as well as a valid driver's license. Candidates must be willing to work 8 to 12-hour shifts, weekdays and/or weekends, on a flexible schedule.
Appian names new chief marketing officer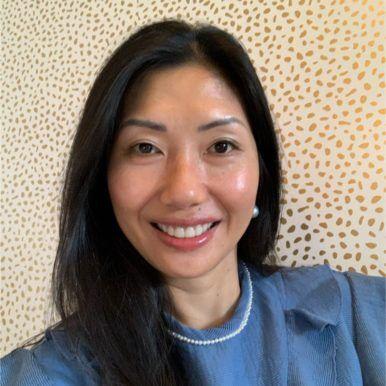 Appian announced the appointment of Denise Vu Broady as Appian's new chief marketing officer.
Broady will lead Appian's global marketing and communications efforts and shape the marketing strategy to drive the next phase of growth.
With more than 24 years of enterprise technology experience, Broady has helped to grow businesses from start-ups and led a complex $10 billion software business unit with more than 3,000 products at SAP. She is an exceptional leader and an expert at creating brand loyalty and value for companies.
"Denise Broady brings to Appian a new level of sophistication and capability in software marketing," said Matt Calkins, Appian CEO. "She has high energy and high standards, a great sense of people, and a strong vision for where we need to go."
Prior to joining Appian, Broady was the Global COO of the Industry Cloud organization at SAP, running go-to-market, strategy, marketing, communications, and operations. She was also the CMO/COO at WorkForce Software in addition to holding various leadership positions at TopTier (a start-up acquired by SAP) and Clarkston Group.
"I'm thrilled to join Appian and the power of Appian's platform to quickly solve complex customer problems is extremely impressive," said Broady. "I look forward to accelerating the momentum that Appian has already created and further elevating the brand on a global scale."
Student creativity recognized in 2021 Regional Scholastic Art Awards
The 2021 Regional Scholastic Art Awards program has awarded Fairfax County Public Schools (FCPS) students in grades 7-12 a total of 540 awards including Gold Key, Silver Key, Honorable Mention awards, and American Visions Nominations. 
Judges recognized FCPS students among 2,500 submissions in a variety of categories including drawing, painting, printmaking, photography, ceramics, sculpture, digital art, design, architecture, fashion, film and animation, mixed media, and art portfolios.
The Gold Key and Silver Key artworks will be included in an online exhibition that will launch March 3 in conjunction with a virtual award ceremony. Updates with ceremony details will be posted to the affiliate website for the Fairfax County Art Region at https://bit.ly/3tD0vmL.
Gold Key award-winning works will be judged at the national level against other gold key work from regions across the country. National awards include Gold and Silver medals as well as monetary awards and scholarships. National awards will be announced in April.
A complete list of FCPS winners can be viewed at https://bit.ly/3b0ZBbl.
Fairfax County seeks two members for the Board of Zoning Appeals; apply by March 1
The Fairfax County Board of Zoning Appeals has an opening for two members.
Interested candidates must apply by March 1, to the Fairfax Circuit Court, which appoints the board's seven members. Applicants should send their resume to Chief Judge Bruce D. White, Fairfax Circuit Court, by email entitled "Board of Zoning Appeals Application" to kim.callahan@fairfaxcounty.gov OR by mail to 4110 Chain Bridge Road, Fairfax, VA 22030.
NOTE: THE APPLICATION SHOULD BE SENT VIA ONE FORM OF CORRESPONDENCE, EMAIL OR MAIL BUT NOT BOTH.
One position will be effective until April 15, 2023. The other position will be effective for a full five-year term from the date of appointment. Members of the Board of Zoning Appeals are appointed for staggered, five-year terms, and are compensated at a bi-weekly rate of $357.69. Applicants must be residents of Fairfax County and serve as private citizens, not as county employees.
The Board of Zoning Appeals' powers, duties and procedures are set forth in state law, and they are further detailed in the County's Zoning Ordinance. These duties include:
Hearing and deciding appeals of administrative decisions made pursuant to the Zoning Ordinance.
Hearing and deciding on applications for special permits and variances as authorized by the Zoning Ordinance
Hearing and deciding on applications for interpretation of the zoning map where there is uncertainty about the location of a zoning district boundary.
To learn more about the Board of Zoning Appeals, visit https://bit.ly/3jCgUmL. For more information, contact Brent Krasner; Zoning Evaluation Division, Fairfax County Department of Planning and Development at 703-324-1280, TTY 711.
Booz Allen names national security biz senior VP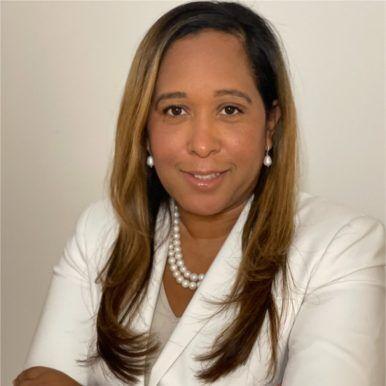 Booz Allen Hamilton announced that Maisha Glover has joined the firm as a senior vice president and market strategy leader in the firm's National Security business.
Glover brings more than 25 years of experience with clients in the intelligence community (IC), Department of Defense (DoD), and others in the public and private sectors with a focus on large-scale transformation. As an expert advisor on topics including digital and analytics strategy; the future of work; and diversity, equity, and inclusion in the IC, Glover will help Booz Allen clients advance their missions through innovative technologies and workforce readiness. She was most recently a senior client development advisor in the public sector practice of McKinsey & Company.
"As our national security threats grow more complex and diverse, the ability to transform defense and intelligence operations with advanced technologies and talent is critical," said Judi Dotson, executive vice president and leader of Booz Allen's National Security business. "Maisha's years of experience as a change agent in the national security space, including as a mission client, bring a distinct perspective to how to address these needs. Her deep involvement in strategy, growth, and market development initiatives for both the DoD and IC will be a tremendous asset as we continue to deliver high impact and performance at Booz Allen's unique intersection of technology, mission, and consulting."
Prior to McKinsey, Glover held senior leadership positions at SAIC and Leidos, leveraging specialized, high-impact technology and talent solutions for competitive positioning and mission success. She also served in multiple roles as a policy and counterterrorism analyst for the U.S. government.
"In a national security environment, success isn't just about having the most advanced technology, it's about the ability to transform the enterprise and workforce to apply the best integrated solutions to specific mission needs and environments—understanding not only where strategic threats exist today but how they will evolve," said Glover. "I am pleased to bring my skills in this area to the dynamic National Security team at Booz Allen, which is well positioned to solve our clients' toughest challenges through advanced technologies such as artificial intelligence, 5G, and cybersecurity, as well as our skilled and diverse IC talent."
Glover holds bachelor's degrees in public administration and liberal arts from Kentucky State University and a Juris Doctorate from American University's Washington College of Law. She serves on the board of advisors for the Intelligence and National Security Alliance, a nonpartisan organization that brings together public, private, and academic sectors of the intelligence and national security communities to collaboratively develop practical and creative solutions to national security problems.
Grant applications opened for D.C. Metro area emerging artists
Emergent Seed opened its third round of grant applications for D.C. Metro area emerging artists. 
Artists can apply for free for $150 or $500 grants. Applicants should submit a video that is two to five minutes in length of original music and writing. The application period closes Feb. 15 at noon.
Emergent Seed is making it even easier for artists to apply for grant funding as the pandemic
continues to make performing in-person nearly impossible. New this round, the $150 grant
option has been renamed "Virtual Gig"; to convey that artists can consider this like payment they
might receive for a gig, and applicants may submit previously published work for this $150
"Virtual Gig" Grant. Furthermore, there is no financial need requirement for either grant option.
Emergent Seed's vision is to be a platform to spotlight and nurture this region's emerging talent. Started in response to COVID-19, Emergent Seed seeks to address the immediate financial stress caused by coronavirus closures, and in the long-term seeks to build a catalogue of high quality, diverse performers of multiple genres.
The full performances of the Emergent Seed's first round winners were premiered on
YouTube Dec. 27, 2020. A percentage of proceeds raised will go back to the artists featured.
Every Friday for the next 8 weeks, Emergent Seed will release its Artist Spotlight series, uploading new video content to YouTube with the first round winners' individual performances and extended interviews. This 10-week series began January 29. 
For more information visit www.emergent-seed.org.
ViON promotes two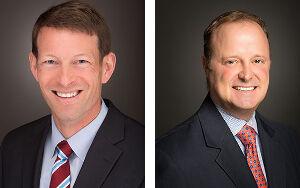 ViON Corporation, a Herndon-based cloud service provider and market leader in the design, delivery and maintenance of mission-critical IT infrastructure solutions, announced today the promotions of Rob Davies to the position of chief operations officer and David Kushner to senior vice president Sales.
"Rob's ability to lead a large team is incredibly strong," said Tom Frana, chairman and CEO of ViON®. "His federal government experience and industry knowledge has enabled us to better position ViON to take advantage of the increased market demand for on-premise as-a-Service Private Cloud. Under Rob's guidance, ViON has completed its' third generation automation platform – ViON MarketPlace™. He also oversaw the successful ISO 9001:2015 certification for ViON's aaS program business."
Since joining ViON eleven years ago, Kushner has held several key positions that have led to his promotion as senior vice president of Sales. He has been responsible for growing ViON partnerships and revenues over the past 3 years. Kushner has helped the company complete over a dozen significant as-a-Service program acquisitions supporting over $1B in contract ceiling.  Additionally, he has led a complete overhaul of the company's business development and capture organization to better align with customer markets.
"Rob and Dave have had a tremendously positive impact on us here at ViON, and both represent the next generation of C-suite executives," said Frana. "Rob has effectively been serving in the role for the past few months, and we promoted Dave to encourage us to think more strategically about program business and growth."
Student writers receive 2021 Scholastic Regional Writing Awards
Fairfax County Public Schools (FCPS) student writers won 30 Gold Key awards in the 2021 Regional Scholastic Writing Awards competition.  In all, 163 Gold Key, Silver Key, and Honorable Mentions were earned by FCPS students.
Lyat Melese, a student at Thomas Jefferson High School for Science and Technology (TJHSST) was named an American Visions Nominee for her personal essay and memoir, "I will not forget."
Winners in the regional competition came from 20 Fairfax County middle and high schools. 
A complete list of FCPS winners can be found at https://bit.ly/3rDIWRK.
Regional winners will be honored at an online reception at a date to be announced.
The Scholastic Art and Writing Awards, presented by the Alliance for Young Artists and Writers, is the largest, longest-running recognition program of its kind in the United States. Writing categories include critical essay, dramatic script, flash fiction, humor, journalism, novel writing, personal essay and memoir, poetry, science fiction and fantasy, short story, and writing portfolio. 
Chesterbrook Elementary student wins laptop in VDOE, CodeVA contest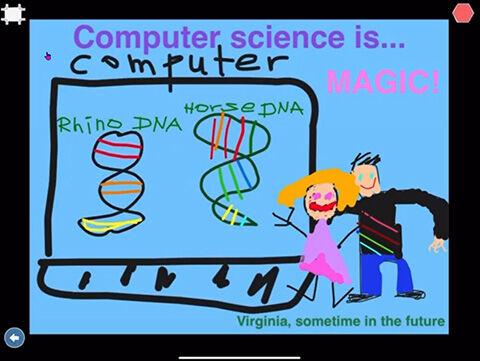 Chesterbrook Elementary student Jonathan was greeted by special visitors recently during his virtual lessons: Dr. Anne Petersen, science coordinator at the Virginia Department of Education (VDOE), and Chris Dovi, executive director of CodeVA. 
They made the virtual visit to congratulate Jonathan and present him with a prize: a new laptop. 
Jonathan was named a winner of Computer Science in Your Neighborhood, a contest offered by the VDOE and CodeVA for Computer Science Education Week. In response to "Bringing CS Home - How do you use computer science?" Jonathan applied his computer programming skills to create a digital story in ScratchJr, a tablet-based coding application for children. 
His animated story, "Computer Science Adventures: At Home in Virginia," celebrates Jonathan's interests in biology. The story follows two main characters as they visit local parks to identify creatures such as crocodiles and snapping turtles. The digital characters use microscopes to investigate smaller creatures. At the close of the story, the pair travels into the future to make a unicorn from rhinoceros DNA and horse DNA. When asked about the first thing he will do with his new laptop, he says that he will write a blog about beetles, fossils, and animals that live in backyards.