Topgolf will shutter its original Alexandria venue in January after almost 15 years of operations.
First reported on Nov. 30 by the Washington Business Journal, Topgolf Alexandria's closure means that 198 employees will lose their jobs, as the Texas-based sports and entertainment company seeks to instead focus its efforts in the Washington, D.C., metropolitan area on its locations in Ashburn, Va., and near National Harbor in Maryland.
The layoffs will take effect on Jan. 15, according to a Work Adjustment and Retraining Notification that Topgolf filed with the Virginia Employment Commission on Nov. 12.
"Topgolf Entertainment Group will be consolidating operations of Topgolf Alexandria with our nearby, modernized venues at National Harbor and Loudoun, as well as at our soon-to-be-opened, technology-equipped venue in Germantown," Topgolf communications manager Morgan Schaaf said in a statement.
When asked whether any workers in Alexandria will be transferred to alternate locations, Schaaf said that the company is "currently working with all our Associates for opportunities within Topgolf at other venues."
Topgolf Alexandria opened on Aug. 5, 2005 on a 17.4-acre site converted from a driving range on South Van Dorn Street in the Kingstowne area. The company has since expanded to 52 U.S. locations, along with three venues in the United Kingdom and one in Australia.
Topgolf Entertainment Group is currently planning to add at least 13 more locations worldwide, including one in Germantown that has been under construction since December 2018.
Still largely in line with its original build and design, Topgolf Alexandria features two 18-hole miniature golf courses and more than 70 climate-controlled hitting bays, along with a full-service restaurant and bars and private event spaces and meeting rooms.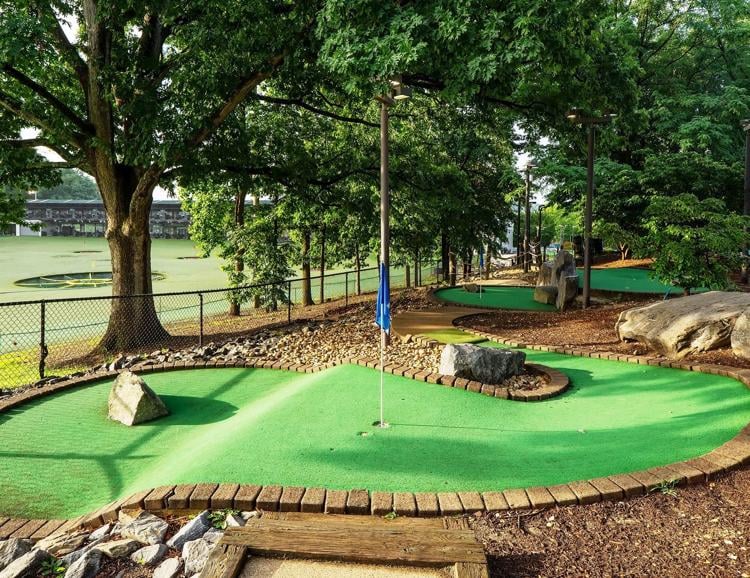 "We'd like to extend a heartfelt thanks to the community of Alexandria and our many guests that have joined us over the past 15 years for your patronage, the memories, and the truly good times," Schaaf said. "It has been an honor to serve this community at our Topgolf Alexandria venue, which will always hold a special place in our hearts as the first Topgolf venue to open in the U.S. We look forward to continuing to create meaningful moments, and our talented Topgolf Associates look forward to hosting you soon at one of our new, modernized locations."
As a private company, Topgolf does not give out specific visitor numbers, but the Alexandria venue was evidently popular enough to become a source of frustration for some neighboring residents who complained about traffic and parking issues that resulted from the facility's presence, according to the Washington Business Journal.
The size of the site also made it difficult for Topgolf Alexandria to expand as the company has evolved to create larger facilities.
As a result, the venue's impending closure is more inevitability than surprise.
The Fairfax County Board of Supervisors started reviewing the Topgolf Alexandria site for a possible comprehensive plan amendment in October 2015, but the review did not produce a recommendation until this past September.
County staff proposed allowing up to 12 units per acre and 20,000 square feet of neighborhood-serving retail after determining that larger retailers should be centered in the Kingstowne Towne Center, the Washington Business Journal reported on Sept. 19.
While the comprehensive plan amendment is still in the works, 6625 South Van Dorn Street LLC, which owns the land now occupied by Topgolf Alexandria, filed an application with Fairfax County in April 2018 to rezone the parcel for a potential mixed-use development.
The site owner previously entered an agreement with Topgolf in 2015 that allows the Dallas-based company to terminate its lease if it identifies an alternative site in the general area and a rezoning is approved.
In its initial rezoning application, 6625 South Van Dorn Street LLC proposed redeveloping the Topgolf Alexandria site into 74 townhomes, 164 multifamily units, and a 20,000 square-foot commercial building with retail, according to the Washington Business Journal.
Fairfax County accepted the application for review on Apr. 5, 2018, but the case has been listed as deferred indefinitely in the Department of Planning and Zoning's database of in-process zoning cases since Dec. 27, 2018.
Before county staff completed its plan amendment review for the Topgolf Alexandria site, 6625 South Van Dorn Street LLC reduced its rezoning application to 212 townhomes with some retail and developed recreation, according to the Washington Business Journal, which says the owner hopes to finish the rezoning and comprehensive plan amendment processes by the second quarter of 2020.
Lee District Supervisor Jeff McKay, whose district includes Topgolf Alexandria, expressed disappointment at the news that the venue is going to close.
"I know that many in the community enjoyed it and the recreational opportunities it presented," McKay said. "Unfortunately, this was a decision made by two private entities: the landowner and the business owner. The County does not play a role in private leasing decisions."
The Board of Supervisors chairman-elect has stated in the past that any redevelopment of the site would need to include recreation and entertainment options to replace the facilities offered by Topgolf in order to receive his approval.
"Currently, at the request of the applicant/landowner, the land use application for what comes next on the site is on hold," McKay said. "Moving forward, I would expect those private entities to work with the county and community to plan for what comes next on this site. I look forward to playing a role in that process."