With one master's degree in Shakespearean studies and another in performance from Mary Baldwin University, and two nominations for Helen Hayes Awards, Artistic Director Charlene Smith of Brave Spirits Theatre(BST) is on a mission to shake up the Shakespeare industry. She believes great works of literature should have space for "more than just white men."
A resident of McLean, Smith grew up participating in a community theatre that her mother co-founded in 1975 in Eustis, Florida.
"Taking theater classes, doing shows at night, that's what my family did together," shared Smith. "It was always strange for me, growing up, hearing about other families not spending time together or kind of being part of each other's lives because my family was together all the time. My father used to say, he took a spin on the old saying and said, 'The family that plays together, stays together,' so I grew up doing theater. It was always part of my life."
In a coffee shop in Fairfax, we had this important discussion:
The first thing I'm curious about is the name, "Brave Spirits."
SMITH: Brave Spirits Theatre. So, when I was starting this company along with a friend and colleague, Victoria Reinsel, we sort of had a meeting to talk about what kind of theater and what kind of Shakespeare we wanted to make. Then, we needed a name and we literally sat down with our complete works of Shakespeare and just kind of started opening to random pages and looking at quotes from Shakespeare. And there's a line in "The Tempest," I think it's Caliban's line, and he says, "These be brave spirits indeed." And we saw that phrase, "brave spirits," and we thought, "Well, that just sums up everything we want to be." Because we wanted to be ambitious and daring and also sort of ensemble focused, so we liked the idea of it as plural …
Do you think there is a need in the theater industry for something like that?
SMITH: Oh, absolutely. And I think that was one of the big questions we had to ask ourselves, because we live in a metropolitan region that has many Shakespeare theaters, and so, when we started the company in 2011, we needed to be very specific about why we thought there should be another Shakespeare company in this market.
There are three big ways in which we feel like we are distinguishing ourselves from the other groups doing Shakespeare. One is that we have a rigorous commitment to the text and so all our rehearsals start with a table work process in which we examine scansion and rhetoric, and the actors also paraphrase every single word of their text. So, when we work on a play, we really get to know it on a molecular level, and I think that comes through in our performance--that clear understanding and ownership of the language--because we've spent so much time with it. Two is we are very specifically a feminist Shakespeare company, so we cross gender casts; we re-gender roles in order to give female artists more opportunities than they traditionally have in classical theaters. Shakespeare's plays, as written, only 16 percent of the characters are female, so if you cast it that way, you are vastly inequitable, especially when you compare to population statistics because women make up about 51 percent of the population.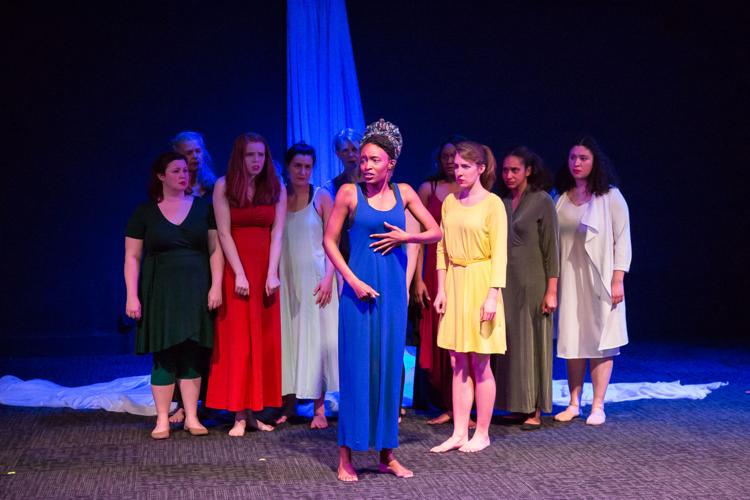 So, how do you re-gender roles? Do you make some of the male characters female?
SMITH: Yes, exactly. And then that also helps break out of some of the stereotypical boxes in which women are forced to exist in these plays. And it lets them be a lot more than just an ingénue or a love interest. Then they get to be warriors and clowns and best friends and fill a lot of other types of situations that we do in real life as well. And then the third way in which we're different is we put on more plays by Shakespeare's contemporaries than any other Shakespeare theater in this region.
What do you mean by Shakespeare's contemporaries?
SMITH: Shakespeare was writing in a very prolific age of drama. There were several theaters in London, and there were a pretty considerable number of playwrights churning out plays constantly during Shakespeare's time, and he was highly influenced by them and they were highly influenced by him. There are so many plays that exist from the time Shakespeare was writing that weren't written by him that are also dramatically worthy and exciting and interesting and funny and moving. We put on a lot of those plays to say, "Shakespeare was not writing in a vacuum." He lived in an incredible period of dramatic literature and he wasn't alone.
What do you want to communicate through your plays?
SMITH: We feel that it's really important to take these classical works and open them up to people of all backgrounds and to make sure that representation is equitable in these plays and matches what our world looks like. Because we have this idea of these being sort of the great works of literature. And if they are going to be great works of literature, there needs to be space in them for more than just white men. You know, and that's what you get in a lot of places of Shakespeare. That's who gets to say what these plays are about, and so we seek to kind of counteract that and put different perspectives on it and different voices in the plays and look at these characters in new ways.
How does the white male dominated-Shakespeare industry affect you on a personal level?
SMITH: I can talk about being an artistic director in the Shakespeare industry. Women are not typically into positions of leadership in the Shakespeare industry, and I have felt the pressure of that, if you go to a meeting and you are in the room, you realize, "Wow, this room is 75 percent male ... It is true in the theatre industry and it is true in academia. There is an establishment and it is self perpetual. We all connect to the like, you know, when we want people to like us. It is easier to form a relationship, where this becomes a problem, the system perpetuates because most of the Shakespeare theaters are run by men, and so when they look for their successors or mentors, grooming the next generation of leadership, they are more likely to pick people who remind them of themselves. So, this means the next generation continues to be white men, and these white men are given jobs that prepare them for leadership, the way that women and people of color find it hard to get.
Smith's essay titled, "Staging Sexual Assault Responsibly" was published recently in Howlround: https://howlround.com/staging-sexual-assault-responsibly. She is about to start rehearsals for the first half of Shakespeare's Histories that will be starting this season with "Richard II," "1 Henry IV," "2 Henry IV," and "Henry V." According to her website, www.bravespiritstheatre.com, "In 2020, BST will make history by becoming the first professional American theatre company to mount full productions of Shakespeare's two tetralogies and perform them in repertory."