No grocery store can fully capture the breadth of Asian food, but the City of Fairfax's new Super H Mart comes close.
Standalone displays of instant noodles, the kind now ubiquitous even in western chains, jostle for attention with aisles of frozen dumplings, dried fish, and sauces ranging from soy to hoisin. The word "Kimchi" in a font that evokes a calligrapher's brush alerts customers to an open-air case filled exclusively with jars of the pickled Korean staple.
The shoppers drawn into the 60,000 square-foot store enhance that feeling of immersion, uttering a hodgepodge of languages, including Korean, Mandarin Chinese, Hindi, and English.
Though it specializes in Korean food, H Mart has built up a customer base in recent years that extends to other parts of the local Asian American community and beyond, and the supermarket chain's management hopes to maintain that multicultural appeal with a revamped Fairfax City store.
"It's just a perfect community for us where it's very diverse and also very active," H Mart president Brian Kwon said. "So, it's a lot of people coming into the city, a lot of people working within the city limits. It's very international. I think it's perfect for us."
After occupying a 54,000 square-foot building at 10780 Fairfax Boulevard for 17 years, H Mart celebrated the grand opening of its new space less than two miles away off of Jermantown Road on Oct. 18.
In addition to providing both fresh and packaged groceries, the new H Mart houses a pharmacy, the beauty and skincare product outlet Aritaum, a kids' play area called KidsZone, and a Market Eatery food hall with eight vendors, including Korean fried chicken restaurant Noori Chicken and the Japanese stall Lee's Sushi.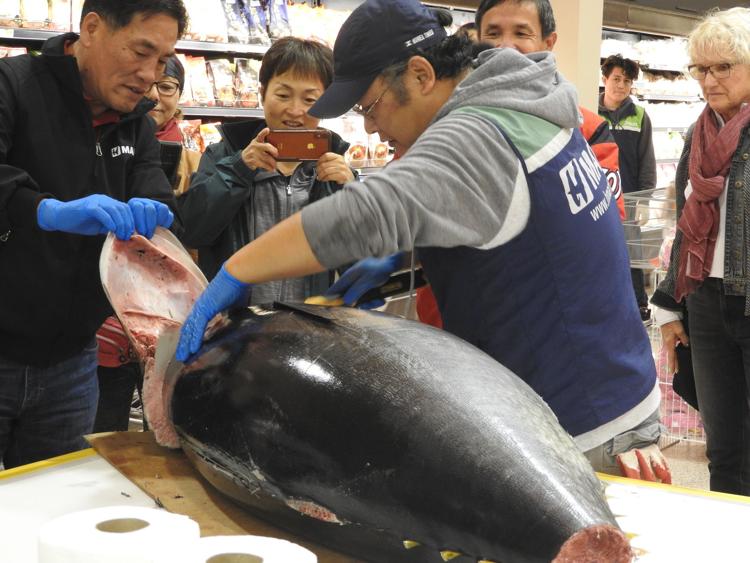 Mamison and Sogongdong Tofu and BBQ have traditional Korean dishes like beef bulgogi and japchae noodles, while Young Dabang, one of the most popular chains in Korea, offers more casual street food, and Gangnam Hot Dog lets visitors try specialty corn dogs.
The new City of Fairfax H Mart is the company's second to have a bar after its Austin, Texas, store. Licensed to serve alcohol, the Let Them Talk Bar sells 99-cent beers and has a no-tip jar.
The Market Eatery is completed by Paris Baguette, a French-style bakery with pastries like macaroons and roll cakes that originated in South Korea and is now as common in that country as Starbucks is in the U.S., according to Business Insider.
When selecting vendors for the food hall, Kwon's team made an intentional effort to bring in restaurants that would give American consumers a taste of what is popular in Asia.
"What we really focus on is trying to bring something internationally famous and attractive for customers," Kwon said.
Launched by Kwon's father in 1982 with a single store in Queens, N.Y., H Mart is now the largest Asian supermarket chain in the U.S. with more than 97 stores across the country, but it still strives to maintain the authenticity and intimacy of a family-owned business.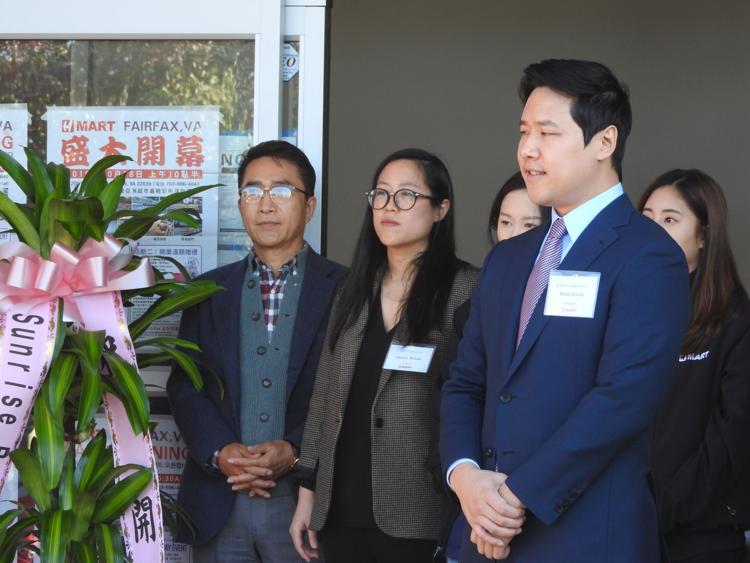 According to Kwon, many employees have been with the company for years, some even since the very beginning, and the supermarket has always upheld strict standards for freshness after starting out catering to Asian immigrants.
At the same time, H Mart saw a need to bring an updated look to its stores, particularly those on the East Coast, which are generally older.
That desire for a full overhaul of the store's layout, including the addition of a food hall, to give it a more modern ambiance is what motivated the company to move into a new building instead of simply renovating its existing Fairfax City location.
The space now occupied by H Mart previously belonged to Giant, which closed its store there last year to prepare for a new Fairfax store that will be part of Combined Properties' Scout on the Circle development. Construction on that 54,000 square-foot store at 9500 Fairfax Boulevard is currently underway, according to the Washington Business Journal.
The newly opened Fairfax City H Mart will face some competition from the impending occupant of its old space, 99 Ranch Market, an Asian grocery store chain that originated in California and now has more than 50 outlets in the U.S.
Fairfax's 99 Ranch Market will be the company's first store in Virginia, though it has added one location in Gaithersburg, Md., and three in New Jersey. 99 Ranch is currently seeking tenants for the food hall it is planning for Fairfax with a particular interest in a bakery, a hot sandwich shop, a specialty drinks counter, and a vegan deli, the Washington Business Journal reported on Oct. 4.
Still, H Mart has an established reputation in the City of Fairfax, counting among the city's best revenue generators, according to Fairfax City Councilmember Sang Yi.
If the traffic-jam-inducing crowds drawn to last week's grand opening are any indication, the surrounding community should be more than robust enough to support two Asian supermarkets.
Yi, who is Korean American, sees H Mart's continued presence in the City of Fairfax as a boon for the city's efforts to create an environment that is both family-friendly and supportive of its growing immigrant and minority population.
According to a 2019 fact book published by the City of Fairfax, the city's population of 23,825 people is estimated to be 56 percent white, 17 percent Hispanic, 18 percent Asian, 6 percent black, and 3 percent multiracial, a stark demographic shift from 30 years ago when 82 percent of residents were white.
In addition, changes in the city's population increasingly stem from foreign migration instead of domestic migration. The number of city residents from other countries is more than twice the national average, according to City of Fairfax Mayor David Meyer.
"I'm just so happy and proud that H Mart is here in the City of Fairfax and remains here," Yi said. "It really symbolizes the type of community we have: a family-friendly environment that's also a very diverse community."