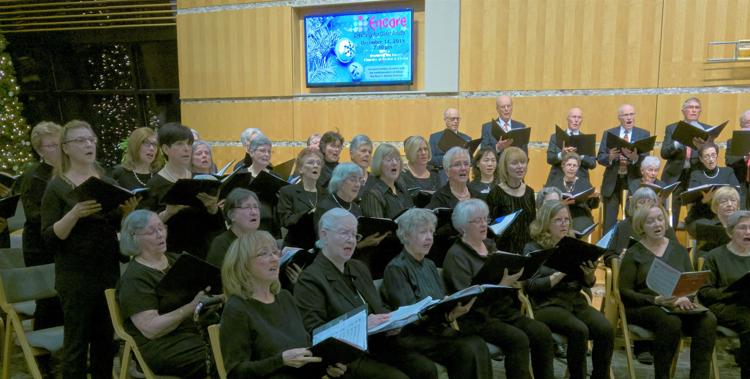 "Alzheimer's does not affect the part of the brain that allows people to remember music. In fact, music is the last thing to disappear," said Jeanne Kelly, founder and artistic director of Encore who started Sentimental Journey Singers (SJS), the new choir in Fairfax for adults diagnosed with early to moderate Alzheimer's disease and other memory struggles. The singers are currently practicing for their first concert on the first of December.
The choir is a new initiative that was started this fall by Encore Creativity for Older Adults, an Annapolis, Md.-based nonprofit, that is the largest and fastest- growing choral organization for adults over 55. The program takes place at the award-winning Insight Memory Care Center, a nonprofit adult day health and resource center specializing in Alzheimer's disease and other memory impairments.
"The idea to start Sentimental Journey Singers came to me because I realized we had some Encore Chorale (a choral group singing sophisticated and exciting arrangements from classical to Broadway) and Encore ROCKS singers (a rock & roll chorus that takes singers back to their favorite hits from the 50s through the 80s) who could no longer keep up with four part singing and learn music they had never heard of. They need familiar tunes. If I didn't start a chorus for early Alzheimer's or memory impairment, they would stop singing. Singing is for life. In fact, that is my mantra…sing for life! So now, our Encore singers can sing for life," said Kelly. "Also, my mother suffered from Alzheimer's disease, but she could still play the pieces on the piano she knew. Amazing. I simply wanted Alzheimer's singers to have the very best … to be challenged, to be respected, to have socialization and teamwork that is so important to both the Alzheimer singer and the care partner. It is a very lonely disease."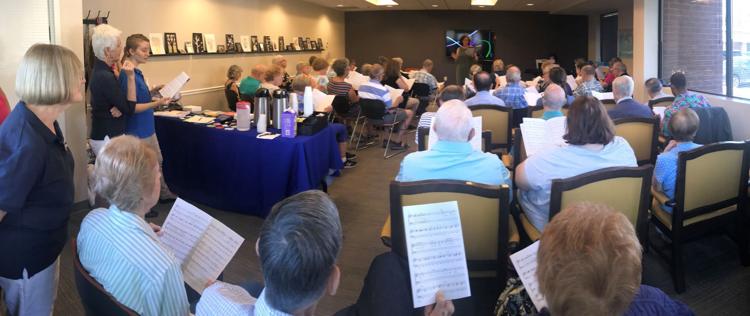 Encore is aware of the importance of having a conductor who knows how to work with the aging voice and, in the case of SJS, how to work with memory impairment.
Mary Ann East, a performer, teacher and founder of Capital Harmonia, is the conductor of the choir:
"The special part of our choir is the act of the singer with memory impairment singing WITH their care partner. It is something they can participate in together both during our weekly rehearsals, as well as practicing at home during the week. We also have a number of volunteer singers from our Encore Chorale in Fairfax. This is a wonderful opportunity for them to give back and help our singers prosper."
The choir meets once a week for practice sessions led by conductor Mary Ann East. Fairfax County Times asked her about communicating with adults who have memory impairment: "What can you tell us about their world that can help us understand them better?"
"The most important thing is that they are not all that different from you and me. We do not differentiate in rehearsal who is a person with memory impairment, who is a volunteer, and who is a care partner. We are all singers! People with memory impairment can and want to communicate, they just need to be engaged and not ignored. Honestly, my rehearsal process is not all that different with this choir, than with other choirs I direct. The pace is a bit slower as I have to give the singers, care partners and volunteers time to make sure everyone is in the right spot in the music'" said East. "We also take a movement break in the middle of rehearsal. Our accompanist, Rachel Thompson, who is a certified music therapist, leads them in some musical movement exercises. This is a good change of pace in the rehearsal and gets the body moving. People with memory impairment are not people to be afraid of. Engage them like you would anyone else. Sit with them and talk with them. Ask them about their lives. They have wonderful stories to share."
Founded in 2007, Encore Creativity, the choral organization for older adults, has 23 ensembles throughout Virginia, Maryland, the District of Columbia and New York City. Encore encourages all to benefit from participating in the arts, regardless of experience or ability, and those affected by diseases such as Alzheimer's are no exception. The tuition for Sentimental Journey Singers is $195 and $25 for care partners. For more information and registration, visit www.encorecreativity.org.