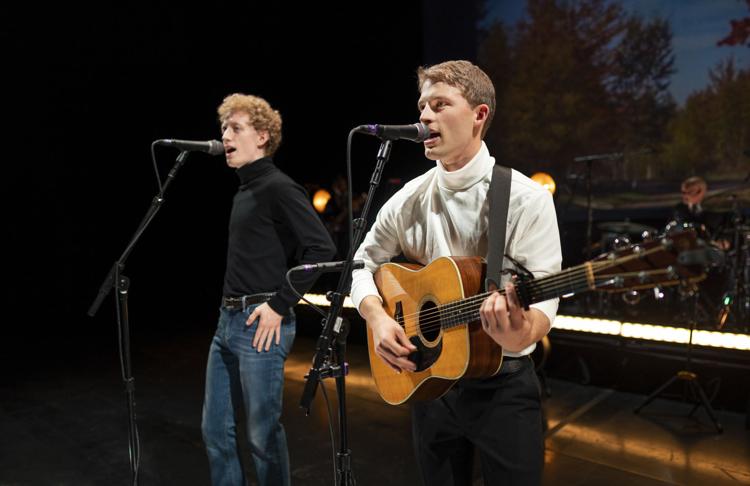 With an impressive catalogue of hits, folk-rockers Paul Simon and Art Garfunkel are considered one of the greatest — if not the best — duos in musical history, hits that include legendary songs such as "Bridge Over Troubled Waters," "The Sound of Silence" and "Mrs. Robinson."
Their story is now being told in "The Simon & Garfunkel Story," an immersive concert-style production that chronicles the amazing journey shared by the pair, who together have sold more than 100 million records.
The hit musical will play a two-day, three-show limited engagement at the National Theatre on Jan. 31 and Feb. 1.
Taylor Bloom plays Simon opposite Ben Cooley, who plays Garfunkel. He didn't know much about the duo's music when he was younger, but his mom did play similar music by artists such as James Taylor.
"My older brother was a musician for a while, and he used to play some of Paul Simon's music from his later albums, and I remember how amazing the stuff was," he said. "But I didn't hear a lot of Simon & Garfunkel. When I was exposed to their catalogue, I realized how great the songs were."
The show starts with the origins of the singers — from their humble beginnings as "Tom & Jerry" to their incredible success as one of the best-selling music groups of the '60s to their dramatic split in 1970. The show culminates with the famous "The Concert in Central Park" reunion in 1981, which saw more than half a million fans in attendance.
"The way our show is structured, we're not playing them in between their songs — we sort of tell their story in the third-person as very, very big fans," Bloom said. "The key for us is when we start playing the music, that's when we embody them physically, perform like them and sound as much like them as we can."
To get into character, Bloom familiarized himself with all of their music, so it was in his head. He also looked up a lot of footage of both men performing throughout their lives and read a biography of Simon that he said was super helpful.
"I tried to create an arc almost since we go chronologically throughout their career, so we sort of play them through time, and their performing definitely shifted as the years went on and they became superstars," Bloom said. "It's interesting to get to know this music in depth. There's a certain understanding and perspective you get when you take a deep dive."
These songs have stood the test of time, Bloom believes, because of a number of factors:
"Paul Simon is such a master of taking something that sounds familiar and adding a spin and making it sound new and exciting melodically," he said. "In terms of his lyrics, he writes very poetically and very accessible. They are not highbrow or overly sophisticated. They are something people can understand deep in their souls. And on top of that is Art Garfunkel's harmony lines, which are the big X factor. With all of that coming together, it just makes sense that the music has endured so long."
Bloom and Cooley have enjoyed working together over the past two years and have become good friends during the tour.
"We have developed a very positive working relationship and have a lot of fun together on stage and a lot of fun together off stage, and we understand each other pretty well," Bloom said.
The musical also utilizes huge projection photos and original film footage, and features a full live band performing all of Simon & Garfunkel's hits. Bloom noted that having such world-class players has also helped bring this music to life in a realistic way.
"Our hope is that audience members can just close their eyes and be transported to a Simon & Garfunkel concert," Bloom said. "We talk about all sorts of stuff from their lives and we want to help connect the audience to the music that they already love."