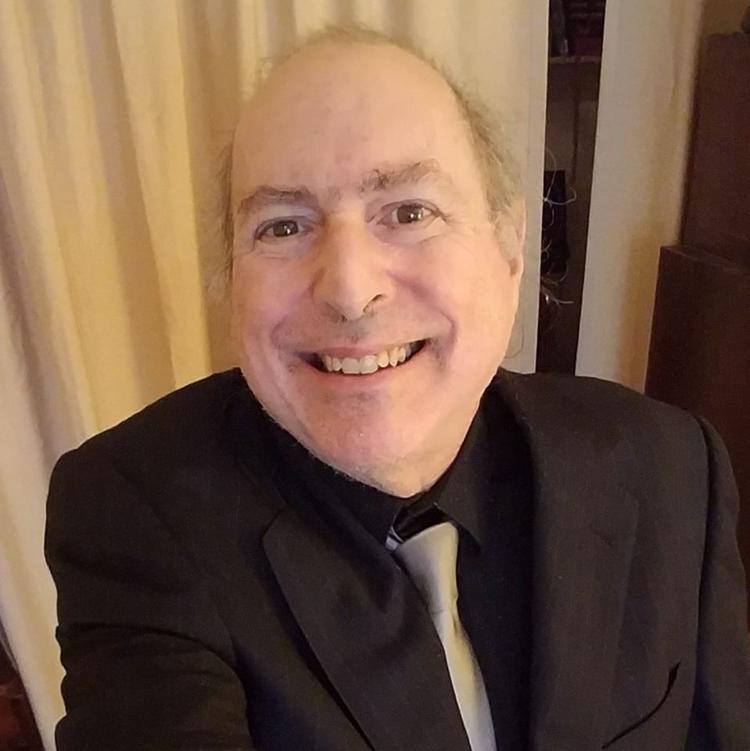 More and more musicians are canceling their events. What are their alternative outlets?
Last week, vocalist Lynn Veronneau of the world jazz band Veronneau said, half jokingly, that she and her husband, musician Ken Avis, should do Facebook Live shows from home if events get canceled.
"It's heartbreaking all around and we should encourage caution. … It's affecting so many friends and colleagues. They are left scrambling for revenue. Not sure what the answer is, perhaps setting up 'Venmo, PayPal' type events could be part of the answer?"
After some thinking and researching, Lynn shared with me:
"Many artists are coming together to develop this online concert experience — second best to live shows. We might go that route," and she brought to my attention this Facebook page: Social Distancing Streaming Concerts. I spoke with the creator of the page, Gordon Nash, last Sunday:
Gordon, tell me about the idea. How did it come about?
Gordon Nash: OK, well, several of my musician friends posted they were doing online shows.
I said, "We really need a place to see all these things." And everyone was doing it. All the musicians are worried about how they are going to earn their livelihood, and all the fans are worried about how they are going to hear music. I said, "Well, all I need to do is make a Facebook page," as opposed to putting it on my blog, on a website. Besides, Facebook is the easiest. I made the page and it caught on immediately.
You started this page in response to the novel coronavirus outbreak, right?
Gordon Nash: Right. I held my last concert on Tuesday [March 10] and every one after that has been canceled. So yeah, that's basically what prompted it. It was like, OK, this show's canceled, that show's canceled. Then some of them were put online instead of the live shows. That's what I wanted everyone to know.
So do you have any experience managing online shows?
Gordon Nash: No. But I've managed many Facebook pages. I don't do any of the technical stuff about streaming. All that we are is a clearinghouse so that people can find a show. And that was my idea. My friend Kristen, who's one of the admins on the page, she came up with making everything hour-long events. So there's this nice, chronological list of shows.
You can just go to our page. I'm going to do this right now so I can go and see how it looks. I'd go to events and I could see, ah-ha, right now there's a show going on at Craig Eastman's [page] and at the Gin Joints and Webstream . There's a whole bunch. I can just look and see who's playing today and there's a whole bunch.
So, are all these online concerts on your page live-streaming from the artists' homes?
Gordon Nash: Right. Well, usually from their homes, a couple are from other places. Some were at the venue they were supposed to be playing at. That was the very first one we went to, was from the Philadelphia Folksong Society. Their show was canceled so they did the streaming instead. But most of them are from home because people, the whole point is people aren't traveling and are not going out.
When we see an event on your page and we click on it, do we see it live on your Facebook page or do we have to go to the artists' Facebook page?
Gordon Nash: So what I have really listed are events, Facebook events. So if you click on one of the events, on any of them, there'll be a link on the event to where you can hear the concert. So some of these are Facebook concerts, and they're Facebook Live. I just watched one on YouTube. Some are in Stageit. Because there were all these different vehicles you can use.
So, on the events, people link to the venue they're using, the page. So, some of them, it's just on their Facebook page. Other ones, it's linking to Stageit or YouTube or ... Oh, there's another one. I'm blanking. I haven't watched anything on it yet. Twitch.
But, in this case, you don't stream online from different places on your page?
Gordon Nash: No, no. We just link to the streams.
We're the place where you can find out what you could see. It's sort of like a television sheet telling you what's on television. So, same idea. They tell you what is playing in the near future.
Do artists have the ability to upload their events by themselves?
Gordon Nash: No, no. Well, no, they have to send it to us, the people who run the page. We add it to the page. Because once you let people in, you'll get spammed. People will start posting the things that aren't concerts. So this is how we do it.
Did you hear any other ideas from friends? Are there people who are creating similar pages?
Gordon Nash: Well, no one's doing exactly the same ones. I got on this pretty fast and most people didn't. … But there are people who knew nothing. They needed an online meeting of people to talk about musicians, to discuss how to effectively stream. There is nothing like that going on. Now there might be another page, especially if it's someone not in the northeast because most of the people I know are in the northeast. But I haven't seen anyone mention anyone else doing what we're doing.
It's a difficult time for artists. Do you have any advice or tips?
Gordon Nash: Yes. People should set up a PayPal or a Venmo so that people can send them money online. That's the big thing. Every time someone makes one of these events, they should include a virtual tip jar.
I just posted a way to set those up because that's what I'm doing — just put a link on your Facebook event to your tip jar. Or, give your PayPal account name, and it's working. I mean, the very first one I saw raised more money than a live show did.
OK. Interesting.
Gordon Nash: You could even set it up so that people have to pay to get a link to the page. So they can't actually see the concert unless they already paid. That's what the Philadelphia Folksong Society did.
How can they ensure that they have high quality streaming?
Gordon Nash: Well, most of the sites, I mean everyone I've seen has been pretty good. Partially it has to do with your own equipment. That's a limitation for many, many people. You can just use a good smart phone. An iPhone, or a Galaxy, late model ones are pretty good, actually. I mean, I just watched one on that. If you have a camera, it's even better. If you have some people who could help you out, it's even better; they're working on the sound and things as you're performing, working with video feed and getting feedback from people watching. But that's not always possible. You are trying to minimize how many people you're seeing. But it's nice to have that. But all of the platforms, streaming platforms, work well. That's pretty much been mastered.
When did you start? Is it effective or not? How long have you been doing this?
Gordon Nash: Well, I just started this, like, three days ago or something.
You said some people make more money by live- streaming. How did you know that?
Gordon Nash: Well, I talk to them. The first two people just set it up on their own and I watched. Then I said, "Wait, I got to let everyone else know about this." So that's why I created the page. The show I was just watching, The Kennedys, and there were 500 people watching it. They were not going to get that at a live performance. I don't know how many paid. We haven't discussed that with them.
There's even some weird advantages because people are stuck at home, they're looking for things to do. So they're trying out musicians they don't previously know. So I just saw Amy Kucharik who's a Boston area performer. A whole bunch of people she didn't know popped up watching her. They were not her regular fans, they just saw my link to them and they went. So there's a strange way that this can actually help some artists in the long run.
Are people really willing to pay?
Gordon Nash: It's always that, that people think music should be free, but people do raise money. Hold on; let me see if she's here. I'm actually going to ask the concert I just watched, the people who did it. I don't know if she's online. But if she is ... OK. [typing ]"I'm being interviewed and I was asked if people are donating money to streaming concerts."
OK. I just asked her. If she's around, hopefully she'll answer me. I know on some of the pages, you can actually see when people paid. The very first one I watched, you couldn't watch it unless you paid. So then that was 400 people paying at least $5.
Wow. When was that?
Gordon Nash: That was on ... let me see. Let me have a look at my calendar. I think that was Friday night. Yeah, that was Friday night.
Friday night? Wow.
Gordon Nash: Yeah, right. Because that's one of the shows that inspired me to start the page. That's probably the show that inspired me to start the page more than anything.
What was the name of the show?
Gordon Nash: Oh, it's Mari Black Live. It was from the Philadelphia Folksong Society.
OK. Thank you so much, Gordon. So tell me a little bit about yourself. What do you do?
Gordon Nash: Well, right now I am between jobs. I teach math in college.
But you are into music too?
Gordon Nash: Yes. It's a huge part of my life. I have a music blog. I have a blog, which includes lots of music, that's how I should put it. I help out a bunch of venues. I do social media for a concert series. I help promote shows. Once a year at the Falcon Ridge Folk Festival, I have an overnight music tent, my friends and I, and I program that.
How does your Social Distancing Streaming Concerts Facebook page help you financially or professionally?
Gordon Nash: Me personally? Not at all — other than making me wider known. This is the norm in the folk world; we do things for the community.
For other resources that are specific to the DMV area, the DC theatre community has a blog with "a bunch of resources and streaming events collected: https://alveocreative.co/blog/covid-19-resources," according to local musician and YouTuber Malinda Kathleen Reese.