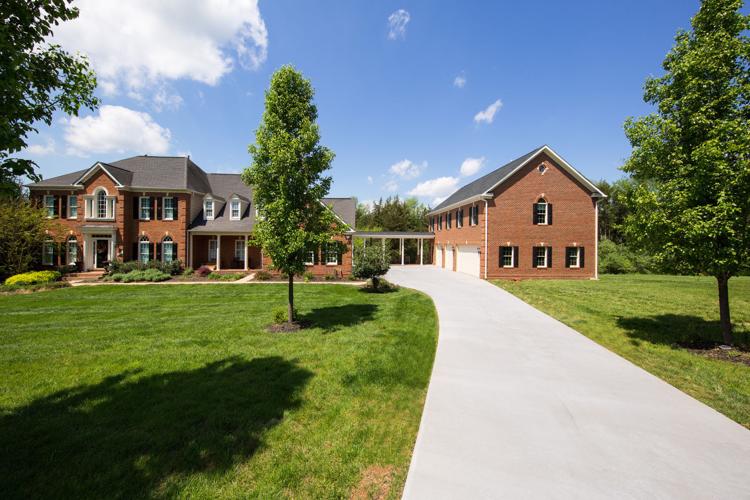 A detached two-story outbuilding, linked by an architecturally-appropriate breezeway to a Georgian-style home, has won a National Chrysalis Grand award for Michael Nash Design Build and Homes.
The comprehensive 'extended family' solution-- which combines an 800 square foot top level in-law suite with a spacious garage and woodworking shop-- perfectly complements an existing 5,000 square foot house situated on five acres.
The addition to a Centreville home was named best "Residential Detached Structure" in the recently concluded Chrysalis awards event that compares projects by category in all fifty states.
Founded in 1993, the Chrysalis is considered the most prestigious of the remodeling industry's peer awards. Qualified Remodeler Magazine and Kitchen and Bath News are among the competition's national media sponsors.
In accepting the prize, Michael Nash president and founder Sonny Nazemian credited his design and engineering team, which surmounted a series of complex architectural, space-planning and regulatory challenges.
"Homeowners today are actively seeking creative ways to meet emerging family requirements," Nazemian said. "The challenge is satisfying a diverse agenda that may touch on a wide a range of functional, aesthetic and code considerations. Our goal is always to enhance the whole property functionally, aesthetically -- and as an investment."
For the homeowners -- who have occupied the main house with their children for nearly a decade -- the change brings, to a happy conclusion, a long-running family concern that seemed to have no easy resolution.
"The owner's mother was getting older and confronting some aging issues-- which affected everyone," says Nazemian. "She wanted to spend more time with her grandchildren-- while retaining some privacy. A detached structure was the obvious option to explore."
Combining a skillful architectural elaboration with detailed technical demands, the multi-component structure strengthens the relationship of the brick-facing main house to its sprawling country setting. The appropriately-massed outbuilding linked to the primary residence via a brick-paved breezeway visually unifies the whole. A rear set of stairs, in turn, invites strollers to explore the large backyard that includes an in-ground pool.
From the start, the program addressed diverse family needs.
The owner's mother, who had previously lived alone in a Springfield townhome, sought assurances that her new living space would provide aging-in-place amenities.
Meanwhile, her son wanted a bigger, better footprint for his woodworking shop-- then situated in the existing garage.
Called-in for perspective, the Michael Nash team proposed plans for a 32-by-50 ft free-standing dwelling. To better rationalize the site plan, the new two-story addition was placed across the driveway-- about 40' away from the main house.
The first-level plan called for a four-door garage featuring two bays for a state-of-art woodworking shop, plus parking spaces for the mother's private use.
An entrance on the left side of the first level provides corridor-access to rear utility and storage rooms. An L-shaped interior staircase connects to the second floor. But there's also an elevator-- an aging-in-place consideration-- just behind the staircase.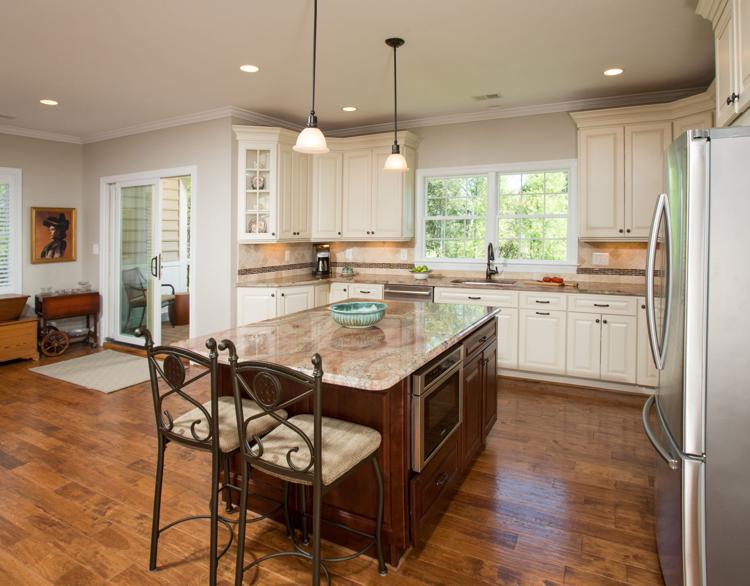 Upstairs, a large living room, dining room and open kitchen illuminated by tall louvered windows present a bright, uplifting living space ideal for entertaining or a quiet afternoon with a book.
Conveniently, the elevator opens directly into the dining room. A screened-in porch accessed via a sliding glass door provides a cozy open-air spot for afternoon tea.
The master bedroom suite boasts a walk-in closet and spacious master bathroom complete with a shower, a soaking tub, and a double vanity surfaced with large-scale porcelain tile that conceals a heated floor.
A bonus room -- sewing salon plus arts and crafts studio that doubles as a guest room-- is just down the hall. Entrances to the well-organized laundry room and pantry are mere steps away.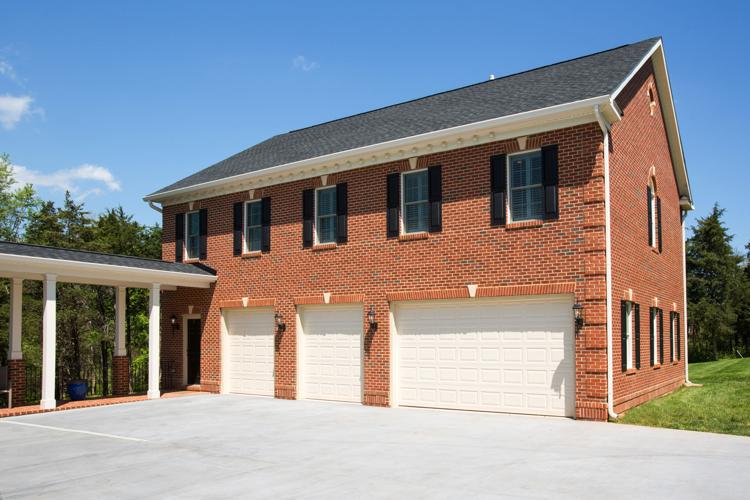 To reinforce the home's Colonial facade, the new addition is clad in matching brick fascia. Decorative keystones, brick soldier course and a corner quoin treatment borrowed from the house achieve a sympathetic elaboration.
The roofline and roofing materials match details in the main house, which is consistent with historic style guidelines.
Separate utility lines, power and HVAC assure the new structure's self-sufficiency. As part of the re-grading plan, the septic field was relocated to a different part of the yard.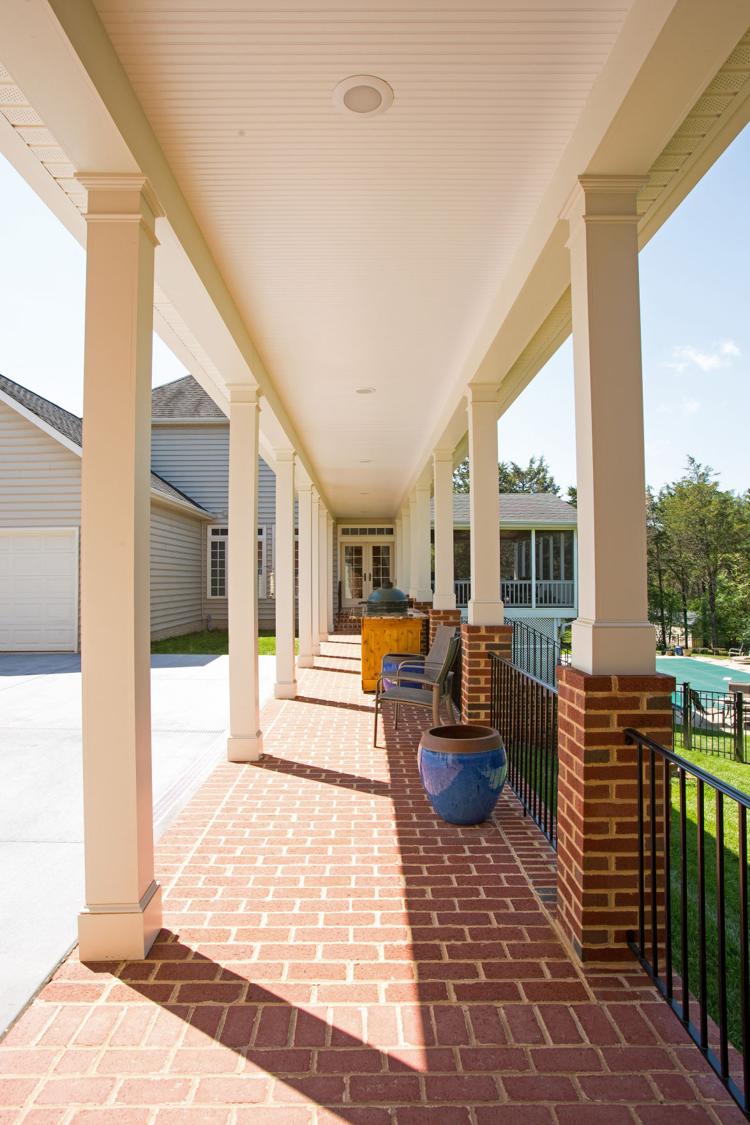 Entering the driveway, the eye-catching breezeway spanning the two structures emphasizes an overarching architectural cohesion. The plan also obscures the big drop off from driveway to backyard-- while neatly framing rolling hills and iconic landscaping.
The upshot: a multi-generational home perfect for the extended family to enjoy their daily lives together.
"This was a fascinating assignment," Nazemian says. "Developing and balancing an unusual space plan is always a challenge, so we are pleased with the national peer recognition."
FOR INFORMATION: 703-641-9800 or http://www.MichaelNashKitchens.com
John Byrd has been writing about home improvement for 30 years. He can be reached @ 703-715-8006, www.HomeFrontsNews.com or byrdmatx@gmail.com. Send photos of interesting remodeling projects to: b2b@homefrontsnews.com