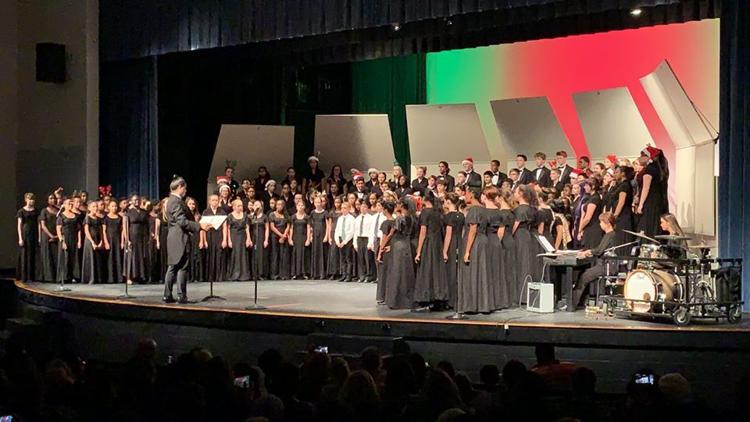 I have a child at South County Middle School who is part of South County Chorus. When I attended their 4th annual "Songs of the Season" winter concert on December 5, I was so touched by the passion and the unifying spirit of that night that I decided to interview the conductor, Mr. Antonio Rodriguez. He has been teaching at South County for four years now, and in his concerts, he combines the middle school and high school students together.
Before teaching at South County High School, he was a teacher at Poinciana High School in Kissimmee, Florida. "I was just starting out teaching. I graduated from Florida State University in Tallahassee, Florida. A few months after I graduated, I started working at Poinciana. After two years, South County opened up and then I interviewed for the position and I ended up back at South County, which is actually where I went to high school," said Mr. Rodriguez. "Florida State at the time was a top 10 school for music, among other public universities," which is why he went to Florida, he explained.
So, what do you think of South County?
Rodriguez: I mean, it's really surreal to be back. A big reason why I came back was because my sister is actually my student. She is 12 years younger than me. When I went to college, I missed out on a big part of her childhood. So I felt, what a cool way to be a part of her adolescence this time. That's so critical, and I guess, poignant, to be a part of that on her journey. So, while at the same time being able to give back to the community, that helped me get to where I wanted to be.
What is your philosophy? What is your secret?
Rodriguez: Well, what I learned through both being a teacher and through my experience at Florida State is that community is essential. We can't have good music if there's no community. So, one thing that I did start with my singers is a big-little program. All of my high schoolers that are in my advanced choir, they mentor students that are younger; every student has a peer that is older than them, from seniors all the way down to seventh grade.
My philosophy is versatility. As a musician, regardless of what music is in front of them, that the students are able to relay the text that is in their music--because that is our job as musicians, as singers: to relay the message of all of our pieces to our audiences, and doing it while building community and while learning from one another. You can't have music if there's no trust.
So, what do you mean by trust?
Rodriguez: Well, so if you saw my concert, you probably saw the last number, which is "Sisi Ni Moja" ["We Are One"]. You saw 200 students onstage from 3rd to 12th grade. At one point in the song they were all holding hands. If you ever were to go into any class at South County for me and my experience as a student, holding hands--let alone even looking at the people next to you--was, I know, something that was a struggle. Now, in our divisive society and everything that's going on, it's political. Sometimes, we have to have conversations and tough conversations.
With all our classes, I talk to the kids about "Sisi Ni Moja." I'm like, "You're singing the song at a holiday concert and the holidays aren't always a happy time for everyone. I know that in our society right now, it's not the happiest time. There's a lot of war and fighting and violence. Here you are getting to create music and sing this text, in which you're saying, 'We are one.' Before you even came into my class, a lot of you didn't look at each other. Like day one of you never having me."
But because you can't sing with people that are different than you...You can't work with people that are different than you if you don't communicate. So, I always open conversations in my class. I make sure that it is a safe space. Whenever we're talking about topics regarding our society, and regarding what experiences these students face on a day-to-day basis, I always enforce an environment of respect, one where we can all listen to one another. Even in artists' agreement, we can agree to disagree. At the end of the day, we have a job to do, and there's no other class quite like chorus, in the sense that you have to work with people that you may agree with and you may get along with, but also, you may not agree with. … If we want to see change, the cool thing is that these kids are informed. They have technology at their fingertips.
What's different in South County now than it was before is that a lot of these kids want to live in the world that they see fit. There's a lot more tolerance, which is going to lead to acceptance. The fact that Save the Turtles and Hydro Flasks are a trend, the fact that when I see my students interacting with each other on a day-to-day basis, they ask each other, "What are your preferred pronouns," these are the conversations that happen in my class because it all starts with, we have to build community; we have to get to know one another; we have to build trust. That is what I mean by building trust. Getting to know and understand each other, and having an open line of communication.
Wow. One student at the end of the concert described you as a life coach.
Rodriguez: Oh, yes.
Do you have a certain vision for your students? I mean, what do you want them to get out of your class?
Rodriguez: The one thing that I tell my students is, "I want you to leave my class being a better human." That's the bottom line. Because these kids bring me situations all the time … I will always challenge you, like, "Did we really do our best? Did we put our best foot forward?" If we didn't, "Did I take the time to reflect and say, 'How can I do things better?'" I just use the music to do that and I think that every teacher should do that. So I will always have the highest expectations for caliber of singing and musicianship, but, in an effort to do that while practicing good values.