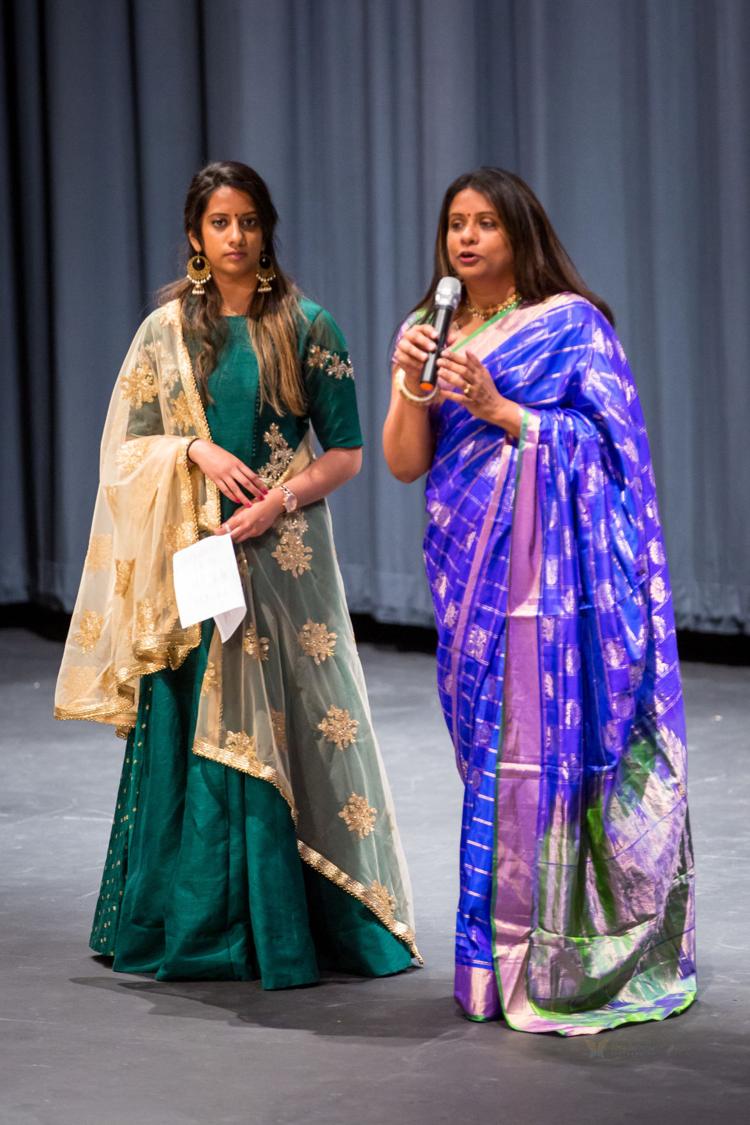 Trilochana, was a debut performance by Tandavam Events showcasing three Indian classical dance forms. Showcasing three local schools, Kalamandapam, Nrityanjali and Lasya Dance academy all from Fairfax; the event had senior students perform dance pieces in their traditional art forms. Trilochana, literally meaning Three Eyes, as Lord Shiva is known.
Lord Nataraja , the God of Dance is a form of Lord Shiva.
Tandavam Events is a new dance event company that primarily focuses on Indian classical art forms and aims to raise the quality of performances within the DMV area. Started by mom-daughter duo, Radhika Rao and daughter Kaavya Rao, love dance and were classically trained in Kuchipudi. Their passion for dance has got them to start an organization that aims to bring various forms together.
The dance event Trilochana took place on Sunday, April 28th at Lanier Middle School, Fairfax. The three dance forms, Kuchipudi taught by Mrs. Sadananada at Kalamandapam, Bharatnatyam taught by Mrs. Shanthi Ashok at Nrityanjali and Kathak taught by Mrs. Purvi Bhatt at Lasya Dance Academy came together in a flawless 2-hour event, executed with a mélange of color, music, rhythm, expression and drama.
Each of the dance pieces lasted on an average of 6 minutes and left the 200 audience members spell bound with their diversity. There were 15 dances altogether and each style was presented alternating with the rest so the focus on their uniqueness was highlighted. Keeping in tune with the theme, all dances were on the magnificence of Lord Shiva/Nataraja. The girls had precise rhythm, held poise and showed expression through storytelling. Most girls were in the middle/high school, and balance their studies and activities alongside learning their dance form, one that can keep them in touch with their heritage and arts.
Indian classical dances are predominantly performed by girls though the artform did not distinguish the males to not perform. There was one dance piece performed by one young man, also a high schooler and it was a treat to watch how similar and yet how different the same form can be held based on who executed it. The finale was a beautiful piece had three senior girls of each school perform their own composition for the same music. It was a fitting tribute to the theme of the event and what Tandavam Events intended to showcase.
Each student-performer who participated left with a sense of accomplishment and a feeling of being recognized. The event organizers also took the time to bring to the stage the teachers responsible in grooming the students and also the senior high school students who would now leave for college and continue their passion for dance.
Tandavam events plans to have an event every quarter and aims to bring a fresh diversity while maintaining the authenticity of the arts within the sub-cultures of India.