Martin Luther King, Jr.'s legacy of revolutionary, nonviolent activism for civil rights and social justice is deeply embedded in Bakari Sellers' heart, mind and DNA. Speaking before a sold-out crowd at Monday's celebration of the civil rights icon's birthday at the Reston Community Center, Sellars, 35—a practicing attorney in South Carolina, CNN political commentator and rising star in the Democratic Party—cited two contrasting photographs of his father, the celebrated civil rights activist Cleveland Sellers, as emblematic of "what happens when you fight bigotry and fear."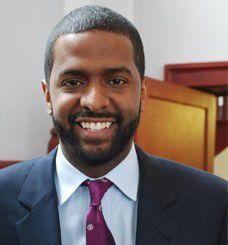 The first photograph, Sellers noted, shows his father, program director of the Student Nonviolent Coordinating Committee (SNCC) in the mid-1960s, as a young man garbed in a suit and tie, sitting across from President Lyndon Johnson on July 2, 1964, just after signing the landmark Civil Rights Act.
Taken only two years later, the second shows his father, clothed a lot more informally, wearing a plain white T-shirt, looking much older and worn out. What had changed?
It was only a few days after a sniper attempted to murder James H. Meredith, who in 1962 became the first African American to attend the University of Mississippi. The attempt was shortly after Meredith began his lone "March Against Fear" from Memphis, Tennessee, to Jackson, Mississippi. His father, as well as King and Stokely Carmichael, leader of SNCC, continued the march on his behalf. Previously, Sellers further noted, his father led the SNCC search mission in Mississippi that found the bodies of slain civil rights workers James Chaney, Andrew Goodman and Michael Schwerner.
"Two years, two photographs and all that death and violence in between. … Two photographs, that's when [the struggle] became real for me," Sellers said.
In 2006, Sellers made his own way when, at just 22, he became the youngest member of the South Carolina state legislature and the youngest African American elected official in the nation.
Much more than history, Sellers stressed that the labors of King, his father and other civil rights leaders and activists remain a work in progress.
"We need to ask ourselves, 'Have we done enough?' … No," Sellers asked rhetorically. He stressed that rooms filled with "people with good hearts," like this one in Reston, would "truly make America great again," would "overcome though on some nights we are filled with despair."
He urged, "We must remember the voices of all those heroes and sheroes who came before us, remember the stories of past struggles."