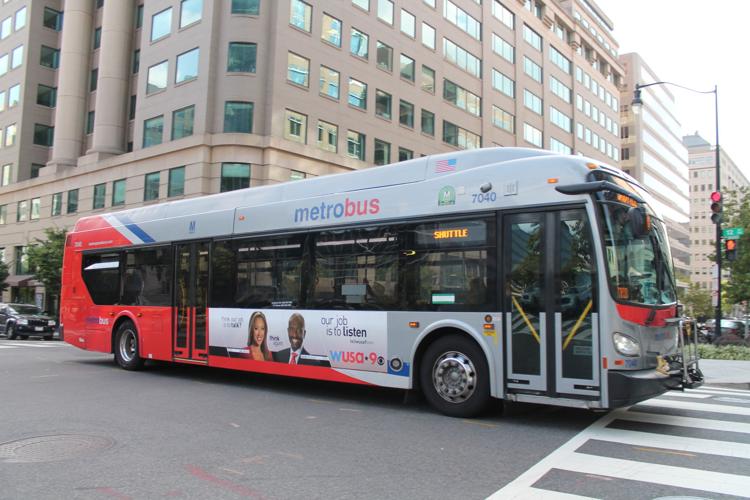 The Washington Metropolitan Area Transit Authority will provide free shuttle service at Metro stations on the Orange Line that will be closed throughout the summer for construction work, the transit agency announced on Mar. 13.
The Vienna, Dunn Loring-Merrifield, and East Falls Church stops will shut down on May 23 until Sept. 7 so that Metro can repair platforms and upgrade other facilities for the second phase of its three-year platform improvement project to address station platforms that have deteriorated due to aging and exposure.
The West Falls Church Metro station will also undergo platform reconstruction this summer, but it will mostly remain open to riders except for some anticipated weekend closures, according to WMATA, which says shutting down stations shortens the timeline needed for construction.
"We are tackling issues before they become emergencies," WMATA general manager and CEO Paul Wiedefeld said. "I want to be the first to thank our customers for their understanding as we undertake this challenging project, rebuilding concrete megastructures in the median of a multi-lane highway."
While stations are closed, Metro will operate shuttles all day between Vienna and West Falls Church, Dunn Loring and West Falls Church, and East Falls Church and Ballston-Marymount University with a shuttle arriving approximately every five minutes during rush hour and every 10 minutes at other times.
Shuttles will also be provided on request to travel between Vienna and Dunn Loring and between West and East Falls Church.
There are two shuttle routes that will operate during rush hour on Mondays through Fridays with eastbound trips toward Washington, D.C., from 5:00 to 9:00 a.m. and westbound trips away from D.C. from 3:00 to 7:00 p.m.
One of the shuttles will have limited stop service at the Vienna, Ballston-MU, Court House, and Rosslyn stations with vehicles running on a roughly eight-minute schedule. The other will make five trips both in the morning and afternoon with limited stop service at the Herndon-Monroe Park and Ride facility, Ballston-MU, Court House, and Rosslyn.
WMATA emphasizes that the schedule times are approximations, since shuttles will depart once seats are filled.
The Fairfax County Department of Transportation is suggesting that Metro users consider public transit like the Fairfax Connector, which operates an express bus from the Vienna Metro station to the Pentagon, as well as carpooling and ridesharing as alternatives to driving alone.
The Connector could also add more trips to the express route that it runs from the Fairfax County Government Center to downtown D.C., and the county transportation department has proposed a new express route between the Stringfellow Park and Ride facility in Centreville and D Street near L'Enfant Plaza in D.C.
However, both of those changes still require a vote of approval by the Fairfax County Board of Supervisors to take effect.
To encourage commuters to take transit or rideshare instead of driving alone, Fairfax County has an incentive program that gives a $50 SmarTrip card to travelers new to bus or rail service who do not already own a SmarTrip card and whose employer does not offer commuter benefits.
"Metrorail is the backbone of our regional transit system, and Fairfax County continues to support WMATA in its efforts to bring the system back into a state of good repair," Board of Supervisors Chairman Jeff McKay said. "I appreciate the patience of Fairfax County residents, employers, and visitors as this important work is being done."
This summer's Orange Line shutdown will mark the second consecutive year that Metro has closed stations in Northern Virginia for more than three months for its platform improvement project, which was first announced in May 2018.
In addition to addressing structural issues that have accumulated in the four decades since the station platforms were first built, WMATA uses the closures to install slip-resistant tiles, new lighting, upgraded platform shelters with charging ports, digital information displays with train arrival times, new surveillance systems, clearer announcement speakers, and safety call buttons to contact station managers and the operation control center, among other changes.
Metro closed the six Blue and Yellow Line stations south of Washington National Airport during the summer of 2019 for the first phase of its project.
Initially, the transit agency planned to include four Green and Yellow Line stations in the 2020 platform reconstructions but later decided to address them in a future phase instead.
During this summer's shutdown, the West Falls Church station will serve as the western end of the Orange Line, and both Orange and Silver Line trains using a single track through East Falls Church, reducing service between Ballston and West Falls Church on the Orange Line to every 16 to 20 minutes depending on the time of day.
Service between Ballston and Wiehle-Reston East on the Silver Line will also be reduced due to single-tracking with trains on the Silver Line operating every 16 minutes throughout the day and every 20 minutes during late-night hours.
Riders on the east side of the affected stations will see service increase to every eight minutes on the Orange Line, where extra trains will be deployed every day except Sunday to travel between the Ballston-MU and New Carrollton stations.
Though the stations will not close until May, commuters started to see the first impacts of the upcoming shutdown on Mar. 15 when Metro closed surface parking lots at the Vienna, East Falls Church, and West Falls Church stations to accommodate construction materials and machines.
Parking at those stations will be limited or unavailable, in the case of East Falls Church, for seven to nine months, according to WMATA.
The Metro board of directors unanimously voted on Feb. 27 to make parking free of charge at the Vienna and Dunn Loring stations from May 23 until they reopen on Labor Day.