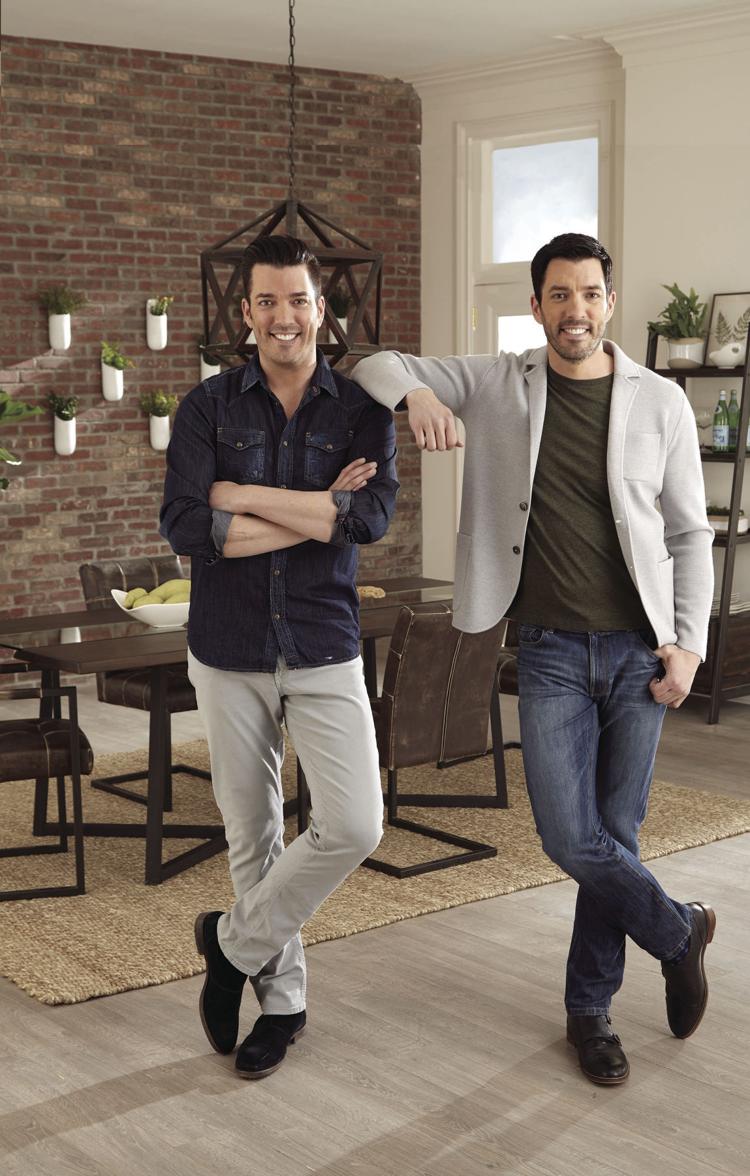 HGTV personalities, Drew and Jonathan Scott, will be on-site for the Grand Opening of Belfort Furniture's new 85,000 square foot showroom on Saturday, Nov.10. The Scott brothers will share insights on design trends and give attendees a peek into the ins and outs of renovating and creating beautiful homes. In addition, they will do a reading from their just released, children's book, "Builder Brother: Big Plans." The exclusive presentation takes place at Belfort Furniture, 22250 Shaw Rd. in Dulles, on Saturday, Nov. 10 from 10a.m. to 12:30p.m. Guests will have the opportunity to meet the Scott Brothers and register for a chance to win $2500 in Scott Living™ furniture.
Drew and Jonathan Scott are making a special guest appearance for the Grand Opening of Belfort Furniture's new 85,000 square foot showroom that features the Scott Living™ Furniture Collection. Belfort is the exclusive area retailer to feature the furniture collection created by the Scott brothers. The Scott Living™ collection reflects the brothers' personal styles, blending modern and industrial looks with textures, finishes, and interesting materials, inviting consumers to curate the perfect look for their home.
According to Michael Huber, Belfort Furniture CEO, "The Scott Brothers' creative ideas are an inspiration to all to design beautiful homes and that's what Belfort is all about." He continued, "It's our mission to provide easy, affordable room solutions that inspire and enhance the lives of our customers. That's our passion, and theirs."
Under construction for the past year, Belfort Furniture's new showroom boasts 85,000 square feet of modern, classic and casual styles of home furnishings in gallery settings. The showroom also features the area's largest youth furniture display and mattress gallery, plus outdoor collections. Belfort is widely known for its quality name brands. The new and innovative lifestyle environment features an even broader selection of popular manufacturers like Kincaid, Rowe, Flexsteel, Daniel's Amish, Canadel and more. The furniture park complex now has an astonishing 150,000 square feet of showroom space.
Taking a cue from his very successful Stone Tower Winery, Huber added a wine bar into the showroom. "We want to change-up the shopping experience," Huber commented. "We have an opportunity to engage with customers the way they want to live – in a beautiful, relaxing environment. There's no better way to relax than to sit down in a comfortable chair and enjoy a complimentary glass of wine."
The month-long grand opening celebration includes furniture giveaways totaling over $25,000. No purchase is necessary. Rules are posted at the Belfort Furniture showrooms.
Belfort Furniture is located at 22250 Shaw Rd., Dulles. For more information about the event, call, 703-406-7600 or email: info@belfortfurniture.com. www.belfortfurniture.com/grandopening